Ind-NZ Key Battles: Rain gods permitting, India vs New Zealand could well be a cliffhanger. The high profile game has all the makings of being one of the best games of the World Cup thus far, and we would all hope so!
When India take on New Zealand on 13th of June, 2019 at Trent Bridge, Nottingham, we will in all probability, have a team that will go on to lose their first game of the World Cup, while the other will build strong momentum.
India has been dominating in the 2 games thus far, whereas New Zealand have grinded out the results and have looked like a compact unit, capable of troubling any team on the day. But India now has fresh problems. One of their most prolific batsmen in ICC tournaments, Shikhar Dhawan, is out with a broken thumb and the team now needs restructuring. There are still a few questions to be addressed before India take the field- who will open? Should Karthik play or Jadeja or should Shankar be got in to bat at 4 and then use the overcast conditions at the Trent Bridge to have some effect with the bowl. Once India finds answers to these and takes the field, there shall be some key battles that might play a pivotal role in one champion side coming over tops.
New Zealand enjoys an advantage over India with a 4-3 head-to-head record against the two-time champions and India would go out hard in wake of restoring parity. Conversely, New Zealand would look to extend the lead and keep their winning run in the tournament going.
This should be an exciting game and we look at the battles that could well define the course of it:
#1 Boult's swing vs Indian openers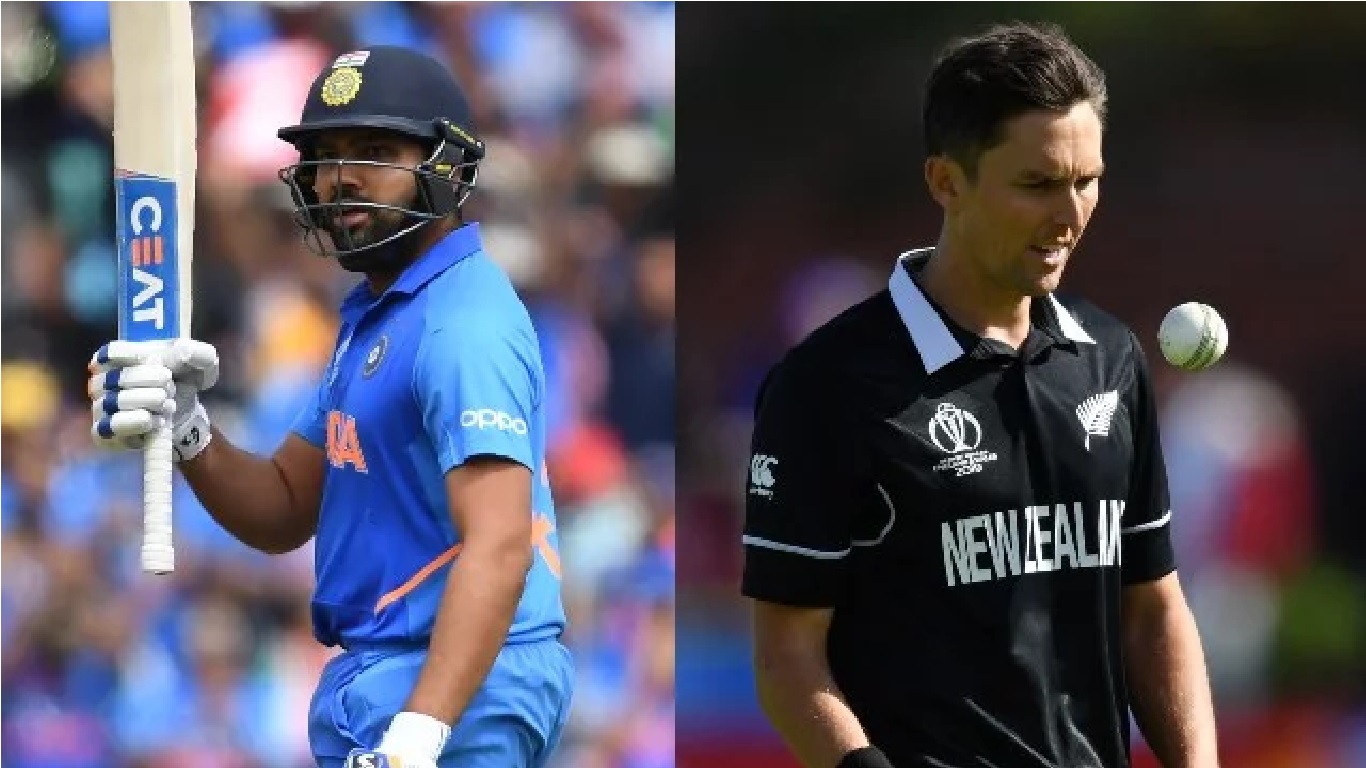 Ind-NZ Key Battles: With Dhawan out of the game, KL Rahul is expected to open the batting. While he has done that actively for his IPL side, the last time he opened for India was long back. And these are testing conditions, good enough to test even the best. However, the good bit is that Rahul is back to where he belongs and he might relish this opportunity. On the other side, Rohit though has scored runs, he has found it hard to get going from the start. The opening spell from Boult will hence, be critical and could well set the tone for this encounter.
#2 India's Spin against the Kiwi Middle Order
Ind-NZ Key Battles: While Bumrah and Bhuvi will surely pose threats to the New Zealand openers- Martin Guptill and Colin Munro, the match could well be defined by how the experience New Zealand middle order of Williamson and Taylor tackle 'Kulcha', the duo of Kuldeep Yadav and Yuzvendra Chahal.
While Chahal has been phenomenal in the World Cup, picking up 6 wickets at an economy under 6, Kuldeep Yadav is still struggling with his from and has just 1 wicket in his kitty. The chinaman's form and spell could have a match-defining role as India would like to see the back of Williamson and Taylor
#3 New Zealand's 4th/5th Bowling Options vs India's Lower Middle Order
Ind-NZ Key Battles: Thanks to a wonderfully gifted and aggressive lower middle order of Pandya, Dhoni and Jadhav, India could afford to take time, start slow and set a platform for these to exploit in the final overs. Just how India did against the Aussies, they would look at starting slow and see of the threat of Boult, Henry and Ferguson away and then capitalise on the overs of the likes of Neesham, Grandhomme and Santner. India could yet again promote Pandya and Dhoni if the need arises and they could go hammers and tongs against these to put India in the driving seat. A battle within a battle would pit Pandya against Santner which will make for an intriguing watch given Pandya's treatment of the spinners and similarly, them having a chance of getting his priced wicket.
#4 Rain vs Prayers
Ind-NZ Key Battles: Last but not least, this might well be the most crucial of battles in the game. The forecast doesn't look too good and rain is expected to play a heavy part. However, like in the past, we would continue to pray to have a game and hope the rain gods respond. Let's see who wins this!
Also Check: