Tips and Guidelines for a pro athlete: A person who plays sports for a living is usually known as a professional athlete. They obtain training in various fields of sports like football, cricket, basketball and the like. They understand the techniques and rules of athletic training and abide by them systematically. The rigorous training they undergo is an essential part of being a pro athlete.
It is a no brainer that you need to start right from the childhood and evolve in the process slowly for the most effective training but not everyone is privileged enough to get such an opportunity in the childhood, so it's better late than never. Being an athlete requires a lot of sacrifices when you are not a child anymore, it takes a good amount of willpower to stay a pro-athlete.
Here are a few tips to become a pro athlete:
•
Practice makes anything perfect
Image Source
Being a professional is much more than mere interest or wish, it's all about hard work and long hours of repetitive tasks. Anybody can run, but a marathon winner has done it for a longer time and with more agility. A bike racer needs to be well versed in riding his bike in any terrain, this is what makes him different from the rest of the bikers. Repeating the same activity and acing in performance each day is the secret to being a skilled professional. A professional player becomes his best when he practices at every chance he gets and improves his abilities each day.
•
Best coach, the best player
Image Source
Most professional player's kids have skills in the same area as their parent because they have a professional parent around to train them at any time and are also customized to train them in the way they are supposed to be trained. This is applicable to any player who is professional in nature. Any person can become a champion in a field if you harness their natural talent in the particular field and mold it to bring out the best at what they do. A coach is the one that turns a player into a professional with his coaching and advice.
•
Working on improving every day
Image Source
Taking baby steps towards your improvement will help you grow steadily and lay a strong foundation instead of taking a huge leap at once and bearing the consequences. Develop the skills you need at a slow pace and in healthy ways. For instance, if you have a marathon at the end of the month, start as soon as you are informed about it, with constant practice daily. If you ran 3 Kms today, increase it to 3.5 Kms instead of going for 4 Kms directly. This will help you avoid severe pain that might occur because your body wasn't used to running for a while now.
•
Friendship matters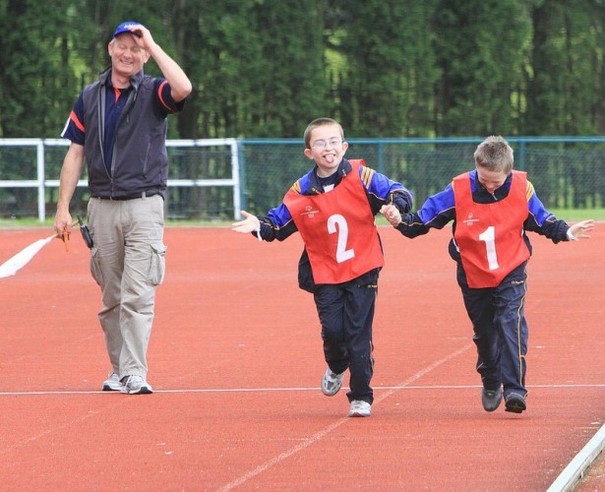 Image Source
Making friends is an essential part of being able to be a good athlete. Team sports require a lot of friendly gestures, understanding, and cooperation alongside the focus on the team as a whole. Each member has the responsibility to push the other members to perform their best and this requires friendship and ability to work as a group. While even in solo events of a running race, the aspect of sportsman's' spirit is necessary to have a healthy competition. This is a factor that is developed and may not be something you are born with. Friendship is an integral part of any sport.
•
Breakfast is an essential meal
Image Source
Breakfast is one of the most important meals that you have in an entire day. It literally 'breaks your fast' that you carried on for 6-8 hours. This is needed to provide you the energy that you need to succeed over the day. A healthy breakfast is a game changer. It can decide how active you remain during the day. On the day of a match, you are expected to have a healthy and heavy breakfast which will help you stay fit during the match and not drop off. Every pro athlete has to follow a healthy diet which decides their fitness.
A few other things to focus on to be a pro athlete:
Start training at the earliest
Undergo rigorous training
Join sports clubs and camps in college to increase knowledge
Participate in athletic events and gain sports quota scholarships
Here are a few requirements to become the pro:
Develop a good eye-sight
Have good reflex and coordination
Giving performances even under pressure
A competitive mind
A disciplined life
A lot of traveling around
A college education is also necessary for a pro athlete. The career of a professional athlete comes to an end early and this can cause issues when you have finished a career of being a champion in your field. It is an essential back up plan that needs execution at the earliest because this will ensure that you have a career after your sports quota in life gets over. Attending colleges can also be a chance to get chosen by school authorities who are seeking athletes.
Being a pro athlete is also about becoming famous. You will be popular in your filed and people are going to look up to you and you will become a role model to many so it is also necessary to be as humble and down to earth as possible and not let fame get the better out of you. It is necessary to find a balance in every situation and try to control your reaction towards negative events. Your reaction to the events around you will also decide your future in the field as people are the ultimate audience here and without them, you are not really famous.
These tips are essential to become a pro athlete in any field of interest. A pro athlete has to be vigilant about anything that happens in his/her field and keep up with the latest happenings. Having the perfect natural skills combined with your developed habits of training will pay off and make you the champion in your field. Stay focused!
Also Check:-