10 months, and finally it's coming. Yes, you heard it right. Battlegrounds Mobile India (BGMI) is finally making a comeback. Krafton's CEO, Sean Hyunil Sohn, mentioned in his recent statement that the game will be available to play in the near future. This news has created a wave of excitement among the Indian gaming community. The pace with which Indian gaming was booming before the ban was exceptional. Hence, the ban's upliftment will rejuvenate the rise of Indian esports and push them to another level.
Apart from the esports industry, the game was a platform to spend some quality time with friends, chill, relax, and have some fun. Many Indians have their emotions attached to this game when it comes to the synergy, the excitement, and the bonding that they got while playing BGMI. I personally enjoyed those times in lockdown when the activity for the day was just chilling with friends in the game for hours and hours. Creating custom rooms and challenging friends in a team deathmatch was so much fun.
Even if we were not playing the game, we kept talking for hours and hours while being idle in the lobby itself. I also miss the times when we used to challenge players on "All Mic." This whole environment in which we were all so invested and enjoyed feels so nostalgic after hearing about the relaunch and the return of the game. I know the craze for the game has somewhere faded, but with the return of the game, I am quite assured that it will come back eventually.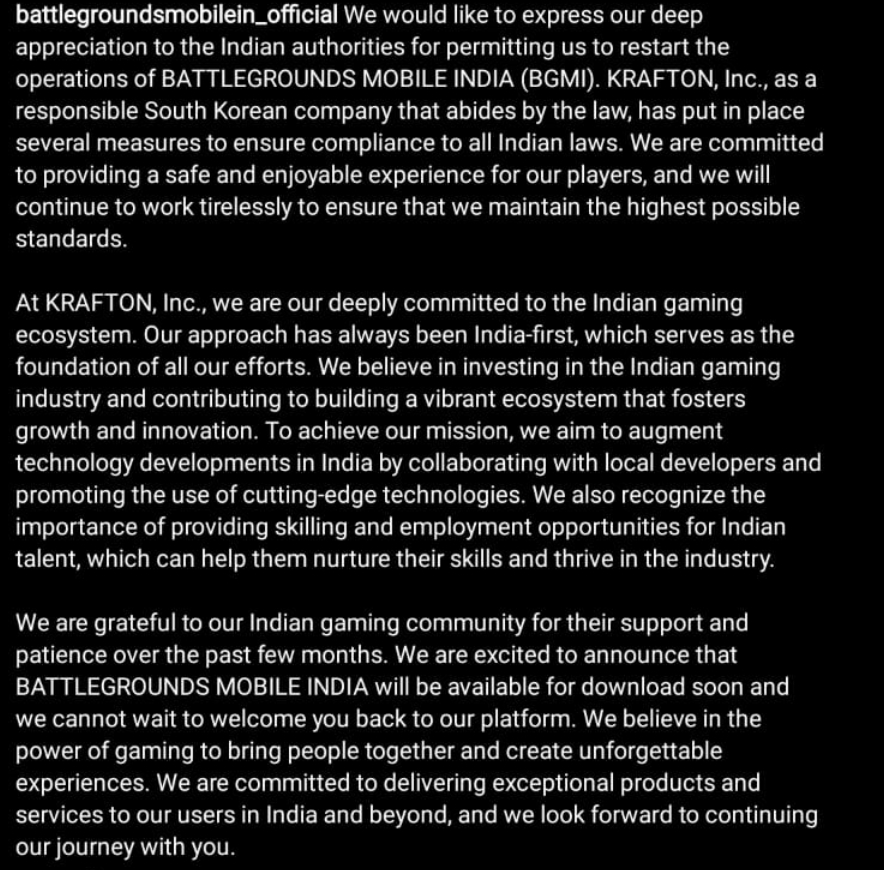 Also, when it comes to the esports scene, I think that many Indian talent and underdogs who didn't get a chance to showcase their skills and gameplay at a bigger stage will finally be able to do so. There was a time when BGMI was being broadcast on television; it was the peak era of Indian esports. Well, this ban upliftment will surely bring back that era on a much bigger and better scale. Indian gaming culture was always inclined towards mobile gaming, especially BGMI, because of the emotions attached to the game.
**Note: The Writer is an ardent Esports fan and follows the latest happenings of this popular sporting ecosystem.