There is a very popular saying in English "Where there is a will there is a way" and the one who believes in this philosophy definitely succeeds in their life.
Here we will reveal the story of Noida DM Suhas Yathiraj who is equally active in his administration work along with that he has won a silver medal for India in the recently concluded Paralympics 2020.
SUHAS wins SILVER!!!

Suhas L Yathiraj (IAS) @dmgbnagar bags 2️⃣nd medal for 🇮🇳 in #Badminton at #Paralympics

A brilliant display of grit, passion & determination in one of the most thrilling finals

We salute your dedication to the service of the nation and sports!!#Cheer4India pic.twitter.com/ytaoXddmaa

— SAI Media (@Media_SAI) September 5, 2021
He is currently IAS officer of Noida and hasn't only participated in one of the biggest sporting events in the world but also won a  medal which is a big feat in itself.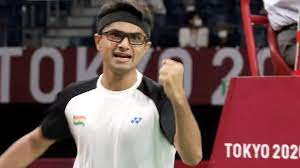 His wife Ritu was elated with her husband's achievements and while talking to one of the media outlets added that apart from his victory we are happy with the effort that he has displayed in the recently concluded Paralympics in detail.
We are very proud of him. Whatever he has done is a live example for all of us. It was an impossible attempt, I believe. Wins and losses are part and parcel of life but the way he put in all his efforts is what I am going to remember forever," Ritu, who is an additional district magistrate in Ghaziabad, told PTI.

"The race for medals is endless. Today it's silver, tomorrow it's gold. Then it would be something else. The biggest achievement is participating in a world tournament and realising a long-nurtured dream," she said.
She also talked about the congratulatory message that his husband is receiving on social media and also in the form of phone calls.
"So many phone calls, messages, and people's response on social media. Couldn't have imagined this and so all this is going to stay with us as memories. I am very happy today," she said.
"I always spoke to him before and after the match," said Ritu and added that she does not watch Suhas' matches live because doing so makes her anxious.
"I get very anxious during his matches so I do not watch them. He only who calls me up after every match to share the results," she said.