Coming from a middle-class family, Garima was interested in sports like Kabaddi, athletics and cricket since her childhood. Garima Chaudhary was the sole Indian judo participant at the London Olympics in 2012. The 29-year-old Judoka has always believed in determination & hard work. When the 22-year-old Garima Chaudhary left from Meerut to become one of the top judokas in India. She had the utmost faith in herself. Judo was not something related to her family & only due to her aggressive attitude, her mother put her into judo and that is where her sporting journey started from.
EARLY LIFE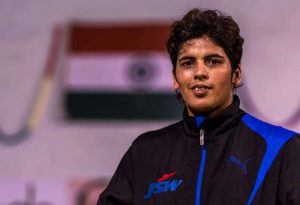 The two words that will describe the 29-year-old Judoka is 'fearless' & 'bold'.  The lone Indian judoka to get qualified for the London Olympics Games, Garima Chaudhary clinched a continental quota berth in the 63-kg weight category for the London Olympics on the basis of her ranking released by the International Judo Federation. Since taking up judo years back, there has been continued improvement in her performance. She has earned numerous medals at the national level. Chaudhary was selected for the Junior Asian Championship when she was 14 years old. Ever since her mother encouraged her to take up judo at the age of 10, she never got distracted from her aim to become India's one of the finest Judo players. 
PERSONAL LIFE
Garima Chaudhary was born on 02 April 1990 in Meerut, Uttar Pradesh, India to Ranjender Chaudhary and Sathesh Chaudhary. She belongs to a middle-class family. Her uncle was a local hockey coach while few of her cousins were boxers at the national level. She grew up watching them play & later took judo for her. Garima's father remained worried about her education & future but her mother always supported her passion for sports.
Her father is a transporter and her mother is a beautician mother Satesh Chaudhary in Meerut. The judoka started her judo training when she was 10 at Kailash Prakash Stadium in Meerut. In 2004, she was inspired by Sports Authority of India (SAI) coach Jiwan Sharma and hence she started her professional training under him. Since then Garima sharpened her skills under Coach Jiwan at SAI Centre of Excellence, Patiala. When she was 15 years old, she left her home for her judo training at Patiala as the center had advanced facilities. As a youngster, she used to travel alone to competitions. At first, the young judoka felt awkward to travel alone but with time she got used to it as well.
In 2004, she got selected for the Commonwealth Judo Championship that was held in New Zealand. This was Garima's first senior-level international tournament. Garima thus became an exception by first participating in a senior international tournament, followed by a senior national championship.
PROFESSIONAL LIFE
In 2011, Garima Chaudhary competed at the World Judo Championships in Paris. She was also a part of the World Cup for her qualification round for the Summer Olympics 2012. In 2012, she finished in the sevenths position in the 63 kg category event at the Asian Judo Championships. With her excellent performance, her result comprised of a total point of 34 & she attained the eligibility to represent her country, India, at the London Olympics.
For her preparation for the Summer Olympics, Garima trained in France & Germany. The 29-year-old judoka underwent a proper competition-oriented training, learned about her opponents, & focused on some specific fitness aspects.
After all her training she competed at the London Olympics. At the London Olympics, she was defeated by an Ippon, Yoshie Ueno, in the first elimination round of the Women's 63 kg category event. Although this broke her dream to achieve an Olympics title, India's sports administrators realized that she was a good medal hope at the Incheon Asian Games in 2014 & the Glasgow Commonwealth Games in 2004. Garima Chaudhary reached the quarter-finals at the Commonwealth Games in 2014.
ACHIEVEMENTS
SUMMER OLYMPICS
17 Rank: 2012, London: Women's Half-Middle weight
JUNIOR ASIAN CHAMPIONSHIP
Gold: 2007

Silver: 2008

Bronze: 2009
SAF GAMES
SENIOR COMMONWEALTH CHAMPIONSHIPS
COMMONWEALTH CHAMPIONSHIPS
PERSONAL INFORMATION
Name: Garima Chaudhary
Nickname: Garima Chaudhary
Sport: Judo
Events: 63 kg category
Country: India
Father's name: Ranjender Chaudhary
Mother's name: Sathesh Chaudhary
Coach: J G Sharma & A C Saxena
Height: 1.68 m (5' 6")
Weight: 62 kg (137 lbs)
Eye colour: Black
Hair colour: Black
Date of birth: 02 April 1990
Age: 29
Birth place: Meerut, Uttar Pradesh, India
Zodiac sign: Aries
Nationality: Indian
Hometown: Uttar Pradesh
Religion: Hindu
CONTROVERSY
Apart from her glorious performances and achievements, Garima Chaudhary has never been a part of any controversy in her career thus far. 
NET WORTH:
The primary net worth and income of Garima Chaudhary comes from her sporting profession.
SOCIAL MEDIA HANDLES: 
FACEBOOK- https://www.facebook.com/gcjudo/
INSTAGRAM- https://www.instagram.com/thegarimachaudhary/
TWITTER- NOT ACTIVE