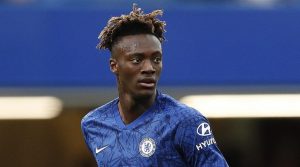 Chelsea manager Frank Lampard said that he wants Tammy Abraham to start "scoring regularly, urging him to focus more on training.
Abraham is one of the academy players who have broken through and became a mainstay but unlike six of the others, he has not signed a new contract in the past year.
"I think Tammy's contract, we are not at a critical level with it," Lampard said ahead of Chelsea's Premier League trip to Crystal Palace.

"I will leave it with him and the club to discuss that side of it. I don't think it is something that is clearly in his mind now, at least it shouldn't be.

"What needs to be in his mind now is these games we have coming up and how much he can give us on the pitch, whether coming on as a sub or starting the game."
Lampard also told Abraham to work hard in training to force his return to the Blues side.
"He has had a really good season, he hasn't scored as much in the second half of the season," added Lampard.

"I think that is where Tammy is at. I think the contract will hopefully look after itself between him and the club and he just needs to focus on giving us that Tammy that we had earlier in the season."
Chelsea is all set to face Crystal Palace, scheduled to take place on Tuesday.
They are currently at 4th spot in the league standings with 57 points to their name.