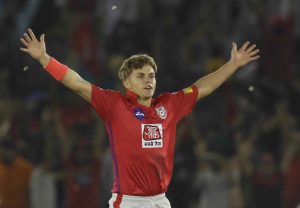 England all-rounder Sam Curran is looking at his gig with Chennai Super Kings set up as an "opportunity to pick the brains" of captain Mahendra Singh Dhoni and coach Stephen Fleming.
Among all the England players in the auctions, the 21-year-old Curran was the most expensive English player at Rs 5.5 crore, bought after an intense bidding war between CSK and Delhi Capitals.
"Can't wait to come to Chennai and meet all my new teammates, playing under MS Dhoni our captain and our coach Stephen Fleming. It's obviously going to be a great opportunity for me to pick their brains and, hopefully, we can bring the trophy home to Chennai," Curran said in a video uploaded by his new franchise.
In the last season, Curran had a fairly successful outing for Kings XI Punjab and he also took a hat-trick but lack of consistency meant he was released ahead of this year's auction. But the youngster is now excited about his second innings.
"Super excited to be joining the Chennai Super Kings for next season of IPL. A massive thank you to the coach, management staff.
"Just want to say I can't wait to play in front of the home fans in Chennai. I felt some amazing things, I was lucky enough to play last year against Chennai, and to play in front of the home fans this year is going to be really special.
Hopefully, we can put in some great performances for the fans," he signed off.
Apart from Curran, CSK brought three players. The Super Kings picked Piyush Chawla for INR 6.75 crores, Josh Hazlewood for INR 2 crore and Tamil Nadu spinner Sai Kishore for INR 20 lakhs.
Curran has played 13 Tests, two ODIs and five T20Is for England. In Tests, he has 581 runs and 27 wickets. In ODIs, he has 17 runs and two wickets, while in the shortest format Curran has 35 runs and six wickets.