Edge Biography: Adam Joseph Copeland, popularly known by his ring name Edge, is a Canadian retired professional wrestler, who has been recognized as one of the greatest in-ring performers in professional wrestling platform. He has also become the member of WWE Hall of Fame in 2012. Copeland holds a huge history of his persona in wrestling. From the time, he collaborated with Christian to his golden period of holing World Championships, he emerged out as a leading WWE superstar of all time.
Copeland started to develop his interest in wrestling at a very young age when he used to, Hulk Hogan, Ricky Steamboat, Shawn Michaels, and Bret Hart on television. Copeland watched his  WrestleMania VI at the Toronto SkyDome in 1990 sitting in the eleventh row at ringside. He received a wrestling training with Sweet Daddy Siki and Ron Hutchison in Toronto. After he completed his graduation from  Humber College, he made his professional wrestling in 1992 with Independent circuits.
In 1996, Copeland signed an official contract with WWE  and later teamed up with Christian in 1998 to 2001 where they feuded with tag teams like The Hardy Boyz, D-Generation-X, The Dudley Boyz and The Brothers of Destruction. Edge's first singles title, the WWF Intercontinental Championship, came on July 1999, when he defeated Jeff Jarrett.
Edge  holds a record of seven-time world heavyweight championship and four-time WWE Championship, making him an 11-time world champion in WWE.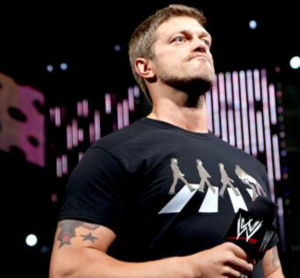 EARLY LIFE
Adam Copeland was born on October 30, 1973 in Orangeville, Ontario. He was raised by his single mother, Judy Copeland. He persuaded his graduation from Humber College with a degree in radio broadcasting.  He wrestled on the independent circuit under the name Sexton Hardcastle. At the age of 17, Copeland won an essay contest with his local gym, and his prize was free wrestling training with Sweet Daddy Siki and Ron Hutchison in Toronto.
PERSONAL LIFE
Adam Copeland resides in Asheville, North Carolina, United States. Before becoming a full-time professional wrestler, Copeland was involved in playing hockey  with retired National Hockey League (NHL) player Aaron Downey. with retired National Hockey League (NHL) player Aaron Downey.. Copeland has been thrice married in his lifetime; his former two wives are Alannah Morley (2004) and Lisa Ortiz (2005). He is currently married to former WWE diva and Hall of Famer Beth Phoenix, whom he married in 2016. He has two daughters, Lyric Rose Copeland and Ruby Ever Copeland.
PROFESSIONAL LIFE
Copeland started his professional wrestling career in 1992 with Independent wrestling platforms under the ring name Sexton Hardcastle. He achieved several victories during his tenure with Independent circuits. Copeland signed an official contract with WWE in 1996 and later bagged his  first singles title, the WWF Intercontinental Championship, against Jeff Jarrett. However, he lost the title next night to Jarrett.
He collaborated with Christian at WrestleMania 16 where the duo went on to win the WWF Tag Team Championship, a victory they replicated six more times. However, they lost the tag titles to Hardy Boyz later. In 2001, Edge went on to make his individual ground in WWE by winning the King of the Ring tournament. During this time, his friendship with Christian went sour and the two fought over Intercontinental Championship title, in which Edge defeated Christian. Edge made up for his loss by winning the WCW US Championship title from Kurt Angle.
In 2002, Edge teamed up with Hulk Hogan to win the World Tag Team Championship in July 2002. However, they lost to Lance Storm and Christian. Edge's feud with Christian finally ended when he won the SmackDown match. For the SmackDown! WWE Tag Team Championship, Edge formed a tag team with Rey Mysterio. Though they lost to Kurt Angle and Christ Benoit, the match was voted as the 'Match of the Year'. Later, Edge and Mysterio won their first Tag Team Championship title only to lose it to Los Guerreros later.
In 2004, Edge won the World Tag Team Championship with Benoit.  He also won the Intercontinental Championship at Vengeance defeating Randy Orton. However, in November, Edge and Benoit lost the World Tag Team Championship. Edge competed in the first Elimination Chamber match in 2005, which he won by defeating Michaels. At WrestleMania 21, he won his first ever Money in the Bank ladder match that took him straight to World Heavyweight Championship. His first ever World Heavyweight Championship match was against Batista which he lost.
Edge challenged John Cena, the then reigning WWE Champion for the championship. Just after two spears, Edge defeated Cena to win his debut WWE Championship. It also marked his first world title win. He defeated Ric Flair in a TLC match to retain the WWE Championship title. However, at the Royal Rumble, Edge lost the WWE Championship back to Cena.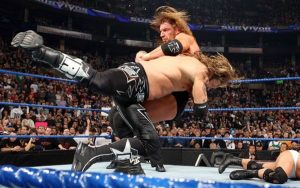 Edge's second WWE Championship title came when he defeated Van Dam in a Triple Threat match on Raw. He retained his title at the SummerSlam when he defeated Cena. At  Unforgiven event held in September 2006, Edge lost the championship to Cena.
In 2006, Edge joined hands with Randy Orton to form a tag team named Rated RKO. Rated RKO was the first to defeat Triple H and Shawn Michael's DX. They soon dominated the Raw brand's tag team to become the tag team champions.Edge became a record holder of 11 World Tag Team Championship title reigns in his WWE career. They lost their title when Michaels paired with Cena to defeat the Rated RKO.  Edge became the first person to win the Money in the Bank contract twice. Later, Edge speared Undertaker for his first World Heavyweight Championship title. In  2007, Edge won the World Heavyweight Championship at Armageddon. However, at WrestleMania XXIV, he lost the World Heavyweight Championship to Undertaker. Edge's third WWE Championship win of his career came in 2008 when he pinned Triple H to become the WWE Champion.
In 2010, Edge won the Royal Rumble 2010. He defeated Dolph Ziggler to become the World Heavyweight Champion for the seventh time in 2011. It was his eleventh World Championship title overall. Edge's last official in-ring match was at the WrestleMania 27, where he defeated Alberto Del Rio defending his title successfully. On April 15, 2011, Edge relinquished  his World Heavyweight Championship, officially retiring as a World Champion.
Apart from being a successful wreslter, Edge tried his luck into acting where he had a cameo appearance as a road bandit in the fantasy movie Highlander: Endgame in 2000. In 2007, Copeland appeared alongside Randy Orton, John Cena, and Bobby Lashley on Deal or No Deal. in 2011, Copeland appeared as Thelo, an Abnormal, in the Sanctuary episode "Into the Black". In 2013, Copeland hosted a special episode of the Syfy series Ghost Mine.
In 2014, Copeland made a cameo appearance in the music video for the In-Flight Safety song "Destroy" as his Dwight Hendrickson character. He was also nominated for a Golden Maple Award for Best Actor in a TV series for his role in Haven as Dwight Hendrickson.
HONORS
The Comeback of the Year in 2004

Feud of the Year in 2005 with Lita vs. Matt Hardy

Feud of the Year in 2006 vs. John Cena

Match of the Year in 2000 with Christian vs. The Dudley Boyz vs. The Hardy

Boyz in a Triangle Ladder match at WrestleMania 2000

Match of the Year (2001) with Christian vs. The Dudley Boyz vs. The Hardy Boyz in a Tables, Ladders, and Chairs match at WrestleMania 17

Most Hated Wrestler of the Year in 2006

Most Improved Wrestler of the Year in 2001

Ranked No. 2 of the top 500 singles wrestlers in the PWI 500 in 2007

Match of the Year in 2002 with Rey Mysterio vs. Kurt Angle and Chris Benoit at No Mercy

Tag Team of the Year in 2000 with Christian

Worst Feud of the Year in 2010 vs. Kane

Worst Worked Match of the Year in 2008 vs. Vladimir Kozlov and Triple H at Survivor Series
ACHIEVEMENTS
Edge is a one-time CWA North American Champion

Edge is a two-time ICW Street Fight Tag Team Champion with Christian Cage and Joe E. Legend

Edge is a one-time MWCW Tag Team Champion with Joe E. Legend

Edge is a one-time  WCW United States Champion

Edge is a seven-time  World Heavyweight Champion in WWE

Edge is a four-time  WWE Champion

Edge is a five-time WWF/E Intercontinental Champion

Edge is a  two-time WWE Tag Team Champion with Rey Mysterio  and Chris Jericho

Edge is a twelve-time WWF/World Tag Team Champion with Christian (7), Hollywood Hulk Hogan (1), Chris Benoit (2), Randy Orton (1) and Chris Jericho (1)

Edge won King of the Ring in 2001

Edge won Money in the Bank in 2005

Edge won Bragging Rights Trophy in 2010 with Team SmackDown (Big Show, Rey Mysterio, Jack Swagger, Alberto Del Rio, Kofi Kingston and Tyler Reks

Edge won Royal Rumble in 2010

Edge won Gold Rush Tournament in 2005

Edge is a Fourteenth Triple Crown Champion

Edge is a Third Grand Slam Champion (under the current format, Thirteenth overall)

Edge inducted in WWE Hall of Fame (Class of 2012)

Edge bagged Slammy Award (2 times)

"Oh Snap" Meltdown of the Year 2010 for Destroying the Anonymous Raw General Manager's computer
PHYSICAL MEASUREMENTS
HEIGHT: 196 cm
WEIGHT: 109 kg = 241 lbs
EYE COLOR: Dark Brown
HAIR COLOR: Blonde
PERSONAL INFORMATION
Full Name: Adam Joseph Copeland
Age: 46 years
Date of Birth: October 30, 1973
Hometown: Orangeville, Ontario, Canada
Zodiac: Scorpio
Religion: Canadian/ Christian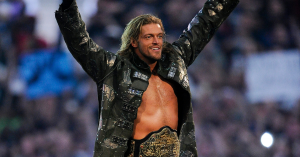 EDUCATION:
School: Graduated from Humber College
FAVOURITE CELEBRITIES
Favorite wrestler: Shawn  Michaels & Bret Hart
Favorite actor: Tom Cruise
Favorite actress: Angelina Jolie
Hobbies: Wrestling, gymming, playing hockey, listening music
Favorite Food: Grilled Chicken
Dream Holiday Destination: Unknown
Favorite Color: Black and RedNET WORTH
$14 Million estimatedCONTROVERSY
In 2007, Copeland was accused in one of ten wrestlers found to have purchased steroids and other drugs from an online pharmacy. He got suspended for 30 days on grounds of WWE Wellness Policy violation.
SOCIAL MEDIA PROFILES
Facebook:   https://www.facebook.com/EdgeWWE/
Twitter:    https://twitter.com/EdgeRatedR
Instagram: @edgeratedr