Natalie Katherine Neidhart-Wilson, popularly known by her ring name Natalya, is a Canadian-American professional wrestler, currently working in World Wrestling Entertainment for Raw brand. Natalya has been recognized as one of the most influential and promising wrestlers of the current time. Belonging to the Hart Wrestling Family, Natalya developed her interest in wrestling from a very young age and joined Hart family Dungeon, where she took wrestling training from her uncles Ross and Bruce Hart.
In 2001, she got involved in wrestling promotion named  Stampede Wrestling where she became the inaugural Stampede Women's Pacific Champion and won the SuperGirls Championship the following year in October 2006. Natalie signed a contract with World Wrestling Entertainment in 2007 and devoted her time wrestling in  Deep South Wrestling, Ohio Valley Wrestling, and Florida Championship Wrestling (FCW) developmental territories.
Natalie has held many championships in her career including SuperGirls Championship once, Stampede Women's Pacific Championship twice,  Women's Wrestler of the Year in 2005, WWE Divas Championship once and  WWE SmackDown Women's Championship once.  She has become the first woman in WWE history to hold both the Divas Championship and the SmackDown Women's Championship. Neidhart has also featured as a main cast member of the reality television series Total Divas.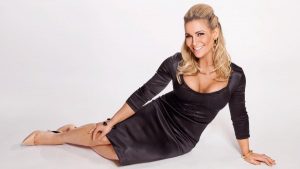 EARLY LIFE
Natalie Katherine Neidhart-Wilson was born on May 27, 1982, in Calgary, Alberta, Canada. She is the daughter of renowned wrestlers Jim "The Anvil" Neidhart and Elizabeth "Ellie" Hart. She persuaded her academics from  Vincent Massey Junior High School and Bishop Carroll High School.  She has also become the first woman in her family to receive professional wrestling training in the Hart Dungeon.
PERSONAL LIFE
Natalie Katherine Neidhart resides in Tampa, Florida, U.S. She tied know with TJ Wilson a.k.a. Tyson Kidd on June 26, 2013. Before getting married, the two dated for almost twelve years since 2001. Her wedding was also featured on the first season of Total Divas. They are not having any babies until now.
PROFESSIONAL LIFE
Natalie began her professional wrestling career in 2000 by working for the Hart Family's promotion, Stampede Wrestling, where she feuded with Belle Lovitz. She also bagged the inaugural Stampede Women's Pacific Championship in 2005.
Natalya started working for the Hart Family's promotion Stampede Wrestling. She started a feud with Belle Lovitz which lasted long. She also wrestled abroad in countries like England, Canada and Japan. In 2005, she won the inaugural Stampede Women's Pacific Champion. She joined won the SuperGirls Championship from Lisa Moretti at  NWA: Extreme Canadian Championship Wrestling. She also participated in the Great Canadian Wrestling tournament where she came second.
Natalya signed a contract with World Wrestling Entertainment WWE, where she was assigned to its developmental territory, Deep South Wrestling. She was later sent to Florida Championship Wrestling (FCW) and then to Ohio Valley Wrestling (OVW) where she won a battle royal. Natalya made her debut at the Next Generation Hart Foundation for tag team matches. In April 2008, Natalya made her roster debut in a match against Michelle McCool.  She also allied with Victoria. Natalya made her television in-ring debut against Cherry in a winning effort.
In October 2008, Natalya allied with Victoria. The two fought against Maria and Brie for an episode of SmackDown!, against Michelle McCool, Maria and Brie during a Divas Halloween costume tag team match, and against the Bella Twins.
Natalya also appeared at Extreme Championship Wrestling (ECW) in February 2009. Her first match was against Alicia Fox in a winning effort. She then competed at the WrestleMania XXV but lost to Santina Marella. Later, she became an official member of the ECW brand. Natalya collaborated with cousins David Hart Smith and Kidd. The trio was referred to as The Hart Trilogy but was later called The Hart Dynasty. In June 2009, Natalya along with other members of The Hart Dynasty was drafted to SmackDown.
Natalya also participated at the Bragging Rights pay-per-view where she was a member of the winning team of SmackDown Divas who defeated the Raw Divas. The Hart Dynasty, Natalya appeared at the WrestleMania XXVI where The Hart Dynasty won the Unified WWE Tag Team Championship from The Miz and The Big Show.  In 2010, Natalya and The Hart Dynasty defeated Tamina and The Uso brothers in a six-person mixed tag team match. At the Money in the Bank match, she helped The Hart Dynasty retain the championship against The Usos.
In September 2010,  she won the battle royal which helped her become number 1 contender of the WWE Unified Divas Championship. She defeated McCool and Layla to bag the WWE Divas Championship title for the first time. She lost her title to Eve. In 2011, she paired with Beth Phoenix for a fight for the Divas Championship title. They formed a tag team named as  'Divas of Doom',  fought against The Chickbusters, Kelly Kelly and Eve Torres successfully. They then participated in the tag team match pinning Kelly Kelly. Natalya assisted Phoenix in a title match against Kelly which Phoenix ultimately won to bag her first WWE Divas Championship. The Divas of Doom also defeated the Chickbusters AJ and Kaitlyn in tag team match later in singles match. They yet again defeated the Chickbusters in SmackDown.
Natalya ignited her feud with Bella Twins in 2013 and defeated them twice both in Raw and SummerSlam. She joined hands with The Great Khali for a mixed tag team match which the duo lost. Natalya defeated AJ in a tag team match on Raw to become the number one contender in WWE Divas Championship. However, she failed to capture the title at TLC.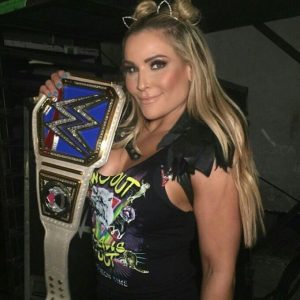 In 2014, she competed at WrestleMania XXX for the WWE Divas Championship but lost to AJ Lee. In 2015, she teamed up with her real-life husband Tyson Kidd to fight Naomi and Jimmy Uso which they lost. Later she served as the manager for Kidd and Cesaro team who went on to win the WWE Tag Team Championship at Fastlane.
At Wrestlemania 32, Natalya formed the Total Divas team (also including Brie, Alicia Fox, Eva Marie and Paige) faced the newly dubbed Team B.A.D. & Blonde (Naomi, Tamina, Lana, Emma, and Summer Rae) in a 10-Diva tag team match, which they won. In 2016, she went on to defeat Flair, Lynch, Tamina, and Lana in a five-way elimination match at Battleground, to bag an opportunity for the SmackDown Women's Championship against Naomi at SummerSlam. At the event, Natalya defeated Naomi to capture the SmackDown Women's Championship. With this victory, Natalya became the first woman to hold both the Divas Championship and the SmackDown Women's Championship. She lost the title to Flair ending her reign at 86 days.
She also formed an alliance with Ronda Rousey in 2018 and later won an eight-woman gauntlet match to become the number one contender for Raw Women's Championship. She, however, lost the title match to Rousey.  Natalya has lately created history with Lacey Evans in a first-ever women's match to take place in Saudi Arabia at Crown Jewel pay-per-view, which she won.
Natalya has made her video game debut as a playable character in WWE SmackDown vs. Raw 2010, WWE SmackDown vs. Raw 2011, WWE 12, WWE 13, WWE 2K14, WWE 2K15, WWE 2K16, WWE 2K17, WWE 2K18, WWE 2K19 and now in WWE 2K20.
HONORS
Ranked No. 4 of the top 50 female wrestlers in the PWI Female 50 in 2011
Worst Worked Match of the Year (2013) with Brie Bella, Cameron, Eva Marie, JoJo, Naomi, and Nikki Bella vs. AJ Lee, Aksana, Alicia Fox, Kaitlyn, Rosa Mendes, Summer Rae, and Tamina Snuka.
ACHIEVEMENTS
Natalya is a one-time SuperGirls Champion
Natalya is a two-time  Stampede Women's Pacific Champion
Natalya won  Women's Wrestler of the Year (2005)
Natalya is a one-time  WWE Divas Champion
Natalya is a one-time WWE SmackDown Women's Champion
PHYSICAL MEASUREMENTS
HEIGHT: 165 cm
WEIGHT: 61 kg ( 135 lbs)
EYE COLOR:  Brown
HAIR COLOR: Black
PERSONAL INFORMATION
Full Name: Natalie Katherine Neidhart
Age: 37 years
Date of Birth: May 27, 1982
Hometown: Calgary, Alberta, Canada
Zodiac: Gemini
Religion: American
EDUCATION/School:  Vincent Massey Junior High School and Bishop Carroll High School
FAVORITE CELEBRITIES
Favorite wrestler: Ric Flair, Bret Hart and Trish Stratus
Favorite actor: Brad Pitt
Favorite actress: Angelina Jolie
Hobbies: Wrestling, gymming, partying, traveling, shopping
Favorite Food: Oats, Grilled Chicken
Dream Holiday Destination: Italy
Favorite Color: Black
NET WORTH
$5 Million estimated
CONTROVERSY
Not having a controversial career until now
SOCIAL MEDIA PROFILES
Facebook:   https://www.facebook.com/Natalya/
Twitter:    https://twitter.com/NatbyNature
Instagram: @natbynature