Devendro Singh Biography: Devendro Singh Laishram, who is also known as Devendro Laishram & Devendro represents India in the light-flyweight event. Listed as one of the best boxers in the world, Devendro Singh was once ranked 3rd in the world.
EARLY LIFE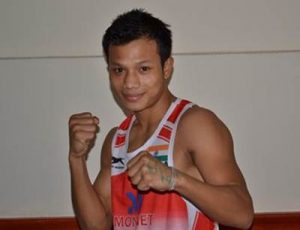 Devendro Singh took up boxing after watching his elder sister competing in the same sport. He enjoyed an exceptional career filled with outstanding performances. Unfortunately somehow, in all his big competitions, he ended up without achieving any title & mostly stood on the losing side. Despite every hardship that he suffered, the talented boxer from India always had a positive mindset. His positive outlook has always reflected in his performances and actions as well.
PERSONAL LIFE
Devendro Singh Laishram was born on 02 March 1992 in Imphal, West district, Manipur, India. He was born to Jugindro Singh and Maklembi Devi. His sister, Laishram Sushila Devi, was an International Boxing Champion. As a sister, Sushila not only accompanied her brother but also guided him during his training period. She still keeps track of Devendro's performances & corrects his flaws. In short, she is the analyst of Devendro Singh. Other than Sushila, his family is also very supportive & do everything they could to boost Singh to acquire his dreams. In Devendro's daily conversation with his father on phone, he receives a lot of encouragement from his father who is also the first medallist in their state, Manipur. His words never fail to encourage Devendro to practice that extra bit in his training that can favour him to live up to his father's expectations.
PROFESSIONAL LIFE
The qualification for the boxing event at the Summer Olympics 2012 was completely based on the five Continental Olympic Qualifying Events, World Amateur Boxing Championships 2011 and the World Series of Boxing (WSB) Individual Championships. Total 92 locations were reserved from the World Amateur Boxing Championship that was held in Baku in Azerbaijan from 22 September 2011 to 10 October 2011, out of which the top 10 pugilists from different National Olympic Committees in each weight class qualified for the Games. Devendro Singh was coached by the State Boxing Coach of Manipur, M. Narjit Singh and Gurbaksh Singh Sandhu who is the Indian Boxing Coach.
Devendro Singh also competed in the World Amateur Boxing Championships. Singh was chosen based on his performance in the trials for the World Championships that was held in the Army Sports Institute. Devendro managed to beat Nanao Singh Thokchom who earned a silver medal at the Asian Amateur Boxing Championships. Singh also defeated Amandeep Singh during the trials. He successfully earned an Olympic berth. Unfortunately, in the quarterfinals, Devendro Singh lost to Shin Jong-Hun of South Korea. He lost the round by 16 to 28 points difference. Singh was little known before his participation in the tournament and also his achievement was expected a lot. Devendro Singh got continuous support from sports science faculty in the Army Sports Institute for his training and competitions. He also received special instructions on competition and training diet from Mrs Aradhana Sharma who is a sports nutritionist and works for the Indian Army's Mission Olympic Wing, Pune.
In the year 2012, Devendro Singh qualified for the quarter-finals after beating the Beijing Olympics 2008 silver medallist, Purevdorjin Serdamba with 16–11. Singh then competed against Paddy Barnes from Ireland who was the earned the bronze at the Olympics 2008. Devendro Singh lost 23–18 against Paddy & was struck out of the 2012 Olympics on 8th August.
In 2013, Devendro Singh won a silver medal at the ASBC Asian Confederation Boxing Championship & added another bronze medal to his tally during the FXTM International Limassol Boxing Cup. In the same year, Devendro Singh was ranked World No. 3 by the International Boxing Association.
In the year 2014, Devendro Singh earned a gold medal at the Bocskai Invitation Tournament held in Hungary. Singh became the only gold medallist from India in the tournament.
Devendro Singh was also honoured with the Vishisht Seva medal for his exceptional service at an investiture ceremony at the Eastern Army headquarters. Singh was the youngest & only Junior Commissioner Officer out of the eight who received this.
Devendro Singh earned the silver medal in the Men's Light Flyweight discipline boxing of the 2014 Glasgow Commonwealth Games. He lost to Paddy Barnes from Northern Ireland, although winning the third round as Singh already lost the first two rounds. Total 17 boxers from 17 nations took part in the particular tournament.
AWARDS
Arjuna Award for Boxing
Vishisht Seva Medal at an investiture ceremony at the Eastern Army Headquarters
ACHIEVEMENTS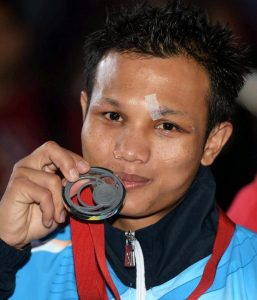 COMMONWEALTH GAMES
Silver: 2014, Glasgow: Light Flyweight
ASBC ASIAN CONFEDERATION BOXING CHAMPIONSHIP
FXTM INTERNATIONAL LIMASSOL BOXING CUP
BOCSKAI INVITATION TOURNAMENT
PERSONAL INFORMATION
Name: Devendro Singh Laishram
Nickname: Devendro Singh & Devendro Laishram
Sport: Boxing
Events: Light flyweight
Country: India
Father's name: Jugindro Singh
Mother's name: Maklembi Devi
Sister name: Laishram Sushila Devi
Coach: M. Narjit Singh & Sandhu Singh
Height: 1.62 m (5 ft 3 inch)
Weight: 53 kg (116 lbs)
Eye colour: Black
Hair colour: Black
Date of birth: 02 March 1992
Age: 27
Birthplace: Imphal, West district, Manipur, India
Zodiac sign: Pisces
Nationality: Indian
Hometown: Manipur
Religion: Hindu
CONTROVERSY
Apart from his glorious performances and achievements, the Indian boxer hit headlines when he was rejected from the list of Arjuna Awardees. But Singh replied to the rejection in a sporting way and said: "I don't believe in blaming or sulking. It's not healthy for an athlete. Being a sportsperson means giving your best and taking pride in it, instead of withdrawing yourself after a setback".
NET WORTH     
The primary net worth and income of Devendro Singh comes from his sporting profession.
SOCIAL MEDIA HANDLES  
FACEBOOK- https://www.facebook.com/DevendroSinghLaishram/
INSTAGRAM- NOT UPDATED
TWITTER- https://twitter.com/l_devendrofan