Renjith Maheshwary Early Life: Renjith was born on 30th January 1986 in Channanikadu in Kottayam, Kerala. His father's name is Radhakrishnan. Renjith's love for athletics was seen from a young age. He was initially coached by his Physical Education teacher Evegeniy Shivili. When he was 9 years old he attended a summer camp organized by the 'Kerala Sports Council'. It was there Renjith's talent was discovered as his coach in the Summer camp, VA George approached him to take up athletics as a full time profession.
Renjith Maheshwary Personal Life:
Brother- Abhijit Maheshwary
Sister- Adheena
Daughter- Jhiya Renjith
Wife- VS Surekha (Pole Vaulter)
Renjith has been married to the Indian Pole Vaulter and National record holder V.S Surekha. They have a daughter and her name is Jhiya Renjith. Actually, Renjith met Surekha in 2004 at the Asian Games camp situated in New Delhi. After being in a relationship for 5 years they both finally got married in 2009. Renjith is employed as Chief Ticket Officer in Indian Railways while his wife Surekha also works as a reservation supervisor in the railways. Renjith's mother was a home maker and he has one brother named Abhijit and sister Adheena.
Renjith Maheshwary Professional Life:
Coach- VA George
Professional Debut- 2006 Asian Games.
Personal Best- 17.30 m Indian Grand Prix (2016 Bengaluru)
Qualification for Rio Olympics- Renjith Maheshwary broke the national record with a leap of 17.30m at the Indian Grand Prix in Bengaluru in July 2016. He bettered the Olympic qualification mark of 16.85m to qualify for the Rio Olympics.

Renjith made his professional debut in the 2006 Asian Games. However, he couldn't win any medal in that event. He participated in the 2007 Asian Championships the very next year where he finally made a mark by winning the gold medal in the Triple Jump event. Renjith represented India in the 2008 Beijing and 2012 London Olympics but had a poor performance in both the editions.  He also competed at the 2007 World Championships and 2011 World Championships but failed to reach the finals of the events. Talking about his Olympics performances in 2008 and 2012, Renjith couldn't fare well at the Beijing Olympics while 2012 London Olympics must have been his disastrous performances of his entire career. he committed three consecutive foul jumps at the qualifying stage, stopped his Olympic campaign. Renjith was also handed with three-month suspension when he was tested positive for a stimulant consumption. In 2010 Commonwealth Games, Renjith set his then personal best figures with a leap jump of 17.07 m and won the Bronze medal there. His last medal came at the Asian Games of 2013 in Pune where he won the Silver Medal in the Triple Jump Event. Renjith also participated in the 2016 Rio Olympics by setting a National record of 17.30m at the Indian Grand Prix in Bengaluru in July 2016. However, he didn't fare well in his respective event.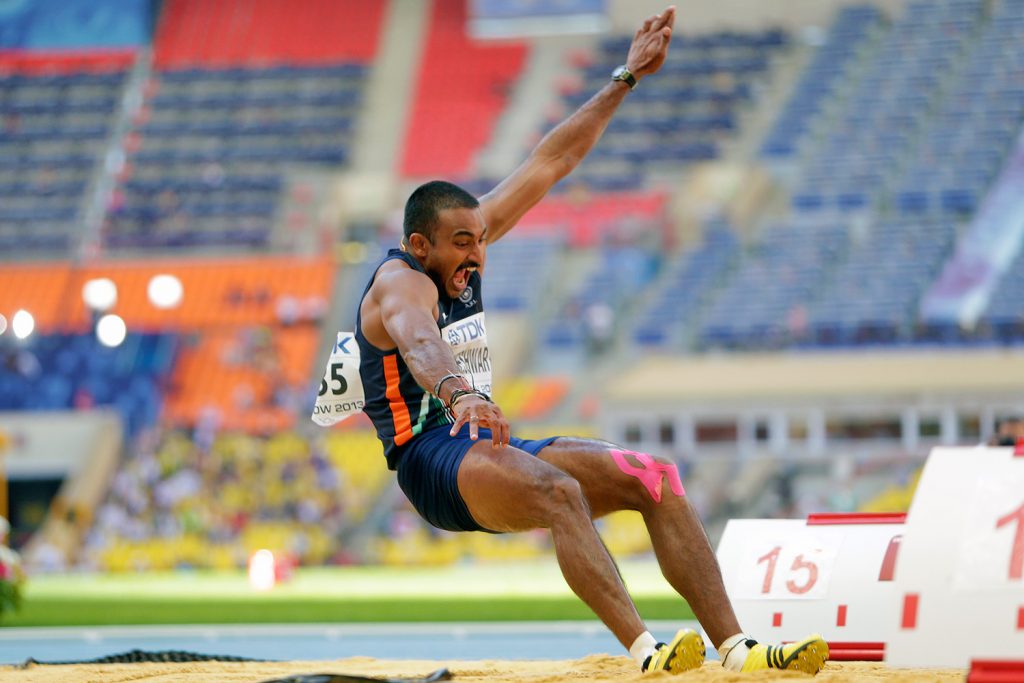 Renjith Maheshwary Personal Details & Physical measurement:
Date of Birth- 30  January, 1986
Age (as of 2019)- 33 years old
Gender- Male
Birthplace- Channanikadu, Kottayam, Kerala, India
Complexion- Dark
Zodiac sign- Aquarius
Nationality- Indian
Hometown- Kottayam, Kerala
School- Not Known
College- Not Known
Occupation-  Track & Field
Event- Triple Jumper
Net worth- Not Known
Qualification- Graduated
Height- 6′ 00" (184 cms)
Weight (approx.) – 79 Kgs (174 lbs)
Eye Color- Black
Hair Color- Black
Religion- Hinduism
Ethnicity- Not Known
Sexual Orientation- Straight
Hobbies- Working out and spending time with family
Tattoo – NO
Smoking-  NO

Achievements:
Gold Medal at the Asian Championships in the Triple Jump event.
Bronze Medal at the Commonwealth Games in the Triple Jump event.
Silver Medal at the Asian Championships in the Triple Jump event.
Controversies:
Renjith who performed badly at the 2008 Beijing Olympics was banned as he was tested positive for the consumption of  a stimulant and faced a suspension of three months. Renjith's name was nominated for the Arjuna Award but on 19 September 2013, Sports Ministry of India announced that he won't be awarded the Arjuna Award following his doping allegations in the past.
Networth:
Renjith works as a Chief Ticket Collector in the Indian Railways and a Government employee. However, his net-worth is unknown.
Social Media Profiles:
Facebook- https://www.facebook.com/renjith.maheswary.1
Twitter- NA
Instagram- NA
Please follow and like us: