An Indian businessman & also an exceptional professional shooter, Abhinav Bindra, specializes in the 10 m Air Rifle event. A household name in shooting, Abhinav has won trophies in many prestigious competitions, including World Championships & Olympic Games.
EARLY LIFE
Abhinav Bindra became the first Indian to earn gold (individual) by winning the gold medal in the 10 m Air Rifle discipline at the Olympic Games, becoming the first Indian to do so after the Men's Field Hockey Team in 1980. Bindra is the foremost & only Indian who has earned both the World and Olympic Games titles.
He made his nation proud by clinching a gold medal at the Olympic Games 2008 in Beijing, a gold medal at the ISSF World Shooting Championships 2006 & the gold medal at the Commonwealth Games 2014 held at Glasgow.
PERSONAL LIFE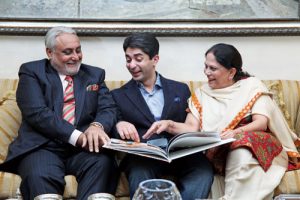 The Indian shooter was born on 28 September into a rich Punjabi family.  His father, Apjit Bindra, and mother, Babli Bindra, have played a vital role in his successful athletic career. Abhinav has completed his initial schooling from The Doon School and then was transferred to St. Stephen' School in Chandigarh.
Bindra chose shooting when he was in The Doon School and with time Abhinav fell in love with the sport. Abhinav had shooting range installed indoor by his parents.
Since the starting of his shooting career, Dr. Amit Bhattacharjee and Lt. Col. Dhillon were his mentor. They both spotted capability inside Abhinav.
The shooter himself admits that he has no talent and he is only good at practicing regularly, fairly & diligently. From the very beginning, he had a dream of earning a gold medal at the district level. And that is the reason why the shooter admires his district-level achievement more than the Olympics. His determination and hard work purely paid off to him throughout his athletic career.
Abhinav Bindra also owns a B.B.A degree (Bachelors of Business Administration) from the University of Colorado in the U.S. He is the CEO of Abhinav Futuristics. In India, he is the only distributor of Walther arms. Bindra also has strong sponsorship tie-ups with BSNL, the Sahara Group & Samsung. One of the members of the Federation of Indian Chambers of Commerce and Industry (FICCI) Sports Committee, Abhinav Bindra, is also the brand ambassador of State-run Steel Authority of India Ltd.
PROFESSIONAL LIFE
At the age of 15, Bindra participated at the Commonwealth Games 1998 & became the youngest contestant. But his career started in 2001 when he earned a bronze medal at the Munich World Cup by setting a new record score of 597/600. Surprisingly, he was also the youngest participant from India at the Olympic Games 2000.
In 2001, Abhinav earned six gold medals from various International Meets and in the same year he awarded the prestigious Rajiv Gandhi Khel Ratna award. In 2002, he also earned a gold medal in the Air Rifle and a silver medal in the individual event at the Commonwealth Games.
Besides his record-breaking performance in the Olympics, Bindra failed to earn a medal in Athens Olympics 2004. In 2006, he became the first Indian shooter to clinch a gold medal at World Championship. In the same year, he also earned one more gold at the Melbourne Commonwealth Games. But following his back injury, he was unable to participate at the Asian Games 2006. After back to back achievements, Abhinav was unable to continue shooting for one year due to the severe back injury. This break majorly affected his Beijing Games.
But the world saw a power-packed come back of Abhinav Bindra at the ISSF World Shooting Championships 2006 where he not only won the gold medal but also qualified for the Olympics 2008.
In 2008, Abhinav earned a gold medal at the Beijing Olympics in the Men's 10 m Air Rifle. In the qualifying round, Bindra scored 596. Abhinav also received numerous rewards from the Indian state government as well as private organizations for his achievement at the Olympics.
AWARDS
Arjuna Award, 2000

Rajiv Gandhi Khel Ratna, 2001

Honorary Doctorate degree (D. Litt) from SRM University, 2008

Padma Bhushan, 2009

Honorary lieutenant colonel by Indian Territorial Army, 2011

Blue Cross, highest shooting honour by ISSF, 2018

Honorary Doctorate degree (DPhil) from Kaziranga University, 2019
ACHIEVEMENTS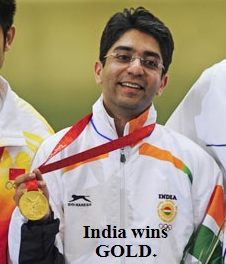 ASIAN GAMES
Silver: 2010, Guangzhou: 10 m air rifle (team)

Bronze: 2014, Incheon: 10 m air rifle (team)

Bronze: 2014, Incheon: Men's 10 m air rifle
WORLD CHAMPIONSHIPS
Gold: 2006, Zagreb: 10 m air rifle
OLYMPIC GAMES
Gold: 2008, Beijing: 10 m air rifle
COMMONWEALTH GAMES
Gold: 2002, Manchester: 10 m air rifle (Pairs)

Gold: 2006, Melbourne: 10 m air rifle (Pairs)

Gold: 2010, Delhi, India: 10 m air rifle (Pairs)

Gold: 2014, Glasgow: 10 m air rifle

Silver: 2002, Manchester: 10 m air rifle (Singles)

Silver: 2010, Delhi: 10 m air rifle

Bronze: 2006, Melbourne: 10 m air rifle (Singles)
PERSONAL INFORMATION
Name: Abhinav Bindra

Nickname: Abhinav Bindra

Sport: Athletics

Events- 10 m air rifle

Occupation- Sportsman (shooter) & businessman

Father's name: Apjit Bindra

Mother's name: Babli Bindra

Coach- Dr. Amit Bhattacharjee and Lt. Col. Dhillon

Height: 173 cm (5ft 8 in)

Weight: 65.5 kg (144 lb)

Eye colour: black

Hair colour: black

Date of birth: 28 September 1982

Age: 36 years

Birth place: Dehradun, Uttarakhand, India

Zodiac sign: Gemini

Nationality: Indian

Hometown: Uttarakhand

Religion: Punjabi Sikh
CONTROVERSY
Apart from his exceptional performances & achievements, Abhinav Bindra has made many headlines, especially for his statements for other players. Following are some instances where Shooter Abhinav Bindra was dragged into controversy:
Bindra once said a controversial statement for the former Indian cricket team skipper, Sourav Ganguly. The statement of the shooter was- "Who said Ganguly is not involved in politics? I am aware that he is a political sports administrator. You should know how he rose through ranks as an administrator"

Abhinav Bindra made headlines when the shooter delivered a statement against the news over shooting sport been excluded from the 2022 Birmingham Commonwealth Games. Abhinav stated the decision to unworthy.

Gold-medallist Abhinav Bindra was dragged into controversy for his statement for his coach. He said- "My biggest teachers were coach Uwe. I hated him! But stuck with him for 20 years. He always told me things I did not want to hear."

Abhinav Bindra also made headlines when he termed the news of Vishwanathan Anand's citizenship as disappointing & the World chess champion should receive the honour he deserves.
NET WORTH ABHINAV BINDRA 
Abhinav's net worth comes from being a sportsperson and a sports shooter as well. The estimated net worth of Abhinav Bindra is $ 500,000 to $ 1M approximately.
SOCIAL MEDIA HANDLES OF ABHINAV BINDRA
FACEBOOK- https://www.facebook.com/AbhinavBindraOly/
INSTAGRAM- https://www.instagram.com/abhinav_bindra/?hl=en
TWITTER- https://twitter.com/abhinav_bindra?lang=en