Cristiano Ronaldo Biography: Football has seen some of the most iconic superstars over the years but there are only few of them, which have gained huge popularity amongst the masses not only because if their "On pitch" performance, but "Off pitch acts" too.
Cristiano Ronaldo is one of the few names in the same regards who has not only impressed everyone with his magnificent performances for his club and country on the football pitch, but also won millions of hearts due to his charitable acts towards the underprivileged during his career.
Personal Life of Cristiano Ronaldo
Image Source
Cristiano Ronaldo Biography: Cristiano Ronaldo was born on February 5, 1985, and his full name is Cristiano Ronaldo dos Santos Aveiro. He was born and brought up in an impoverished home with three of his siblings. He is son to Maria Dolores Dos Santos Aveiro and Jose Dinis Aveiro.
He belonged to a working-class family and his father used to work as an equipment manager at a local firm whilst his mother used to work as a housewife. If we talk about his girlfriends, he has been involved in numerous relationships but finally married his Spanish girlfriend and Spanish model Georgina Rodriguez with whom he has two kids: a boy and a girl. He also had his first child Cristiano Jr. from his former girlfriend but details about the same have been kept a secret from his end. Although Cristiano Jr is now 8 years old and can be seen in a number of photo shoots with his dad.
His passion for football comes from his childhood and it was at a tender age of just 12 years when he got first signed by famous Portuguese club, Sporting Lisbon with a fee of $1500.it was only during a friendly match between Sporting Lisbon and English club Manchester United when Sir Alex Ferguson spotted Ronaldo as a talented player and brought him on board with Manchester United for the next few years. That's was where the Dream journey started for Ronaldo.
Career Achievements
Image Source
Cristiano Ronaldo Biography: Cristiano Ronaldo can be termed as one of the most popular footballers of this era and his fan following can certainly be counted in millions across every part of the world. During his career of almost two decades, he has literally achieved everything which a professional footballer can dream of. During his journey, he has played for many clubs across the world and performed significantly over all these years whilst playing for them.
Ronaldo's Stint with Manchester United
Image Source
Cristiano Ronaldo Biography: After Sir Alex Ferguson brought this 16-year-old teenager to play for one of the biggest clubs in the world, Ronaldo impressed everyone with his play in the initial years. His talent was so enormous that he did score three goals in FA cup finals for his club and it was by 2007 when he signed a multi-million deal with the club on an official contract. It was in the EPL 2008 season when he went on to score a record 42 goals for the club which also made his club secure title victory and bringing him the famous " Fifa player of the year award".
Dream Debut for Real Madrid
Image Source
Cristiano Ronaldo Biography: It was his switch from Manchester United to Real Madrid which saw him secure a number of achievements in the process. His $131 transfer proves a worthy bet for the Spanish club as they went on to win almost every trophy existent in the world with European championship, Champions league and Club world cup to name a few. He also won the " Fifa best player of the year award " once again in 2016.
Leader of the Portuguese National Team
Image Source
Cristiano Ronaldo Biography: Portugal wasn't been considered a football superpower a decade back but ever since they have saw the emergence of Cristiano Ronaldo on World's football horizon, their team has also been benefitted with his presence in the process. It was under his reign only, when Portugal has won the famous Euro cup finals in2016. Ever since then, he has been involved big time in inspiring all his teammates and the young players especially to perform to their best levels on the pitch.
Trophies, Goals, and Rewards
Image Source
Cristiano Ronaldo Biography: During his two-decades-long career in football, Ronaldo has achieved almost every big trophy or award to his name. He has got the most number of champions trophy under his belt (5) and also won the famous Ballon'd' Or five times during his illustrated career. Along with all that, he has made the most number of appearances in European finals and currently stands as the top score in all of the UEFA competitions till date.
His tally of goals(more than 500) in top 5 European leagues in most by any player and he also holds the record of scoring most numbers of goals in a UEFA champions league season. Moreover, he is also the first ever player in history to win 4 European golden shoes awards.
Ronaldo's Net Worth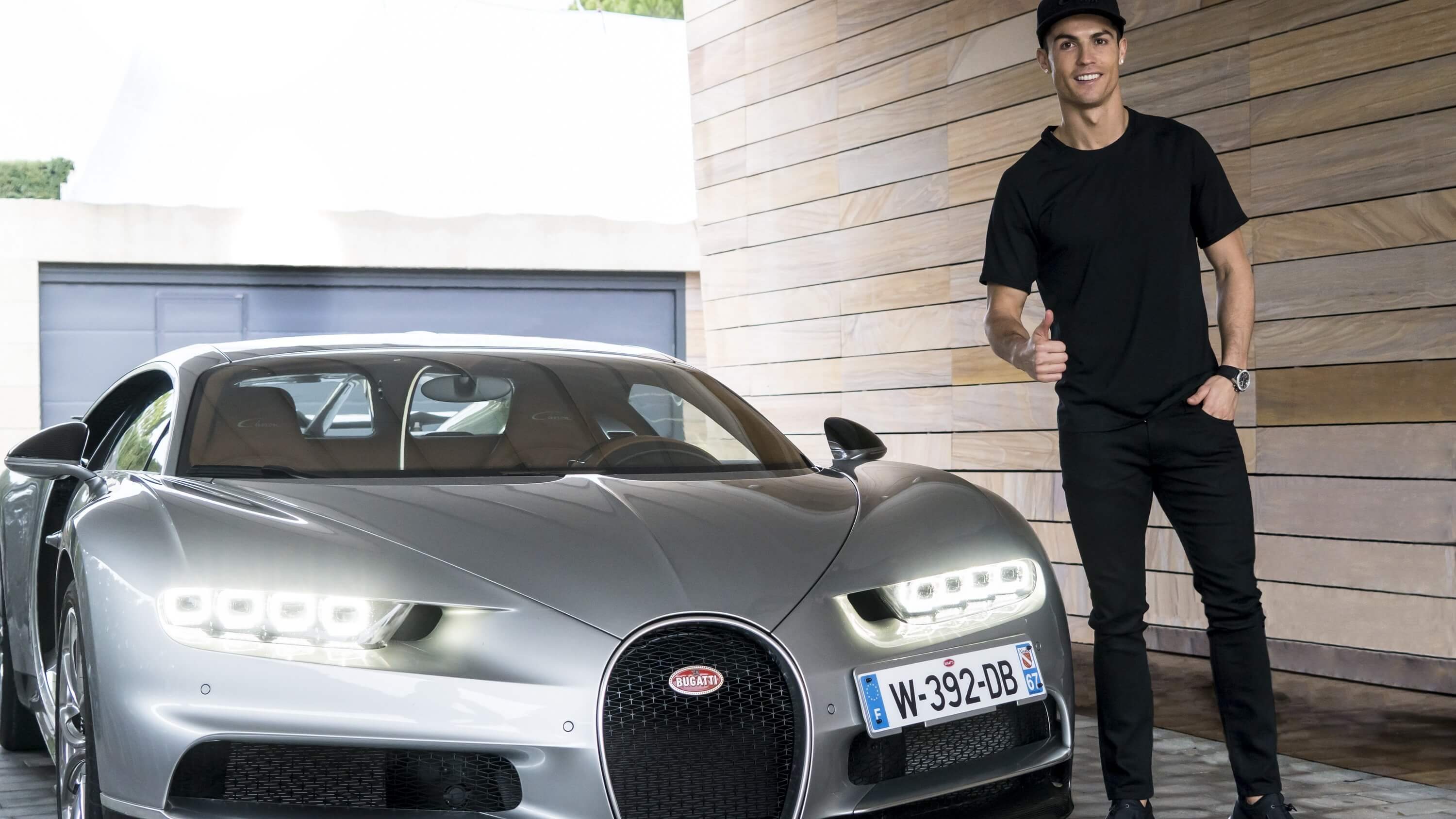 Image Source
Cristiano Ronaldo Biography: If we talk about the money factor, Ronaldo has outscored almost everyo9ne in his league in the same regards. According to the Forbes list released in the year 2017, Ronaldo was been adjudged as the top earning athlete in the world with an estimate income of $93 million. If we talk about his total worth, it has mostly been estimated to somewhere around $300 million.
During his stint with Manchester united and Real Madrid, Ronaldo used to get the highest salary pay as compared to his rest of his teammates and even after he has secured a transfer worth $131 million with Juventus, he is still making more money than any of his teammates. As per a recent report in Italy, Ronaldo earns a staggering €31m (£28m) after tax on a yearly basis. Moreover, this puts his weekly income to somewhere around £538,000 a week.
It's not like he only earns from his football as a big chunk of his income comes from his modeling assignments, commercial endorsements and promotional events done with his paid sponsors. Seems like the Famous Football star gets money talking from everywhere, as he also gets around £308,000 fro every sponsored Instagram post on his Instagram account on Social media.
Also Check: