Cristiano Ronaldo dos Santos Aveiro is a Portuguese professional football player who plays for Portugal national team. He has the second – most international goals scored among men's football players. He is one of the most skillful football players of the modern era.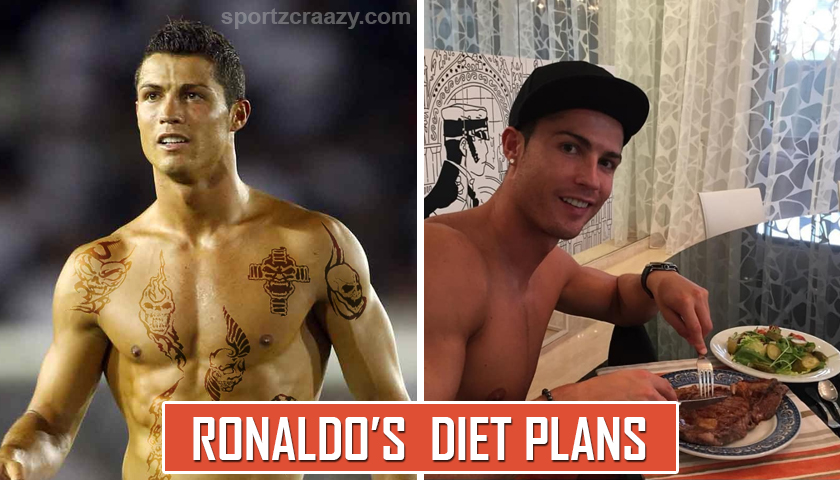 Christiano Ronaldo is a powerful 33-year-old man who has immense love for fitness, which made him as an incredible chiseled athletic physique. His body is leaner than other fitness model or bodybuilders, it is still amazing to see.
Besides team practices and footwork training,  Christiano focuses on his fitness, strength, stamina, speed. Building a strong, fit body needs a lot of dedication, regular exercise or sticking to a well-planned diet. Most people think that being on diet is not starving oneself, it means about eating the right food, based on the food we intake. Ronaldo is a physical specimen, even though we can't be like him but can surely follow his diet plan.
A  real star keeps up a strict diet because he knows how the food is important for the body and how it affects the body. Ronaldo takes his diet very seriously.
Ronaldo's  Diet Plans
His daily food is divided into 6 meals, taken with the gaps of 2-4 hours. The short hour gaps help to keep his metabolism active.
As, he is an athlete his diet includes protein shakes, joint supplements, multivitamins etc. and these are not harmful drugs.
He takes lots of lean meat, which helps in repairing and building of muscles in case of any wear and tear.
For the body recovery, vitamins and minerals are essential so that his diet includes sufficient veggies.
He takes only low sugar, as this can slow the metabolism and can cause accumulation of fat. So, foods and drinks which have high-level sugar content are not part of his diet.
Sufficient carbohydrates help in building the stamina and persistence
Basically, Ronaldo avoids alcohol and this also works well for his health. He drinks fruit juices.
Hydration is also essential so he says that drinking water is so important.
Ronaldo's Diet chart:
During breakfast, he drinks fresh fruit juice, takes egg whites, whole-wheat cereals.
At lunch, he eats salad, veggies, chicken, baked potato, whole-wheat pasta.
He prefers any fruit juice or lemon juice, tuna roll for snack time.
For dinner, he intakes fruits, pulses, beans, chicken breasts.
Cristiano Ronaldo's Favorite Dishes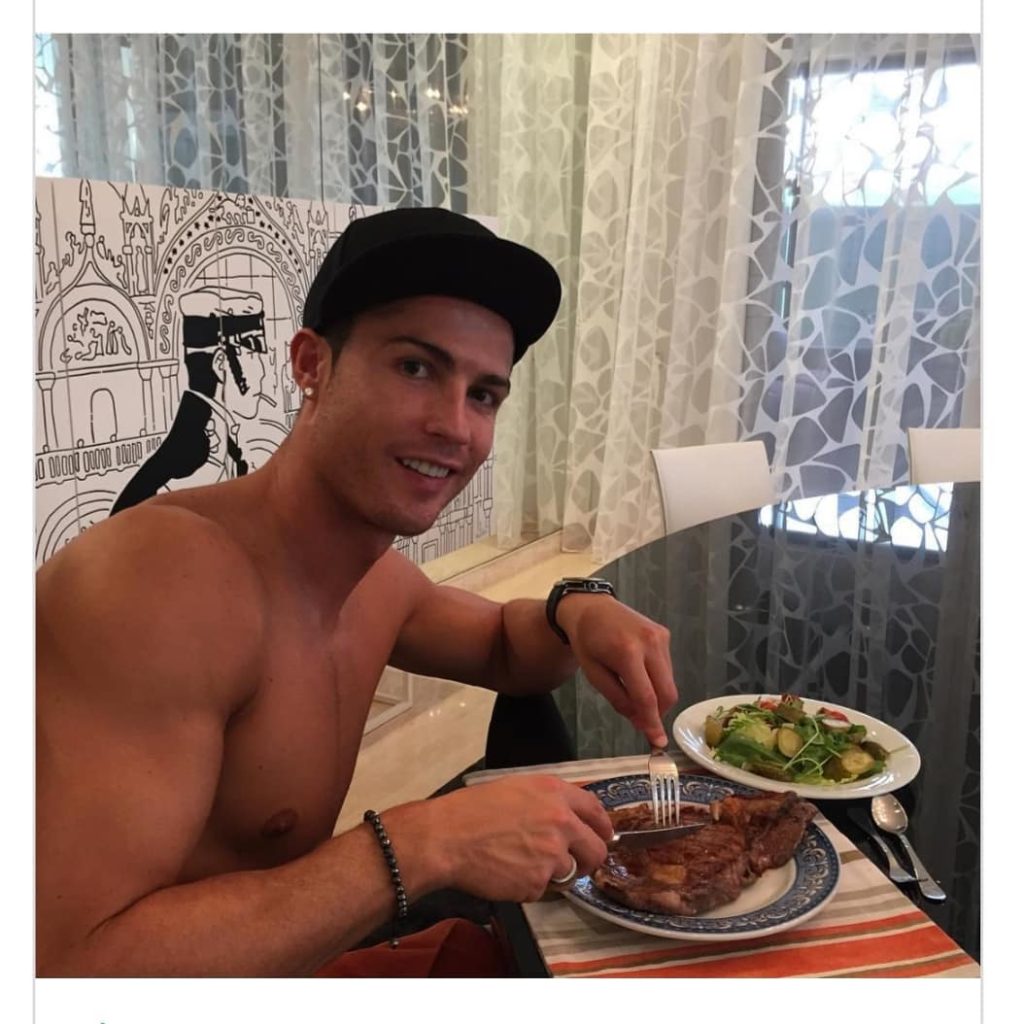 Helio Loureiro – an English risotto with Arborio rice stuffed with funghi
Port wine- occasionally he includes Port Wines from Douro Valley in Porto
Bacalhau a Bras – a Portuguese dish made of shredded cod, shoestring potatoes, onions, and wrapped eggs. If it is a caloric food he takes once in a while.
Espetada Madeirense- a dish  made of beef skewers with fried cornmeal
Vegetable soup – this is packed nutrients and Ronaldo prefers to have vegetable soups at night.
Ronaldo's Workouts
Only a diet cannot make your body fit, daily workouts should be done to stay healthy. This workout helps to gain strength, skills, ball control, flexibility and it also reduces body fat. Ronaldo's workout plan includes 5 days of training for 3-5 hours a day.
Running sessions lasting for 25-30 min is a cardio exercise, technical drills concentrating on skills and ball control, gym training is done for developing muscles and it increases the body strength.
Christiano Ronaldo workouts are a weekly schedule
Monday: He workouts barbell squat, box jump, broad jump, jumping lunge and lateral bound. And this is repeated thrice.
Tuesday: Ronaldo takes rest and there are no workouts.
Wednesday: He do burpee pull-up, bench dips, pushups, medicine ball toss, push press and these are repeated thrice as a circuit.
Thursday: On this day, Quads or Cardio workouts are done which includes power cleans, sprinting
Friday: Workout for tightening and sculb the abs which increase stability. Some of them are one-arm side deadlift, dumbbell, overhead slam
Saturday: An another day of rest
Sunday: It is all about for cardio exercise, rope jumping, resistance sprinting.
Ronaldo's simply saying is " Eat well, stay hydrated, and sleep properly". Also, he says that he goes to bed early and get up early, especially before matches, as sleep helps the muscle to recover.
Cristiano Ronaldo's Lifestyle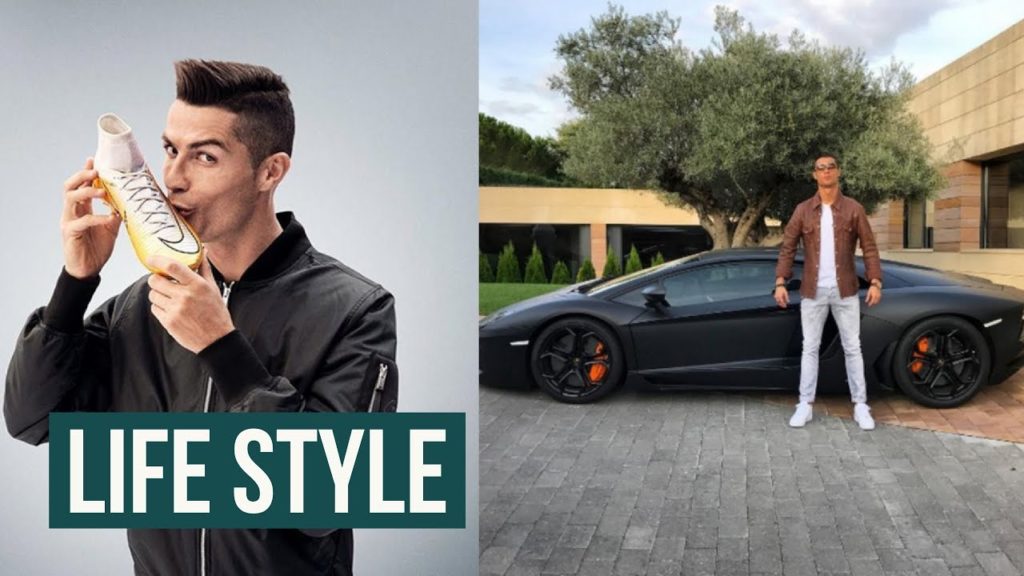 Ronaldo's salary and net worth:
Ronaldo took home $93 million in the year 2017, $58 million was the salary and bonus paid by Real Madrid. According to the celebrity net worth of 2017, his net worth is estimated at $400 million. He was the highest paid professional athlete of 2017. His earnings made him the highest paid football player for the fourth year.
Ronaldo's personal life:
Cristiano Ronaldo is dating Georgina Rodriguez, who is a Spanish modern girl. They were seen together in the public in November 2016. In June 2017, they welcomed twins, a baby boy and a girl. In November 2017 Rodriguez added with the birth of another girl. Ronaldo's first child, Christiano Jr. and she was born to a former girlfriend in June 2010.
Car collection: Three Ferraris, a Bugatti is in his car gallery. In the world, Ronaldo is one of the few people who has got it all. His car collection worth over $4.9 million and his passion towards the car grows.
Also Check:
Please follow and like us: