Chris Gayle Biography: One of the greatest power-hitters in the game of Cricket, Chris Gayle has entertained cricket lovers for as many as 20 years. West Indies cricketer, Chris Gayle is a renowned name in world cricket and is popular for his belligerent hitting power.
The southpaw is the most capped player for West Indies, having represented his nation for as many as 301 One-Day International matches. Chris Gayle has led the West Indies test team from 2007-2010. 
He announced his retirement forms all forms of cricket in February 2019, however, later in the midst of the 2019 World Cup he changed his decision and postponed his retirement till ODI series against India. He last played a one-day match against India on 14th August 2019. He played a stellar 41-ball 72 run innings in that game. 
EARLY LIFE: 
Chris Gayle was born on 21st September 1979 in Kingston, Jamaica. He comes from a family of modest means. His father was a police officer, while his mother used to sell peanuts and snack on the streets. 
Chris Gayle took the sport professionally when he started playing for the famous Lucas Cricket Club in Kingston, Jamaica. The club played a significant role in turning the fortunes of the West Indies cricketer.  
The universal boss himself claimed once, "If it was not for Lucas I don't know where I would be today. Maybe on the streets." 
PROFESSIONAL LIFE: 
Chris Gayle made his first-class debut in the year 1998 at the age of just 19. Eleven months later, he was drafted in the West Indies national team. In the year 1999, he played his first One-Day International match.
The year 2002 proved to be a breakthrough year for the West Indies cricketer, who went on to score over 1000 runs in a calendar year and thereby became the third West Indies cricketer ever to do so. 
Chris Gayle enjoyed a stellar run in the 2006 Champions Trophy and helped his team almost defend the title before losing out to Australia in the final. He notched up 474 runs in the tournament, including three centuries and also took 8 wickets. 
It was Chris Gayle who first the record for highest innings in a Twenty 20 International, scoring 117 against South Africa in the first match of 2007 T20 World Cup. 
In February 2015, Chris Gayle became the fourth cricketer to score a double century in One-Day Internationals. He scored 215 runs during a pool game against Zimbabwe in 2015 ICC World Cup.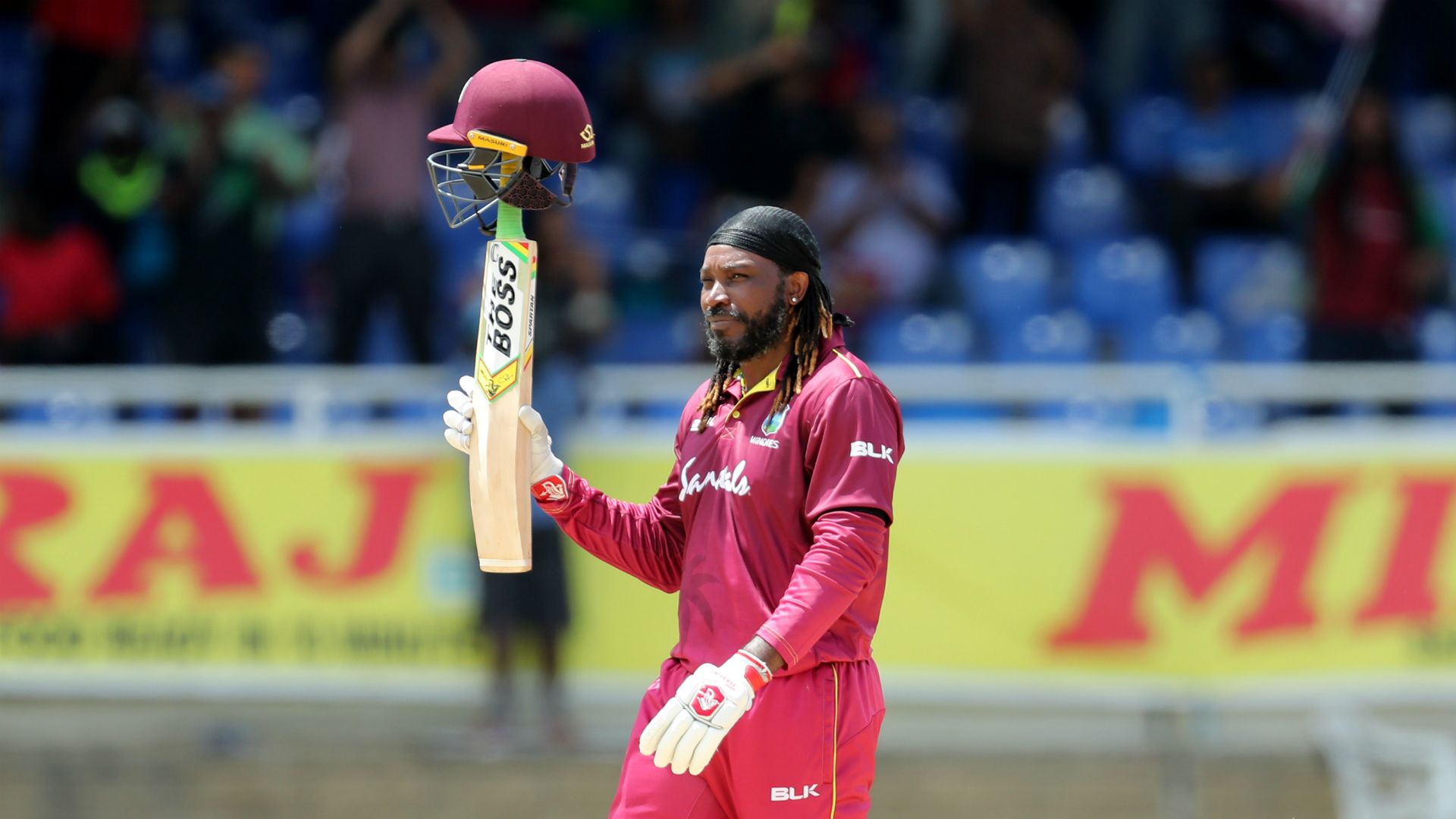 In April 2019, he was named in the West Indies' squad for the 2019 Cricket World Cup, which marked his fifth consecutive World Cup appearance (2003, 2007, 2011, 2015, 2019).
 On 31 May 2019, in the West Indies' opening match of the World Cup, Gayle scored his 40th six in World Cup matches, the most by any batsman in World Cup history, surpassing AB de Villiers's record of 37. 
In the West Indies' match against Australia, Gayle scored his 1,000th run in the Cricket World Cup. On 1 July 2019, in the match against Sri Lanka, Gayle became the most capped player for the West Indies in international cricket, playing in his 455th match.
 Three days later, in the West Indies' final match of the 2019 Cricket World Cup, against Afghanistan, Gayle became the most-capped player for the West Indies in the Cricket World Cup, playing in his 35th match. 
PERSONAL LIFE:
West Indies cricketer, Chris Gayle tied the knots with Natasha Berridge and also announced the arrival of his first baby on 20th Arpil, 2016. 
NET WORTH: 
According to Forbes, Chris Gayle's estimated net worth is aggregated to $15 Million. 
PERSONAL INFORMATION: 
Full Name: Christopher Henry Gayle 
Nickname: Crampy 
Profession: Cricketer
Date of Birth: 21st September, 1979
Age: 39
Birth Place: Kingston, Jamaica, West Indies  
Zodiac Sign: Virgo 
Nationality: Jamaican
Hometown: Kingston
School: Excelsior High School, Jamaica 
Religion: Christianity
 Height: 6'3
Weight: 95kg
Eye Colour: Black
Hair Colour: Black
RECORDS: 
Highest run scorer for the West Indies in ODIs.

Second most sixes in a calendar year.(56 in 2019)

Second West Indies player (after Brian Lara), and 14th overall, to pass 10,000 runs in ODIs.

First batsman to score a century in each of international cricket's three formats of the game.

First (and so far only) batsman to score a triple century in Test cricket, double century in ODI cricket and a century in T20 internationals.

Highest six better for the West Indies.(in all formats)

Most centuries by a West Indian.(25)

First batsman to score a T20I century, in the 2007 World T20. He's also the only batsman to score two World T20 tons.

First batsman (now equalled) to score a T20I century in both a winning and losing cause and when batting first as well as when batting second.

Gayle is the only player to score centuries in ICC U19 World Cup, ICC World Twenty20, ICC Cricket World Cup, ICC Champions Trophy as well as in ICC Cricket World Cup Qualifier.

In World Cup 2015, he hit the fastest ever ODI double century, against Zimbabwe, off 138 balls.

Third batsman to score a century against eleven different countries in ODIs.

First international player to carry his bat through a completed inning (one where his side lost all ten wickets) in Twenty20 International. He is also the only player to carry his bat in both Tests and T20Is.

Fastest ODI fifty by West Indies batsmen. (50 runs in 19 balls).

Leading run scorer in ICC Champions Trophy history (791 runs)

Most runs in a single ICC Champions Trophy series (474 runs)

Most sixes in International cricket (515)

Second most sixes in T20I (103)

Most sixes (39) in a bilateral ODI series (4 Innings vs England in 2019). 

The first player to hit all 6 balls in an over for four in Test cricket.

The first player to hit the first ball of a Test match for six

Along with Marlon Samuels, he holds the record for the highest ever ODI stand for any wicket (372 runs for 2nd wicket).

Along with Devon Smith, he set the record for the highest opening stand in ICC World T20 history (145). 

Most number of sixes hit by an individual at Cricket World Cup history (40)
CONTROVERSIES: 
Chris Gayle was involved in a controversy owing to a spat with West Indies cricketer board over the sponsorship issue. 

In the year 2016, he against sparked a controversy when a media company in Australia alleged Gayle of exposing himself to massage therapist Leanne Russell during a cricket tournament. The same year, the southpaw filed a case against defamation case against the Fairfax Media and he even won the case.