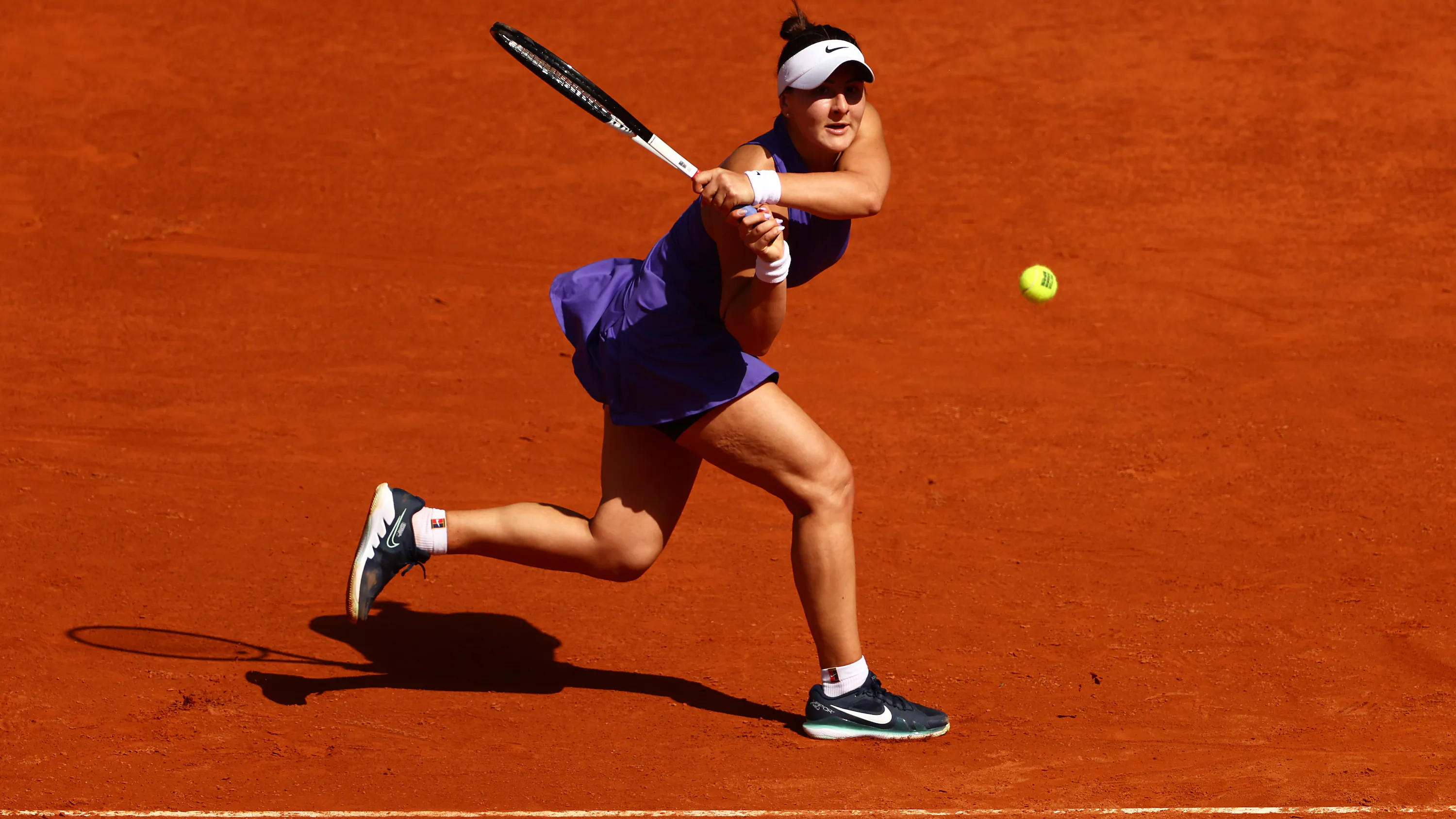 Bianca Andreescu has recently been back out on the WTA Tour as she prepares herself for the upcoming Roland Garros French Open that is scheduled to take place later this month.
The French Open is a Grand Slam that the 21-year-old Canadian will be hoping to improve in, as her best finish in the competition so far has been in the Second Round; a feat that she managed to achieve in 2019. After missing the 2020 edition of the competition, she was eliminated in the First Round last year and will want to do a lot better this time around.
As a result, she has been playing in a number of tennis events, with the Madrid Open perhaps an event that is getting her ready for the conditions that she will likely face in France. This is because the Spanish tournament also utilizes a playing surface that features the red dirt that is synonymous with the Roland Garros Grand Slam.
How did Andreescu do at the Madrid Open?
With this in mind, there will have been a number of eyes on Andreescu as many will have wanted to see what they could potentially expect from the one-time Grand Slam winner.
Indeed, she did not have a disastrous tournament, and she appeared to have been happy with her time competing in the Spanish capital for the first time if one of her recent Twitter posts is anything to go by.
Another week, another opportunity🙏🏼

It was so nice to play in Madrid for the first time!! Can't wait to come back.

🇮🇹🔜 pic.twitter.com/jhbakCkBrR

— Bianca (@Bandreescu_) May 6, 2022
Whilst she did not manage to win the event, she did manage to get some victories under her belt, thus potentially providing her with some confidence to challenge ahead of the big event.
She managed to defeat Alison Riske in the Round of 64, although the 21-year-old had required an additional set to get the job done. Nonetheless, the 6-4, 3-6, 6-0 victory would have been one that she would have been very pleased with.
Another American awaited the Canadian in the Round of 32 of the Madrid Open, but this time it seemed to be a lot more straightforward for Andreescu, as she managed to overcome the No. 6 seed Danielle Collins in straight sets as she powered home with a 6-1, 6-1 win.
However, her competition came to an end in the very next round as she was defeated by American and No. 12 seed Jessica Pegula in a contest that ended 7-5, 6-1.
The next tournament already set to begin
Nonetheless, she would have been unable to dwell on the fact that her competition came to an end in the Round of 16, as after only a few day's rest, she will begin to compete in the Italian Open as the tennis schedule continues to be as relentless as ever, especially for those on the WTA Tour.
As mentioned, there are a number of eyes likely to be on Andreescu ahead of the Roland Garros, and many will have liked what they had seen from her in Madrid, especially those Canadians who continue to follow her back in her homeland.
The country's population will have been backing the highest-ranked female Canadian tennis player in the history of the Women's Tennis Association, as they will be hoping that she can replicate the success that she had managed to achieve in the US Open in 2019 when she managed to defeat Serena Williams 6-3, 7-5 to win her first major title and the first to do so from Canada.
Ahead of the Roland Garros, there is a host of sports betting options for punters in the Maple Leaf Country, thus giving those who wish to potentially back Andreescu the chance to do so.
This is because Canadian sports betting operators' odds are supporting WTA Number 4 and players are able to get some of the best betting odds available, although those that are interested will perhaps want to check out how well she does at the Italian Open first.
If you were thinking about potentially adding a wager to further enhance the overall experience, then it might be worth considering who her opponent is at the upcoming event, as this is something that could make the betting odds and the markets available rather appealing.
Bianca Andreescu will face Emma Radacanu at the Italian Open
Indeed, Andreescu will go up against the current US Open champion, Emma Radacanu in the Round of 64 stages of the upcoming competition. The British youngster – who is only 19 years of age – is ranked as the No. 10 seed for this event, although there is no denying that the Canadian has the ability to overcome the challenge.
Emma Raducanu 🇬🇧 v Bianca Andreescu 🇨🇦 in WTA Rome first round……

2021 US Open Champion v 2019 US Open Champion pic.twitter.com/oU6MFOJpkF

— Chris Goldsmith (@TheTennisTalker) May 6, 2022
The pair have never met on the tennis court in the past, which adds further intrigue surrounding the contest, with both players sharing a number of similarities. For instance, both were born in Ontario to Romanian parents whilst also being able to win their first – and only thus far – Grand Slams as teenagers, which was the US Open.
Andreescu has stated that they are "just really weird coincidences", whilst admitting that she got her "wish" to play her after being impressed with what she had seen during Radacanu's performances on the tennis court.
How far will Andreescu go in the Italian Open?
Naturally, there will be a number of Canadians that will be backing Andreescu to go as far as possible, but what is likely to happen when she takes to the tennis court in Rome at the Italian Open?
Of course, like any sport, a lot can happen on the day and the game could literally be anyone's to win, however, both of these bright female tennis stars will be looking to do whatever they can in order to get the win and gain some significant momentum and confidence before heading to the French Open later this month and competing in the second Grand Slam of the year.
Andreescu does have a good chance of winning as Radacanu continues to struggle with a back problem that she is managing, whilst the young Brit is also continuing to train without a coach after going through a period of change.