SERENA WILLIAMS
REAL NAME: 
Serena Jameka Williams
BORN: 
September 26, 1981
ZODIAC SIGN: 
Libra
BIRTH PLACE: 
Saginaw, Michigan
NATIONALITY:
American
RELIGION: 
Jehovah's Witness
HEIGHT: 
175 cm | 1.75 m | 5'9″ Feet
WEIGHT:
68 KG | 150 LBS
EYE COLOR:
Dark Brown
HAIR COLOR: 
Naturally Black
Grand Slam Victories Singles:
| | |
| --- | --- |
| TITLE | YEAR |
| – Australian Open | 2003 |
| – French Open | 2002 |
| – Wimbledon | 2002, 2003 |
| – U.S. Open | 1999, 2002 |
Grand Slam Victories Doubles:
| | |
| --- | --- |
| TITLE | YEAR |
| – Australian Open | 2001, 2003 |
| – French Open | 1999 |
| – Wimbledon | 2000, 2002 |
| – U.S. Open | 1999 |
Grand Slam Mixed Doubles:
| | |
| --- | --- |
| TITLE | YEAR |
| – Wimbledon | 1998 |
| – U.S. Open | 1998 |
Serena Williams Biography
Serena Williams is an American professional tennis player by profession, but if you ask sports fanatic "Who is Serena Williams", the fanatic will claim her as the greatest women's tennis player of all time.
Why is Serena Williams the greatest? It is because she was won the most number of Grand Slams (23) in the women's tennis history. Talk about her consistency, she held the number 1 ranking for 186 consecutive weeks.
She is the only women's tennis player to have won 4 Olympic gold medals, thrice in doubles and once in singles. She won in Sydney Olympics 2000, Beijing Olympics 2008, and London Olympics 2012 (she won both singles and doubles). She is the Goddess of lawn tennis.
Serena Williams along with her sister Venus Williams have dominated the women's history for two decades. Both the sisters share 30 Grand Slams between them. People criticize Serena for her dressing style and unattractive figure, but she replies them back by winning the Grand Slams making them eat humble pie.
Serena Williams – The Dating Queen
Columbus Short 2001-2002

Keyshawn Johnson- 2002-03

Brett Ratner (2004-2006)

Common (2007-2010)

Jackie Long (2007-2008)

Hosea Chanchez (2008-2009)

Amar'e Stoudemire (2010)

Aubrey Graham (2011-2012)

Grigor Dimitrov (2012)

Patrick Mouratoglou (2012-2015)
Serena Williams Husband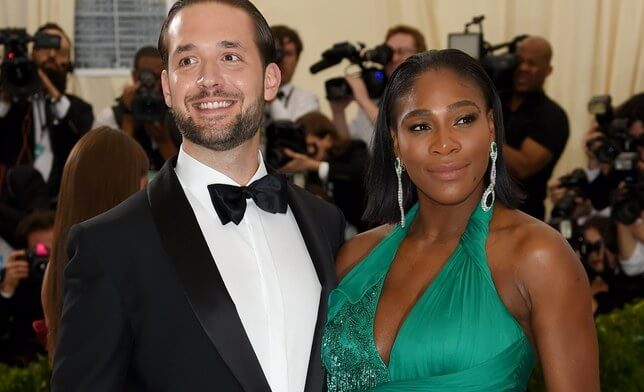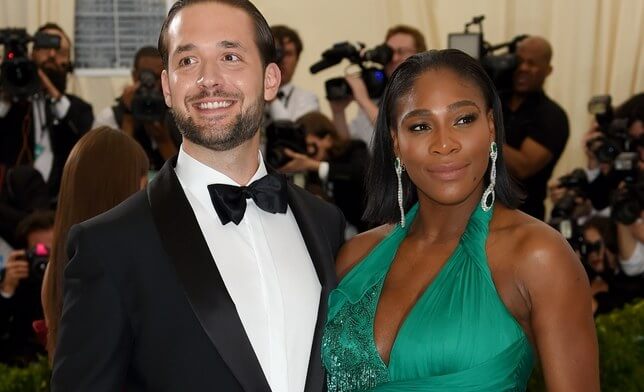 Serena Jameka Williams is married to Reddit co-founder Alexis Ohanian. The couple got married on November 16, 2017 in New Orleans. Marriage was more than an extravaganza, when the stars like Beyonce, Kim Kardashian , Kelly Rowland and Anna Wintour ascended on Earth to give their blessings to the newlywed couple.
She was pregnant in the early spring of 2017, a few months after her engagement, but here baby bump came into the spotlight after she posted a picture highlighting the tummy with a caption "20 weeks".
The question is how the superstars from the opposite world fell in love.  According to the grape wine, the couple first met in 2015 at a hotel in Rome, Serena was there to play the Italian Open next morning.  She was sitting on the pool area. Ohanian was hung over after long last night party and sat next to Williams.
Someone around cracked a joke about there being a rat in the pool area. Ohanian asked "Is there really a rat here". She responded "We were trying to get him to move and get out of there," This was the first breaking the ice conversation between the two.
Serena Williams hardly knew anything about Reddit, whereas Ohanian had no respect for Tennis. Both pretended to show admiration towards each other profession, but didn't know much.  From there on it was a fairytale story. Long hour's discussions, late night drives, travelling and dating in Paris, the man just knew how to spoil the lady.
When the Iron lady witnessed Motherhood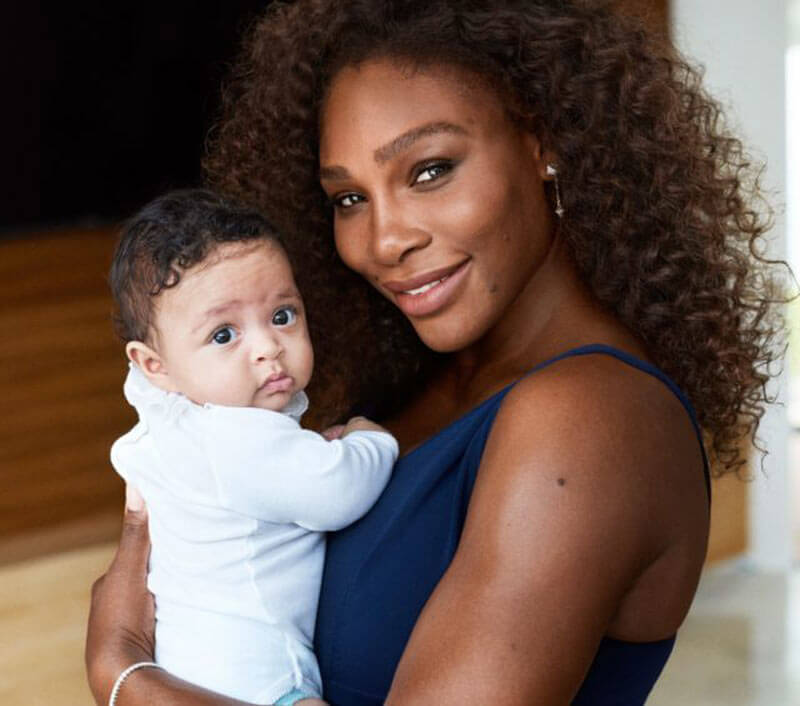 On April 19, 2017, Serena Williams's spokesperson circulated the news of Serena Williams and Alex Ohanian are expecting their first child. On September 1, 2017, the Iron lady gave birth to a daughter. She was named Alexis Olympia Ohanian.
The daughter became the youngest Vogue cover star in the magazine history. The mother and daughter due cover page earned applause and praise from all corners of the world.
Serena Williams Height:
Serena Williams is 175 cm (5 Feet 9 inches) tall, giving her the advantage to cover the ground quickly and deceive the opponent.
Serena Williams Weight:
Serena Williams's weight is 84 KG. She is muscular giving her reactive strength to serve the tennis ball at 129 miles per hour. She easily transfers the body weight providing extra power to the shots.
Serena Williams Age:
Serena Williams is 37 years old. She was born on September 26, 1981 in Saginaw, Michigan, United States.
Serena Williams Net Worth:
Serena Williams total net worth in 2018 is $ 180 million. She is the highest paid women tennis player and athlete in the world. The total prize money won by her till date is US$ 86,368,121, the rest of the incomes from endorsements. She is estimated to have earned a little less to $27 million as of 2018.
Serena Williams Famous Quotes:
Serena Williams is an inspirational figure for all those who are afraid of fear, question their ability and are made fun of their unattractive personality. She inspires you to fight, win despite all odds. Her accolades teach you to fall in love with you, start loving yourself blindly. You are your own universe.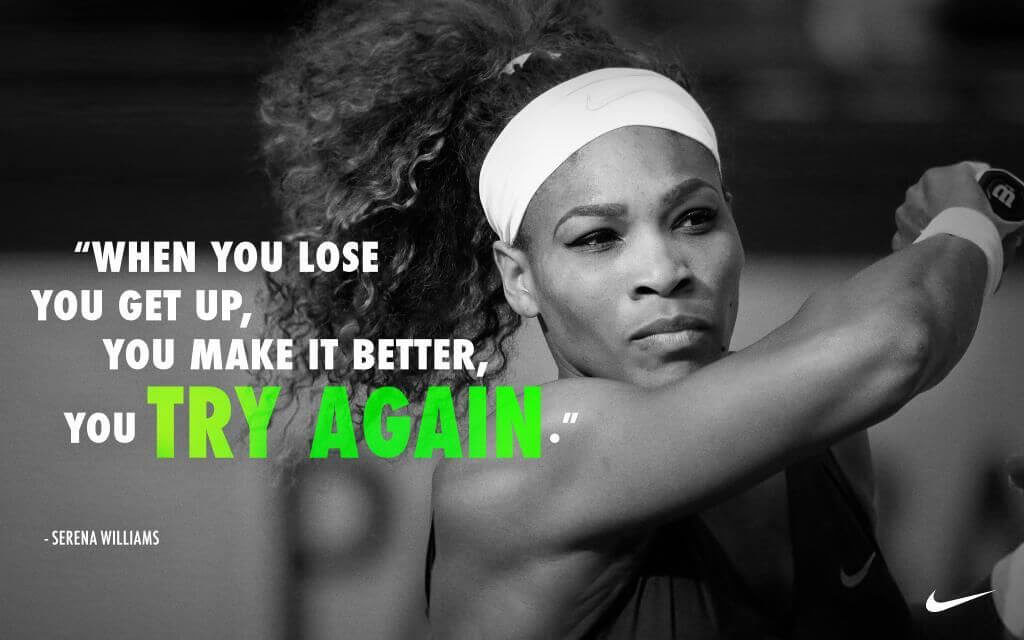 Here are top 5 Serena Williams quotes that will inspire you to stand tall like a mountain and fight for glory.
"Growing up I wasn't the richest, but I had a rich family in spirit. Standing here with 19 championships is something I never thought would happen. I went on a court just with a ball and a racket and with a hope"
"Think of all the girls who could become top athletes but quit sports because they're afraid of having too many defined muscles and being made fun of or called unattractive".
"Family's first, and that's what matters most. We realize that our love goes deeper than the tennis game"
"You can be whatever size you are, and you can be beautiful both inside and out. We're always told what's beautiful and what's not, and that's not right".
"The success of every woman should be the inspiration to another. We should raise each other up. Make sure you're very courageous: be strong, be extremely kind, and above all be humble"
Total Grand Slam won by Serena Williams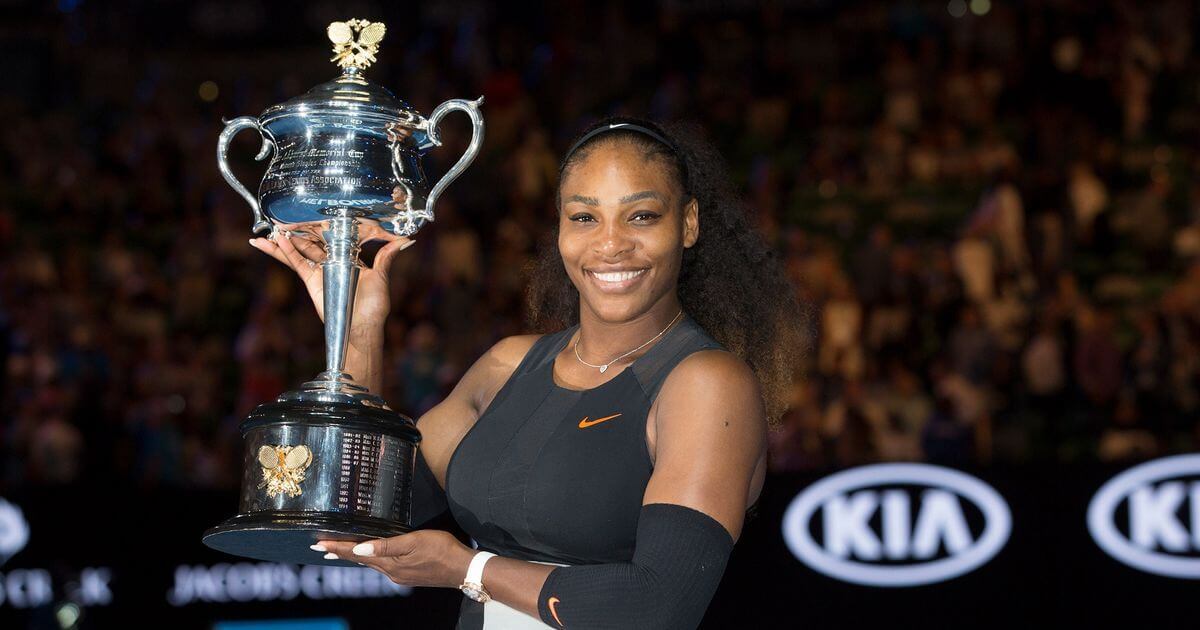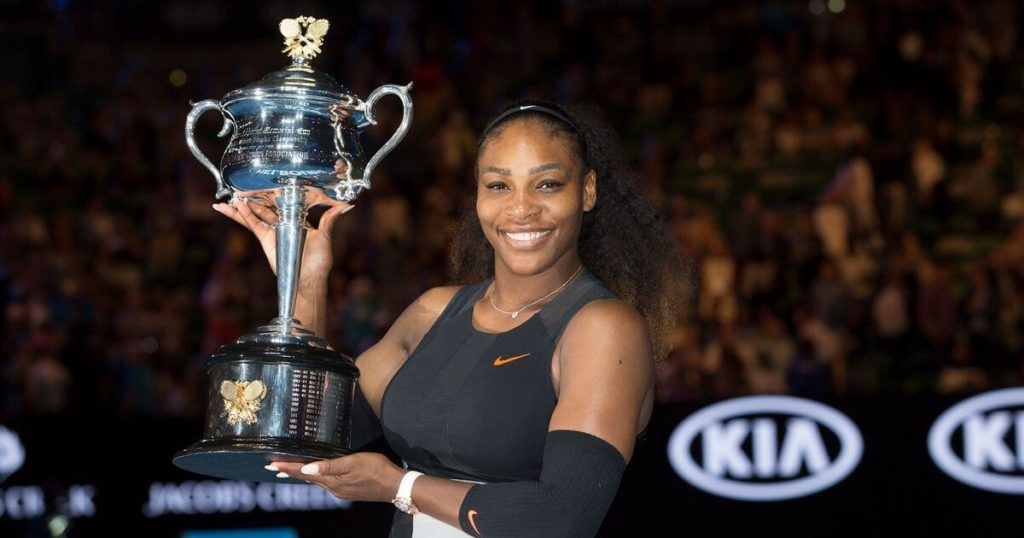 Serena Williams has won 23 women's singles Grand Slam till date.

She has won Australian Open 5 times. She won the tournament in 2003, 2005, 2007, 2009, 2010, 2015, and 2017.
She has won French Open 3 times till date. She won in 2002, 2013 and 2015.
She has won the Wimbledon title 7 times till date. She won in 2002, 2003, 2009, 2010, 2012, 2015 and 2016.
She has won the US Open 6 times in her 23 years long career. She won in 1999, 2002, 2008, 2012, 2013 and 2014.