Best Basketball Players | Famous Basketball Players
Best Basketball Players: While basketball is a game which was first invented by Dr James Naismith in December 1891 in USA, he never would've thought that the game he created to facilitate warm up sessions for athletes would become one of the most followed sports after a century. Though we still got people around the world which terms Basketball only as a game played by legends like Michael Jordan or Shaquille' o Neil, there's more in the bucket about this beautiful game. People might have their own list of Top players in basketball but as we say it " Different People with Different Perspective" Let's take a look at the most undisputed list of Top 10 Best Basketball players this arena has ever seen playing.
Famous Basketball Players in World
#10 Kareem Abdul Jabbar
Career stats: 24.3 PPG, 10.5 RPG, 2.4 BPG
Major Achievements: 6 NBA titles, 2 Finals MVPs, 6 reg. season MVPs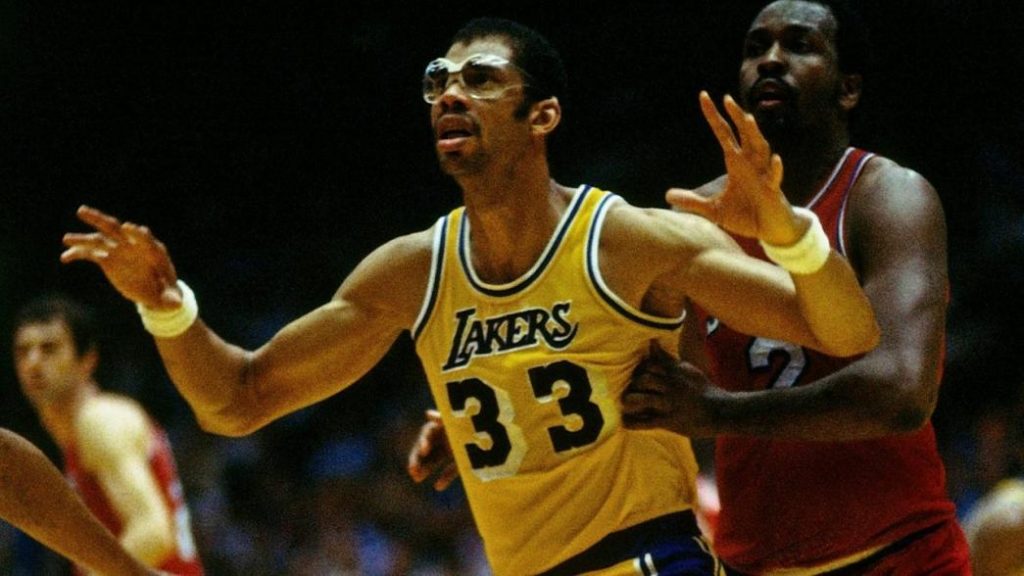 People might be disputing this as why the player with most points in National Basketball Association (NBA) history has been put on 10th position. But the point which should be kept in mind here is that most of the 38,387 points Kareem Abdul Jabbar scored in his career were assisted by the likes of Oscar Robertson and Magic Johnson whom we can certainly regards as one of the best point guards of all time. The man was mostly famous for his signature 'Sky Hook" and has played for around 20 years in this arena. Still no one can doubt his perfection towards the game and the spirit with which he played for all those years.
#9 Hakeem Olajuwon
Career stats: 25.9 PPG, 11.2 RPG, 3.3 BPG
Major Achievements: 2 NBA titles, 2 Finals MVPs, 1 reg. season MVP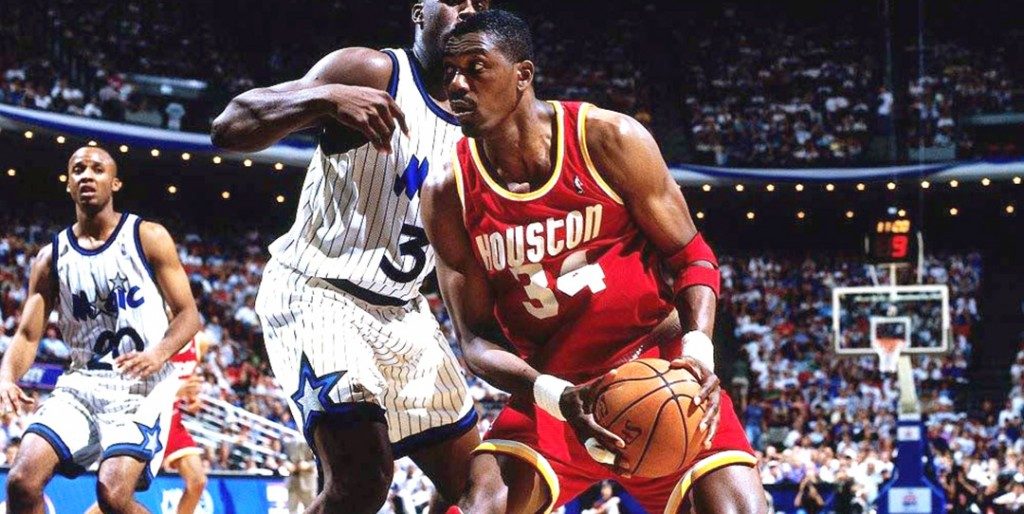 This Houston Rockets man can certainly be regarded as the most skilled basketball player in the history of the game. He was so fluent and perfect in his game that even the big names like Kobe Bryant, LeBron James and Dwight Howard have looked up to him for some inspiration in their playing days.
Moreover, his 3.3 block-per-game average makes him one of the best defenders the game has ever seen. If we talk about his achievements, Hakeem Olajuwon led Houston Rockets team to consecutive NBA Championships, with two Finals MVPs and one season MVP title under his belt. Also, he is the only player to grab the trophy of regular season MVP, Finals MVP and Defensive Player of the Year in the same season (1994) in NBA history.
#8 Shaquille O'Neal
Career stats: 24.3 PPG, 11.6 RPG, 2.1 BPG
Major Achievements: 4 NBA titles, 3 Finals MVPs, 1 reg. season MVP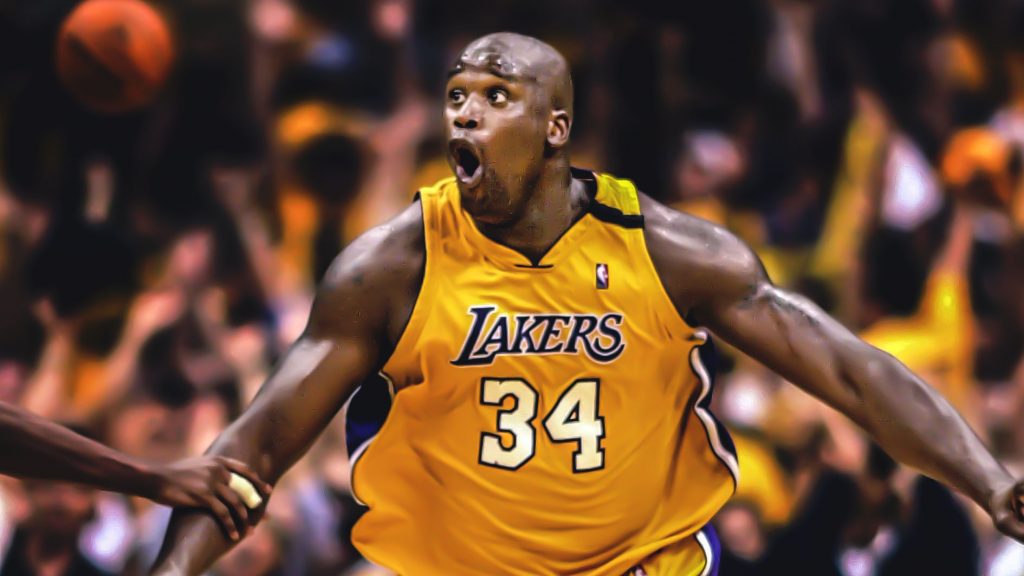 Shaquille O'Neal can be quoted as one of the most Dominant basketball player of all time. The manner in which he used to crash through the defenders in the basketball arena was quite magnificent and this "Giant" has led Los Angeles Lakers to back to back NBA Championships for three years in the year 2000, which also made him win three MVP's on a trot.
#7 Tim Duncan
Career stats: 21.9 PPG, 12.0 RPG, 2.4 BPG
Major Achievements: 4 NBA titles, 3 Finals MVPs, 2 reg. season MVPs
Tim Duncan widely famous as "The Big Fundamental" is one of the most consistent performers the basketball arena has ever seen and the same can be justified looking at his stats over the years.
Duncan led San Antonio Spurs to four NBA Championships while getting three Finals MVPs title under his name in the process. He used to have a perfect record in the finals until last year when Spurs lost to Miami heat in a seven game series but still getting the title four times out of five isn't a bad record at all. His perfect Finals record was blemished last season in a seven-game series loss to the Miami Heat, Being named in  14 All-NBA and All-Defensive Teams respectively ,he still looks up and running with his game and seems like doing some more wonders in the coming times.
#6 Wilt Chamberlain
Career stats: 22.5 PPG, 24.5 RPG, 4.2 APG
Major Achievements: 2 NBA titles, 1 Finals MVP, 4 reg. season MVPs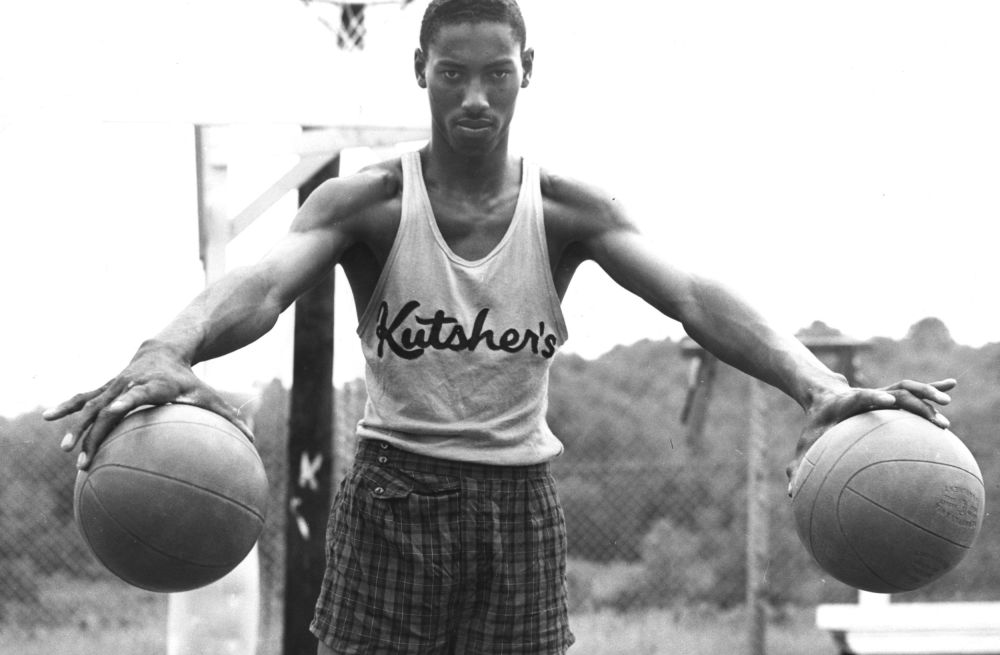 Though his name as being "One of the greatest" was always a point to be argued upon under the likes of Michael Jordan and Shaq o Neil, but his exemplary performance In the 1961-62 regular season where he averaged 50.4 points and 25.7 rebounds certainly makes him a class apart from the rest. A man who has averaged 22 and 25 in his career really deserves a place in the elite group.
#5 LeBron James
Career stats: 28.1 PPG, 8.6 RPG, 6.7 APG
Major Achievements: 2 NBA titles, 2 Finals MVPs, 4 reg. season MVPs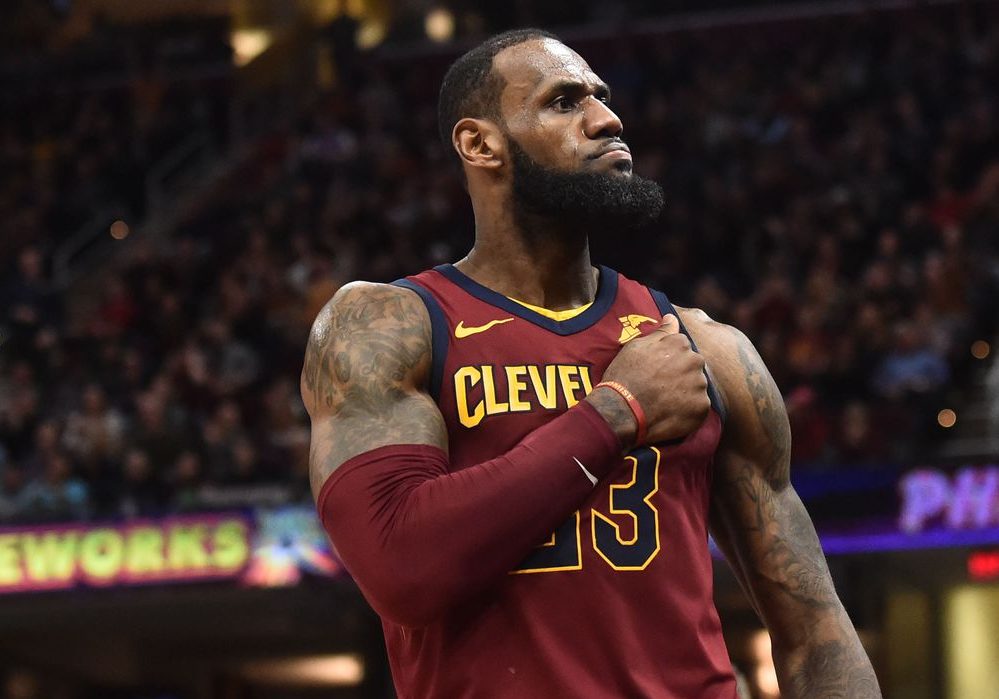 This Miami Heat legend, LeBron James, is just 10 seasons into his NBA career and he is already been rewarded with the title as "One of the all time greatest "in such a short span of time. The title seems justified though after seeing his statistics and MVP awards he won during his journey with the heat. "King James" as they call him, is a multi dimensional player and being rightly listed in  9 All-NBA and 5 All-Defensive Teams.The player is still going nice and high with his top class game and seems like taking over the rest of the legends sooner than we expected.
#4 Larry Bird
Career stats: 23.8 PPG, 10.3 RPG, 6.5 APG
Major Achievements: 3 NBA titles, 2 Finals MVPs, 3 reg. season MVPs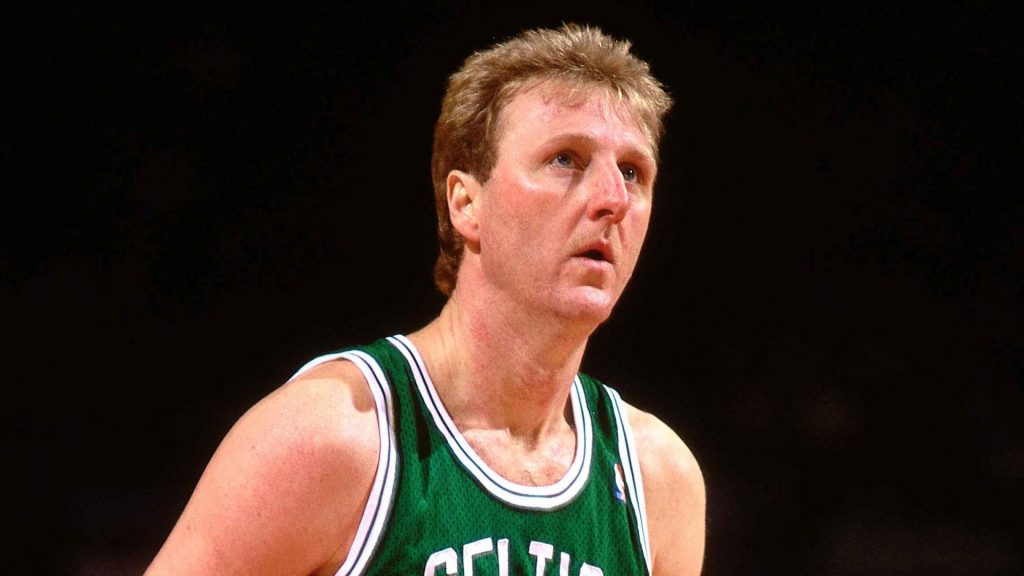 Larry bird was never been regarded as one of the most athletic players in the arena but his presence of mind during the game along with unmatched skills certainly makes him an eligible name in the league of all time greats
The man from the Boston Celtics led his team to three NBA Championships, grabbing three regular season MVPs and 2 Finals MVPs during the process. Best famous with the name "Larry Legend" he was named in the list of 10 All-NBA and three All-Defense Teams.
#3 Magic Johnson
Career stats: 19.5 PPG, 7.7 RPG, 12.3 APG
Major Achievements: 5 NBA titles, 3 Finals MVPs, 3 reg. season MVPs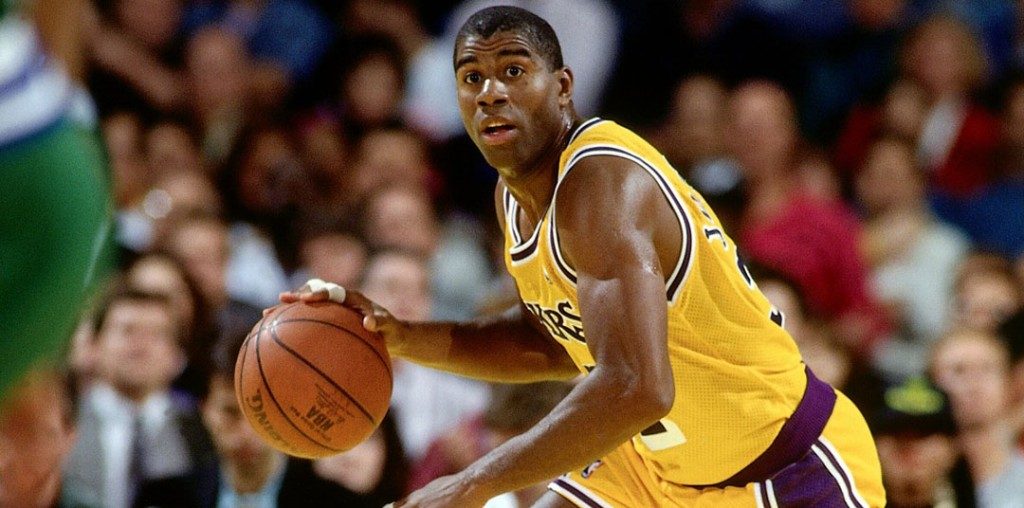 The list won't be completed if we won't be mentioning the "Magic "done on the basketball arena  by Magic Johnson. Right at the start of his career grabbed the award for the Finals MVP when brought on board in place of injured Kareem Abdul-Jabbar in Game 6 of the 1980 NBA Finals. This Los Angeles Lakers legend led his team to appear in nine finals and this really shows how impactful he was with his game in the arena and his 6'9″ large frame has stopped every attack from the opposition with great expertise of the game. His 12.3 assists has been named an all time best by NBA.
#2 Bill Russell
Career stats: 16.2 PPG, 24.9 RPG, 4.7 APG
Major Achievements: 11 NBA titles, 5 reg. season MVPs
So here we got the greatest defender of all time in NBA history in our list who led his team Boston Celtics to a record 11 NBA Championships with his great defensive skills. While Basketball has always been largely known for more attacking players and most of the players in our list confirm the same, Bill Russell was someone who was a different game altogether. You might not be too impressed with his offensive skills and stats but his overall impact on the game during his career was simply commendable. So here we can say if Defense could've been a benchmark in order to get the MVPs and "all time greatest" titles, We will certainly give it to Bill Russell and all the 11 championships that he won with his team is most by a player in defense in the history of the game.
#1 Michael Jordan
Career stats: 33.4 PPG, 6.4 RPG, 5.7 APG
Major Achievements: 6 NBA titles, 6 Finals MVPs, 5 reg. season MVPs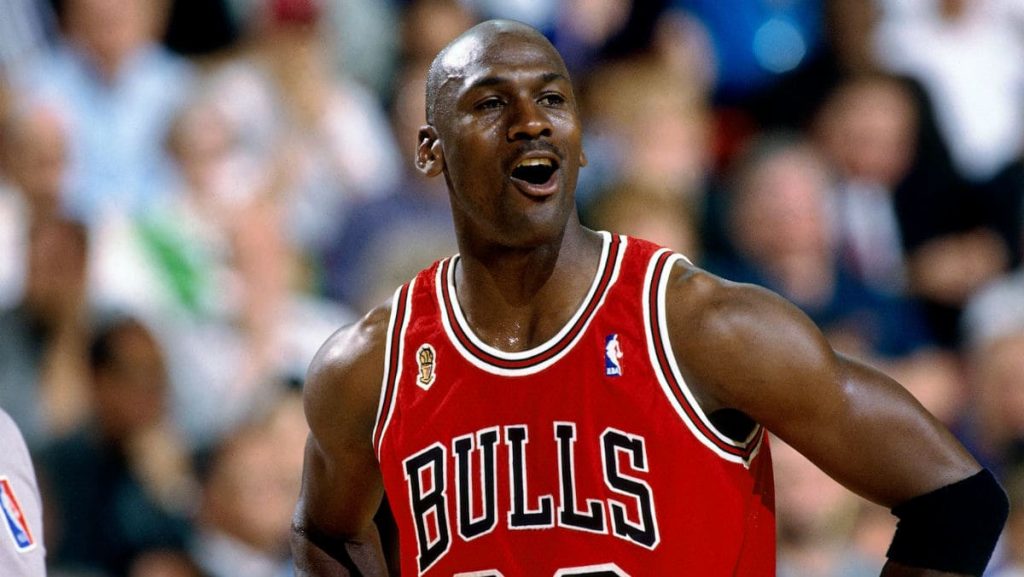 So here we are with the Top player in our list of "Best Basketball players of all time" and there's hardly anyone on this planet earth who can doubt the greatness of Michael Jordan in the basketball history.
There isn't any award or title that Jordan hasn't got under his belt and he was the only one in the NBA history to score a perfect 6 out of 6 in the NBA finals while taking along the finals MVP during the course. This legend player from Chicago Bulls was a two dimensional player with his perfection in both attack and defense at the same time.
The legend also got 11 All-NBA selections, nine All-Defensive First team selections and 10 scoring titles under his belt during his career. There is a reason why he has been referred to as the all time greatest in the basketball arena and to our surprise, his greatest ever performance came much before he and his team put their hands on the coveted title. It was in the year 1988 when he grabbed the title of MVP, Defensive Player of the Year and the NBA's highest scoring player at the same time. The stats he secured during the season are reason enough to call him the best in the business as he scored 35 points on 53% shooting, 5.5 rebounds, 5.9 assists, 3.2 steals, 1.6 blocks.