Best All-Rounders in CPL
Of all these many years, the Caribbean Premier League has seen some amazing triumphant, nerve-wracking finishes, and some really outstanding players. A team is really blessed when you get a player who can bat, bowl and fielding while all the three looking effortlessly amazing. CPL consists of players who have it in them to turn the match on its head in the matter of a few overs.
With the way T20 cricket is turning out, the balance is gradually shifting heavier towards the all-rounders as they are the proving to be the ace card in the pack. Here are the top 5 Best all-rounders that CPL has produced over so many years.
1) Dwayne Bravo
Trinbago Knight Riders were struggling in the CPL once and it was the outstanding effort of their skipper Dwayne Bravo that saw them win under circumstances that can only be coined as a miracle. They won three knockout games on the trot to get the trophy in their name. Throughout the tournaments of all the CPL seasons, Bravo was a part of, it was him who led from the front. He emerged as the leading wicket-taker multiple times, leading run-scorer, fastest 50, fastest 100, you name the record and he has it. In his 57 matches, he scored 1109 runs, his highest being 121 not out, while scalping 55 wickets.
Bravo, often known as the charismatic all-rounder has been one of the biggest assets for whichever teams he's played for or whichever league he's been part of. He has always been a champion player for the franchises be it Chennai Super Kings in the IPL or Trinidad & Tobago Red Steel, which was later renamed as Trinbago Knight Riders, in the CPL. In 69 matches he's played in the tournament, Bravo has picked up 97 wickets. The right-arm pacer has bowled 239.2 overs in the tournament and averaged 21.52. Bravo has four four-wicket hauls in the league and one five-wicket haul. 5-23 is his best bowling figure in a match and as far as his batting is considered, his total run tally is 948 runs with 67 being his personal best and a strike rate of 134.27
2) Andre Russell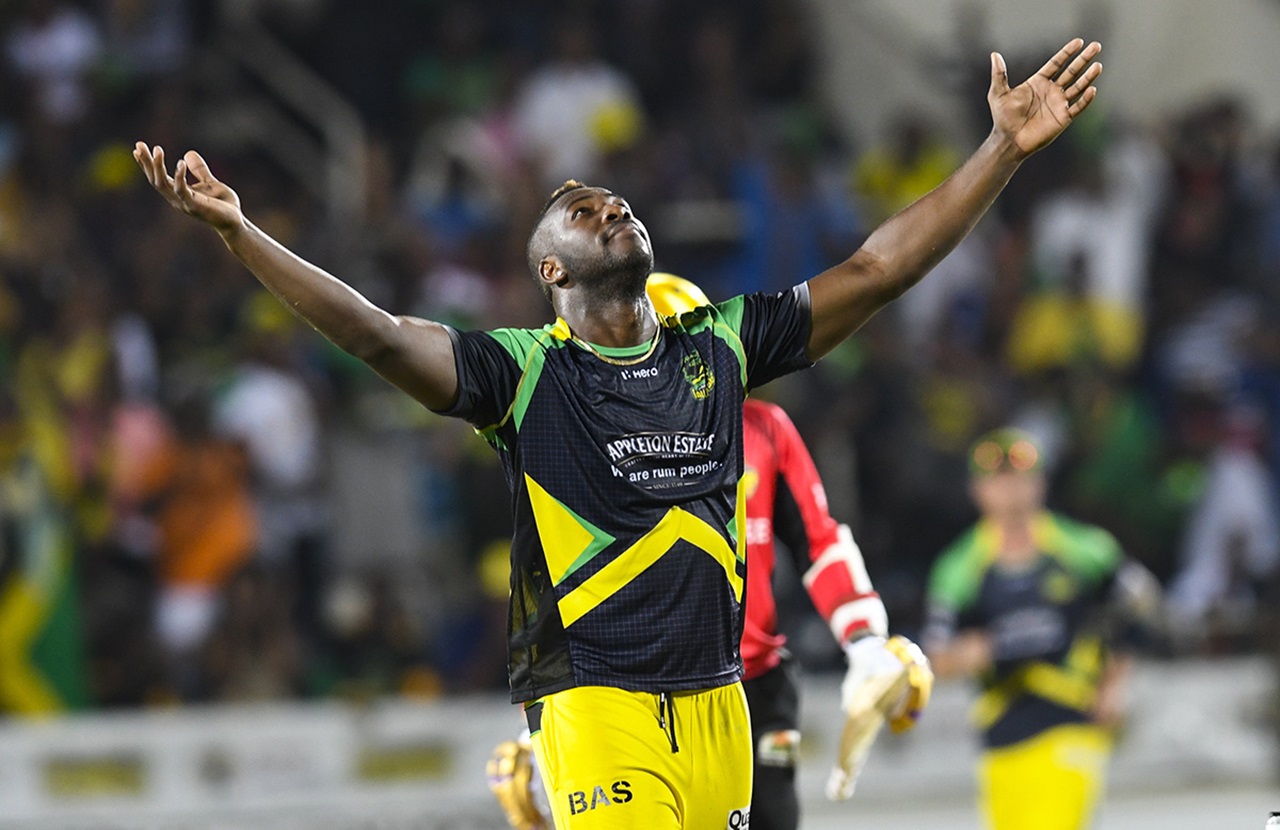 Andre Russell, the Jamaican professional cricketer who is hugely regarded as one of the greatest Twenty20 players to have ever played the game. Russell plays internationally for the West Indies and for Jamaica in West Indian domestic cricket as an all-rounder. He has played in more than 300 Twenty20 matches for a range of sides in leagues throughout the world. Russell scored a century in a record 40 balls in the 2018 Caribbean Premier League and took a hat-trick in the same match, becoming the second player to take a hat-trick and score a century in the same Twenty20 match
Russell also assisted Jamaica Tallawahs to reach the knock-out stages of the CPL, he amassed 219 runs and was the third-highest run-getter for his team. Due to his outstanding performances, Big Bash team Melbourne Renegades signed up Russell for the fourth edition. In 57 CPL matches he plays, he amassed a total of 1109 runs at a strike rate of 181.20 and 55 wickets with 5 wickets for 22 being is personal best. With stats like these, he surely is the number second-best all-rounder in our top 5 best all-rounders in CPL.
3) Carlos Brathwaite
Born in Barbados, Carlos Brathwaite first came into the limelight while he debuted for his first-class season in 2011. He had a fantastic debut match against Trinidad and Tobago as he took 7/90 in the second innings of the match. Brathwaite showed some decent consistency that season, scalping 26 wickets in eight first-class games. He was rewarded for his performances with a place in the national team for the Bangladesh tour later that year.
It's a Carlos Brathwaite story unfolding when the going gets tough. He played for teams like Antigua Hawksbills, Barbados Tridents, St Kitts and Nevis Patriots in CPL, where he was a part of 56 matches. In 56 matches, he scored 615 runs at a strike rate of 143.69, and scalped 45 wickets with 4 for 15 runs being his best.
4) Jason Holder
If you are West Indies skipper in this modern era you are probably wearing a crown of thorns. Given the level-playing field in the CPL, Holder showed what an extraordinary force he could be. Greater star power existed in other sides, but Jason Holder and the Tridents succeeded by excelling at orthodox strategy and focusing on fundamentals.
Take wickets with pacers in the Power play, slow down the run rate with spin in the middle, have good Yorker bowlers at the death. Whatever you need, Holder has got for you. Holder led the CPL with grace and attitude. In 51 matches his wicket tally is 39 with his best being 4 for 27 runs, and as for the runs, he scripted a total of 495 runs while 54 being his personal best.
5) Rakheem Cornwell
If you hear the word cricketer- you probably would be imaging an athletic person, with pace, however, looks sometimes can be deceptive, especially when you are 6 feet 5 inches and weigh 300 pounds, you would not for a second think the person can be a cricketer. Well, that's Rakheem Cornwall for you. A hard-hitting lower middle-order batsman and a handy off-spinner also fondly called as the Cricket's man-mountain, Rakheem Cornwell has been consistently performing at the domestic levels.
His CPL tally is an impressive one too, which makes him one of the best all-rounders in our top 5 all-rounders. While he played for teams like Antigua Hawksbills, St Lucia Stars, and St Lucia Zouks, he was a part of 33 matches, 544 runs scored, while 78 not is his personal best. He has hit some pretty impressive big ones too which includes 41 boundaries and 42 sixes. As for the bowling part, he has scalped 9 wickets. He may not have been at par with the legends of CPL, but he definitely is a player who pretty much aces decently in every department of cricket.