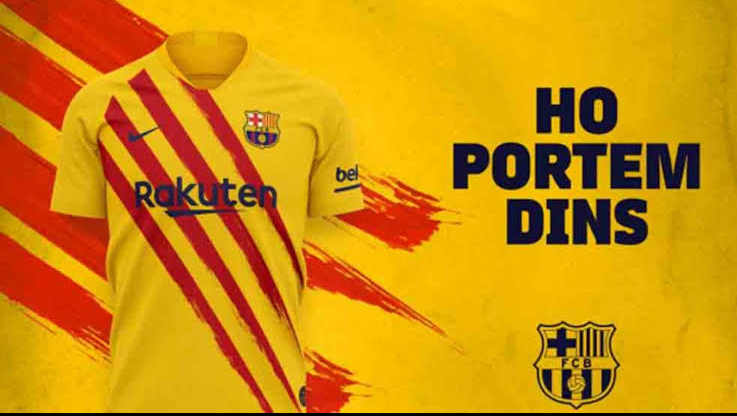 On December 2, Monday the La Liga Spanish club FC Barcelona will be seen in their new "Senyera Kit" for the first time while playing against the Atletico Madrid in week 15 of the La Liga at Wanda Metropolitano stadium.
The new Senyera Kit features the Catalan flag (the Senyera) in the honor of the club's roots and history of 120 years, during which the club grew as an entity open to the world helping people coming through different culture and background to join hands together through the game Football.
The Senyera kit comes with a tagline Ho portem dins meaning "it's deep within us". The tagline represents the independent Catalan identity, culture and values.
The Senyera Kit is given a modern look. The Jersey features four red strips appearing diagonally across the yellow colored background. A retro-style V-neck is given for the neck while the shorts are left in the same yellow color which is the dominant all over the Kit.
The socks are also yellow with four red hooks, a Nike logo and the word Baca in blue.
The Catalan Flag colors started showing upon the Barca's Jersy from 2005. In the 2005-06 season, the colors of the Catalan flag were included for the first time featuring upon the neck of the Barcelona shirt.
During the 2013-14 season, the presence of Catalan flag colors took a step further when for the first time in the history of Club the first team wore the shirt with the colors of Senyera.
In the following season, the shirt was maintained with a tweak in the design. This season the team will wear the Catalan colors for the third time in their history tomorrow during the La Liga game.