Former India skipper and striker of the women's football team Ngangom Bala Devi added another feather to her cap as she signed an 18-month deal with Rangers FC. This will make Bala the first Indian woman to become a professional footballer anywhere in the world, and she also becomes Rangers' first Asian international footballer.
Bala has many achievements to her name as she is the current top scorer for the Indian national women's team. She has a superb record of 52 goals in 58 games since 2010. This makes Bala Devi a top international goal scorer in the South Asian region. Bala Devi, who received a national call up at a young age of 15, has also served as skipper of the national team in a distinguished international career.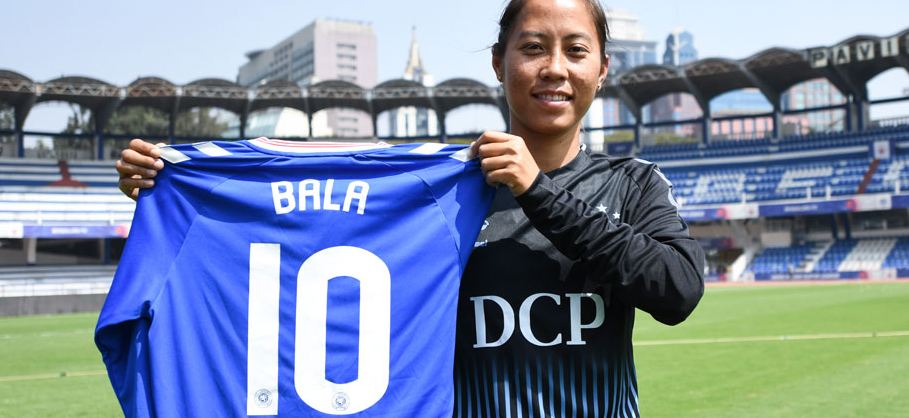 Bala also enjoys a prolific goalscoring record at the domestic level with over 100 goals in 120 games. She has been the top scorer in the Indian Women's League for the past two seasons. Bala Devi was named All India Football Federation (AIFF) Women's Player of the Year twice, in 2015 and 2016.
Speaking of her delight at signing for Rangers, Bala said: "To play my football in Europe with one of the biggest clubs in the world is something I could never have dreamed of."
"I hope my move to Rangers serves as an example to all the women footballers back home in India who dream of taking up the sport professionally," Bala added.
Bala further went on to say, "I'm looking forward to making the most of the top-class facilities and coaching, and I am certain I will benefit immensely from the standard of training and competition."
Bala extends her gratitude by saying, "I'm very grateful to Amy McDonald, the coaching staff and the entire management at Rangers for believing in me."
Bala also thanked Bengaluru FC as she said, "Also, this move wouldn't have been possible without Bengaluru FC who have been instrumental throughout. I can't wait to get to Glasgow, join my teammates and give this my best shot."