An Introduction to B. Sai Praneeth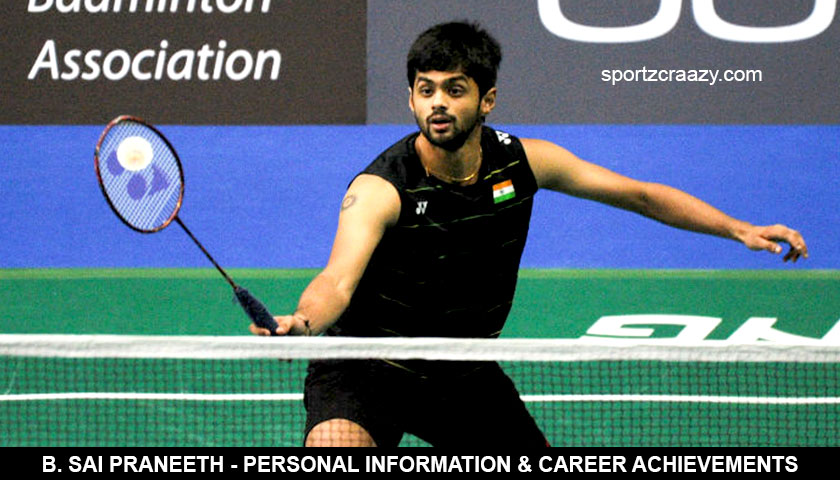 Sai Praneeth Bhamidipati known as B. Sai Praneeth has slowly made his way to become one of the most well known Indian badminton players to be currently active in the sports Industry, and has made headlines all over the nation with his total mastery of the game. Being a quite competent player, he has proved to India that he is one of the best badminton players in the country, and has backed up this statement with quite a lot of medals and tournament wins.
Called one of the best badminton players in the entire world, this new entry to the badminton field has managed to defeat some of the top ranking players in the entire world, a fact that has propelled Praneeth into unseen lands of fame and recognition, and has made his name one of the most buzzing names in the entire sports sector. Players like Muhammad Hashim and Taufik Hidayat have fallen before the mastery of Praneeth, making him into what is considered to be one of the very best and most famous players in the entire world. Even though he is a fairly recent entry to the badminton field, he has defeated top ranking players.
One of the most unexpected victories of Praneeth's career was when he managed to defeat Muhammad Hafiz Hashim, one of the best players in the entire world. Hashim had previously ranked as the All England Champion in 2003,  and him losing to Praneeth was quite unexpected, and left crowds around the world shocked at the prowess of this young player.
Personal Information
B. Sai Praneeth was born on 19th August 1992, in Palakol, Andhra Pradesh, India, and has since then grown to be one of the most recognized players in the entire world. He started playing badminton in his neighbourhood from a quite young age, and turned out to be the one of the best players there, as his talent in badminton was quite clear even from a very young age.
He is now supported by the GoSports Foundation, a non-profit organization which is solely focused on helping the new sports talent coming out of India, and is supported by them through the means of the Rahul Dravid mentorship programme.
B. Sai Praneeth stands at an average height of 5 feet and 9 inches, a height that is considered to be average for an Indian male.
A right handed player, he has become one of the finest examples of using one's right hand to play, as his techniques and skill is known throughout the world of badminton.
He is coached by Pullela Gopichand. Over the course of time, there have been many famous Indian sports coaches, but few are as famous as Gopichand, as Gopichand is known as one of the finest coaches in the entirety of the country.
B. Sai Praneeth Achievements
2013 Thailand Open Grand Prix Gold Tournament: One of the most unexpected victories of his career, he defeated Muhammad Hafiz Hashim in the very first round. Nobody in the crowd had expected this, as Hafiz, from Malaysia, was a known and tested player who had previously proven himself to be one of the best when he became the 2003 All England Champion. He was defeated by Praneeth in a surprise twist.
2013 Djarum Indonesia Open: Again, this now world famous badminton player upset one of the top ranked in the world when he ended up defeating Taufik Hidayat, a world ranking player. A perfect example of the prowess of B. Sai Praneeth, crowds were quite unsure who would win, as a veteran player was facing off against a new player who only seemed to be unseating veteran players.
2010 Mexico BWF World Junior Championships: Although the talented player, facing off against Denmark's Viktor Axelsen, was not able to win, this is still a match where he gave all of his effort, as the match between the two was indeed very close.
Honors and Medals
2017 Singapore Open: In a surprise, B. Sai Praneeth managed to defeat Srikanth Kidambi in the Men's Singles in the BWF Superseries, a feat that nobody could have predicted, as Srikanth is known as one of the very best badminton players in the entirety of India, and proceeded to win the tournament.
2017 BWF Grand Prix Thailand Open: A match where Praneeth gave a masterful performance, he defeated his opponent Jonatan Christie of Indonesia in a series of quick and close matches.
2010 International Challenge Series Iran Fair International: One of his earliest matches, he ended up winning this tournament after defeating his opponent Mohammadreza Kheradmandi.
Also Check: