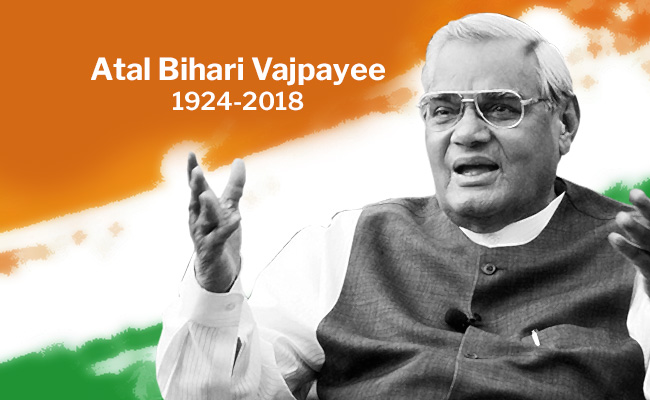 Since last night channels all across the globe are showing news about the demise of Indian Ex-Prime Minister and Bharat Ratna Atal Bihari Vajpayee.  And as expected the media and commoners are showering the flowers of praise, achievements and monumental feats over him.
No one remembered the grand old man of India a few days ago, but death all of sudden recalls the old memories making us nostalgic. It is a guarantee that people will forget him in a week and revert back to normal routine. That's life.
The body is mortal, but the soul is beyond imagination, space and time. The soul of Atal Bihari Vajpayee will always enlighten the wayfarers and lead them to the right path. He was a true statesman, a old fashioned true spirited politician and a heart touching poet exploding his emotions through words.
Going through his poems, I tried to try and remember him as heroic personality, but each of his poems gave courage, wisdom and a smile on my lips. He wrote "Maut ki umar kya hai, do pal bhi nahi. Zindagi Sinsila, aajkal hi nahi". He was the real "Pradhan Sewak" of the nation.
Many didn't recognize how passionate he was about Cricket. He saw cricket as a sports uniting people from different caste, creed, colour, sex as one nation. Unlike, other politicians, he understood the real essence of playing cricket.
Atal Bihari Vajpayee Cricket Connection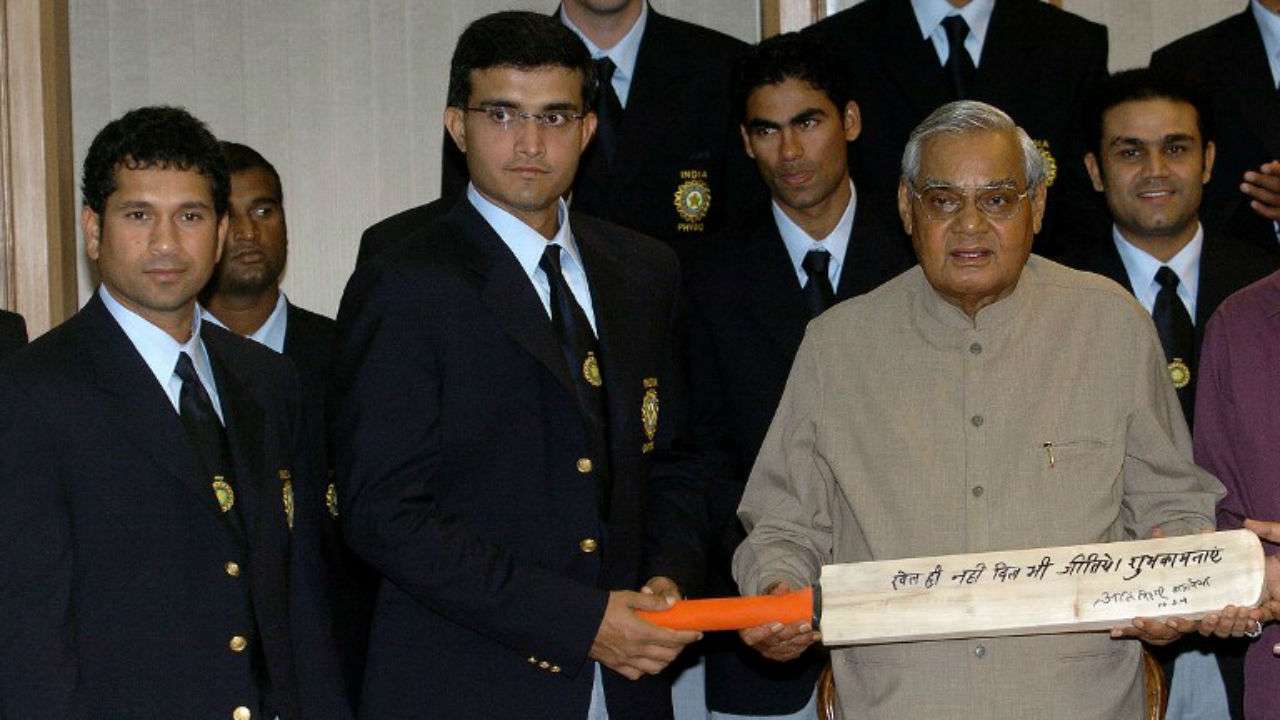 The year was 2003, after winning consecutive 9 matches India reached the World Cup final after 20 years. The whole nation was waiting for the World Cup, Atal Bihari Vajpayee sent a Bat to the Indian cricket team with a message "Jeet ke lautna". This shows that behind the roles and responsibility of a Prime minister, there is a nervous, die hard Indian cricket fan.
Cricket was an integral part of Atal Bihari Vajpayee international policy. Post World Cup, in 2004, a tour was proposed by both BCCI (Board of Control for Cricket in India) and PCB (Pakistan Cricket Board) to be played on Pakistan soil. It was after 16 years, the Indian team was touring the neighbours, much had happened between the period. The Kargil war memories were still fresh in everyone's mind.
The tour was cleared and was made the part of cricket calendar, but the confusion still prevailed. Various leaders from the NDA government was not ready to send the team to Pakistan. The reason was the trust issue over Nawaz Shareef credibility. They tried their best to put pressure on the BCCI to cancel the tour.
The tour was almost cancelled, until Atal Bihari Vajpayee intervened and tried to revive the tour standing against deputy prime minister Lal Krishna Advani. He convinced Lal Krishna Advani and his government to send the Indian cricket team to Pakistan. He became the flagship bearer product of peace, humanity and sportsmanship.
The Indo-Pak tour was historical, Indian team lead by Saurav Ganguly not only won the test and one day series, but won every Pakistani heart. The hospitality and welcome team received was unbelievable. Pakistanis opened their home and hearts and welcoming Indian team to their home.
It didn't look like a formality, emotions were genuine. Atal Bihari Vajpayee was seen as a beacon of hope to re-ignite the bromance between the two nations, but he lost the elections two months after bring an end to the golden era of Indian politics.
Today the legend is not with us, but his thoughts, ideology and poems will remain with us forever. A true gentleman, a man of a million words, but his silence spoke more than words. As the phrase goes "Speech is silver, but silence is gold". May be the other world needs him more than us, the man is on another mission. We will miss u Atal jee.
The Indian fans want to see another Indo-Pak bilateral series, hope the government will take a leaf out of your agenda and will fill the potholes dissecting both the nation.
How sports fraternity reacted to Atal Bihari Vajpayee demise
Once the news of Atal Bihari Vajpayee demise spread across the Sports fraternity like a fire in the jungle, the anguish and pain was evident. Various sports personalities reacted and expressed their sorrow.
Include the tweets of Sachin Tendulkar, Virender Sehwag, Rajyavardhan Rathore, Vijender Singh, Shikhar Dhawan, VVS LAxman, Jwala Gutta, Anjum Chopra, BCCI, Harsha Bhogle, Anil Kumble and Ishant Sharma.
India is at a great loss today. Shri #AtalBihariVajpayee ji's contributions to our nation have been innumerable. Thoughts and prayers go out to his loved ones.

— Sachin Tendulkar (@sachin_rt) August 16, 2018
Asaman ko choo gaya, jo asmaan sa vishal tha, dharti mein simat gaya, jo mitti jaisa narm tha.
Kaun hai jo Atal reh paya zindagi bhar, Atal banke wo zindagi ko paa gaya.
Om Shanti #AtalBihariVajpayee ji ?? pic.twitter.com/56Xi1sqzEf

— Virender Sehwag (@virendersehwag) August 16, 2018
In Atal ji, we have lost the pole star of Indian politics. A visionary, statesman, poet, leader. The loss is deeply personal for me. One of my fondest memories is shaking his hand after CWG 2002. Alvida, Atal ji. Miss you. #AtaljiAmarRahen pic.twitter.com/fyfF7iKro5

— Rajyavardhan Rathore (@Ra_THORe) August 17, 2018
One of the Greatest PM this Country has ever seen.A visionary, A poet, A statesman, A man who won over million hearts. Man who deserves nothing but respect.
Bharat Ratna #AtalBihariVajpayee is no more with us.His contribution for the motherland will inspire generations to come. pic.twitter.com/XhDk0WrNR5

— Vijender Singh (@boxervijender) August 16, 2018
My deepest condolences on the passing of our former Prime Minister Sri Atal Bihari Vajpayee Ji. One of the few politicians I always respected for his honesty and devotion to the national cause. May his soul rest in peace.

— Shikhar Dhawan (@SDhawan25) August 16, 2018
One of India's Most Loved Prime Minister, a great poet and a wonderful statesman. We as a nation will miss you sir #AtalBihariVaajpayee ji ?? Deepest condolences to admirers and loved ones . pic.twitter.com/BPQRUD8nLG

— VVS Laxman (@VVSLaxman281) August 16, 2018
End of an era #RIPAtalBihariVaajpayee ?

— Gutta Jwala (@Guttajwala) August 16, 2018
An iconic leader, a visionary, a former prime minister, a Bharat Ratna. #AtalBihariVaajpayee ji really stood out tall as a statesman in Indian Politics. #RIP sir ??

— Anjum Chopra (@chopraanjum) August 16, 2018
The Indian Cricket Team and BCCI condoles the sad demise of former India Prime Minister Shri Atal Bihari Vajpayee. Atalji dedicated his life in service of the nation.

— BCCI (@BCCI) August 16, 2018
A man of class and dignity. Always put India first. #AtalBihariVajpayee

— Harsha Bhogle (@bhogleharsha) August 16, 2018
A sad day for the country, as we lose one of our greatest leaders. #AtalBihariVajpayee contributed so much for the betterment of the country. May his soul rest in peace ??

— Anil Kumble (@anilkumble1074) August 16, 2018
Saddened to hear the demise of a Great statesman & Glorious leader, Shri Vajpayeeji. He inspired us all with his exemplary conduct… My Heartfelt tribute to the departed soul #AtalBihariVaajpayee pic.twitter.com/fW5ZQ1qbfM

— Ishant Sharma (@ImIshant) August 16, 2018
Also Read: What is Ravi Shastri's Contribution to Team India as coach?