FIBA U18 Asian Games 2018
FIBA U18 Asian Games: Sports and India go hand in hand. In a country, where cricket and football tournaments are celebrated with as much vigor and energy as festivals and players are lauded and revered as Gods, it is no surprise that the expectations of the country from its football players ranked very high in the FIBA U18 Asian championship 2018. With its own national football tournaments, now making rounds and competing with the likes of Indian Premier League in cricket and the Kabaddi Premier League in Kabbadi. Football has now reached the domestic Indian households, creating as much frenzy and excitement as its other counterparts.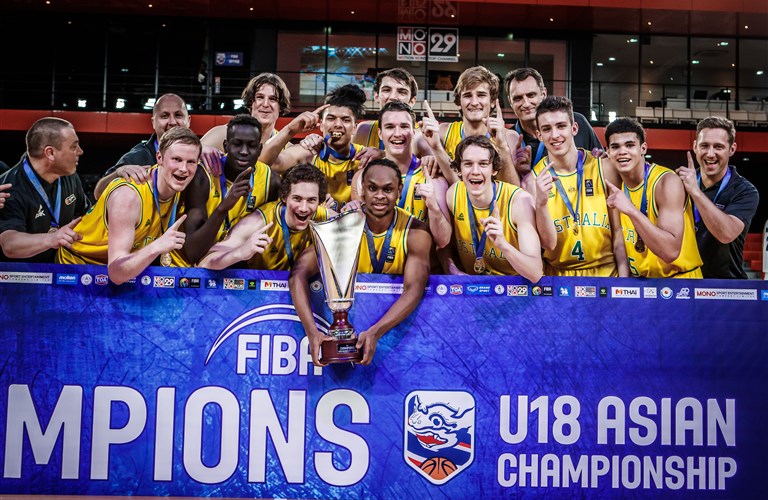 Image Source
The International Federation of Basketball, commonly known by its acronym of the French title, Federation Internationale de Basketball, held the Asian championship in Thailand from August 5, 2018 to August 11, 2018. FIBA now has an association of 213 nation federations with 5 different commissions or zones: Oceania, Africa, Americas, Asia and Europe. Selection or qualifying rounds are held in each of these zones in tiered levels, selecting the best teams at each round, who further go on to compete in the Asian Games. The team that wins in the Asian games goes on to compete in the FIBA U19 World Cup, which in this case is to be held in 2019. Therefore, The Asian Games are held to decide the roaster that would represent FIBA Asia in the world cup. The winning team would then go on to play in the 2019 U19 world championship.
Before the teams for the Asian games can be selected, there is a selection or qualifying round held to shortlist the countries that can move ahead to the main round. India kicked off fantastically as it won all their matches in the FIBA Asian games qualifying rounds held in Dhaka, called SABA. India won all the 4 matches, leaving behind Nepal, Sri Lanka, Bangladesh and Maldives.
Image Source
FIBA U18 Asian Games: The roster that was finally selected and the players that would move on to compete were: Tushal Singh, Prashant Tomar, Abhishek Sharma, Seijin Mathew, HarshawardhanTomar, Jagshaanbir Singh Jhawar, Princepal Singh, PratyanshuTomar, Prashant Singh Rawat, Arvind Kumar Muthu Krishnan, Rajveer Singh Bhati and Rajveer Kumar. The coach, Aman Sharma, who had helped them achieve a knockout victory in the SABA round continued on to guide and coach them in the Asian games as well.
Prior to the selection, India was thought to be placed with Bahrain, Kazakhstan and Lebanon. However, after the draws, it was picked in Group D of the Asian Championship, placing alongside Korea, Chinese Taipei and Syria. While India, which ranked at 48, was placed amongst the high ranking football nations and very strong players, there was no doubt on the caliber and skill of our players.
FIBA U18 Asian Games 2018 Participating Teams
FIBA U18 Asian Games: In a 3 day game play-off, India was defeated by Chinese Taipei and Korea by huge margins, but managed to cinch 1 victory against Syria. In the first game against Chinese Taipei, they started off with a strong effort, but couldn't keep up and carry through to the end of the game. The game against Korea, who ranked at number 16 was tough and even though it was no surprise that we lost, the effort by the team was lauded by all. IN the last game against Syria however, the do or die situation forced the boys to take at least one win home and they cinched it with a stellar score against its competitors. With its low ranking on the table, it came as no surprise as India almost took away the win from right under their nose as they squared off and left it reeling in the dust, right at the beginning of the match.
India had to then move on and compete with the 3rd placed New Zealand of Group 2. A strong team with a great technical acumen, it was known that this would be a tough hurdle to cross for the boys. Even with a very strong effort and a lot of hard work, India was unable to get over the prowess of the New Zealand players, and lost by a bracket of 76-109. This did bring an end to the team's dream of fighting until the very end and brining the championship home, but the skill and the caliber of the players were appreciated and noted by all.
FIBA U18 Asian Games 2018 Schedule
FIBA U18 Asian Games: Although it was unable to rank in even in the top 5 on the leaderboard, India made an impressive stand with the players PratyanshuTomar, Princepal Singh and Rajeev Kumar, making a mark on the board with their skills and effort. It was Australia that clinched the victory in the end but it was India that finally made a mark and announced its arrival in this game. Even with a loss, the boys gave their best effort to make a mark and make their country proud, which needless to say, it is.
The future of the boys is deemed bright by the coach Aman Sharma, as he says that they have tasted their first win and first loss, along with their first ever exposure to the world. They are already gearing up to polish their skills and practice to finally hit a nail in the world map with their name.
Also Read: All you need to know about National Basketball Association (NBA)
A win or a loss is a cycle that the world runs on. The effort of these young boys seemed to have brought out a refreshing look at this sport that seemed neglected and discarded against cricket a couple of years ago. With added facilities and academies dedicated to bring out the best and fresh talent, inspired by this young roster is what one envisions the future to be. There cannot be enough praise and appreciation for the team that gave its best for the country and on this Independence Day, we couldn't have asked for a more proud moment than what the youngsters have given us. Let us hope that with time, we can call this prestigious award home and bring the much elusive accolade, pride and privilege to rest in our country.
You can also watch all FIBA U18 Asian Games 2018 Matches on FIBA Official Youtube Channel