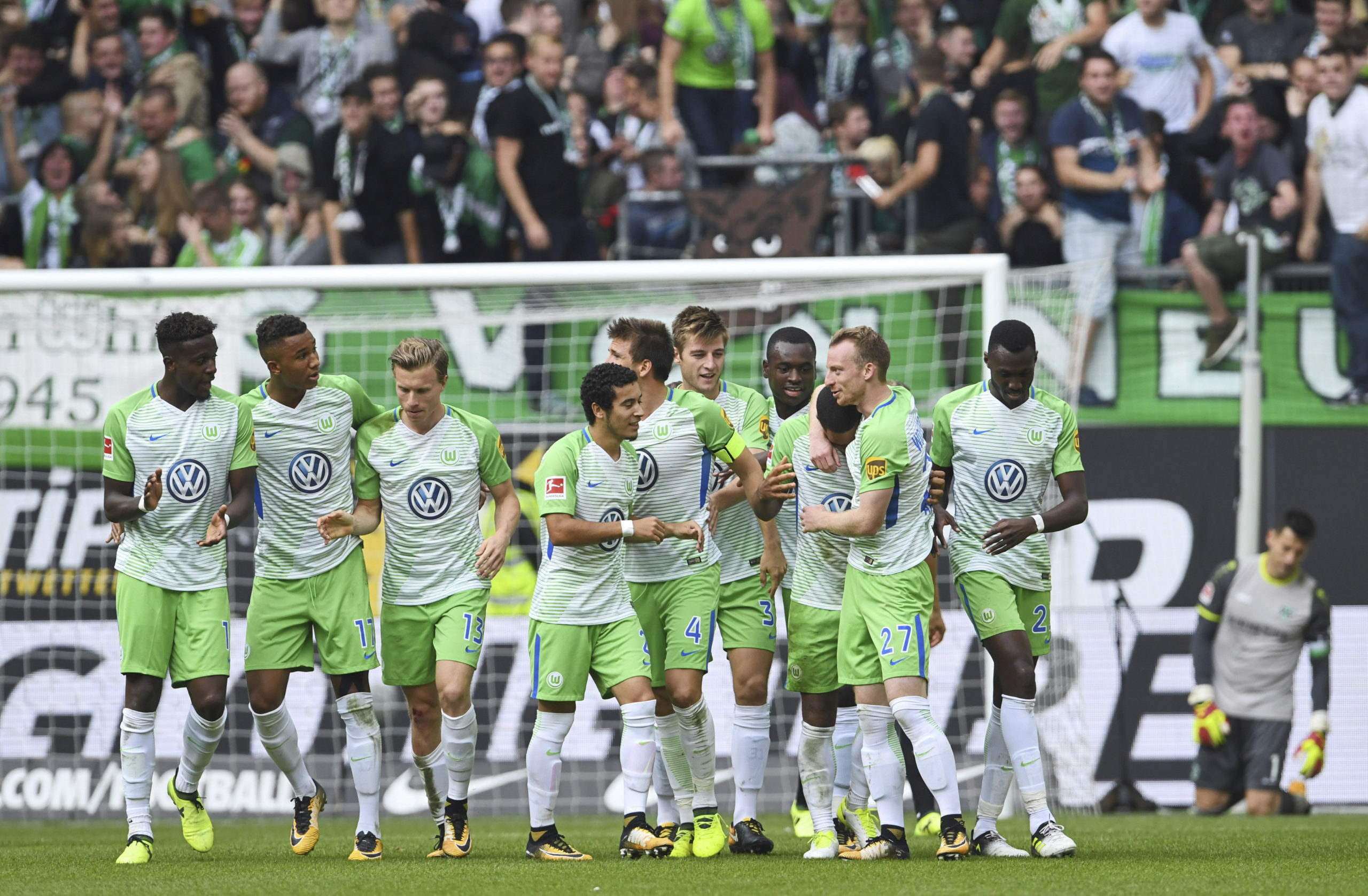 Verein für Leibesübungen Wolfsburg also called VfL Wolfsburg or Wolfsburg is a German professional sports club situated in Wolfsburg, Lower Saxony. The club originated out of a multi-sports club for Volkswagen workers in the city of Wolfsburg. It was initially known for its football department, but have also other departments including badminton, handball, and athletics. the top tier of the German football league system. And as far as the results are concerned the club have won the Bundesliga once in their history, in the 2008–09 season, the DFB-Pokal in 2015 and the 
The club is a part of Bundesliga and the DFL-Supercup in 2015.
The professional club is run and managed by the spin-off organization VfL Wolfsburg-Fußball GmbH which is an entirely owned subsidiary of the Volkswagen Group. Since 2002, the club's home matches are played at the Volkswagen Arena.
History
The club was initiated in the year 1938 as Stadt des KdF-Wagen which was home to autoworkers who manufactured cars and that would later become famous as the Volkswagen Beetle. The first football club affiliated with the Autoworks was known as BSG Volkswagenwerk Stadt des KdF-Wagen, a works team. The team was a part of the first division Gauliga Osthannover in 1943–44 and 1944–45 seasons.
On 12 September 1945, after the disaster of World War II, a new club was formed and was known briefly as VSK Wolfsburg. The club began to play in the green and white still worn by VfL today; local youth trainer Bernd Elberskirch had ten green jerseys at his disposal and white bed sheets donated by the public were sewn together by local women to make shorts.
On 15 December 1945, the club also faced some serious issues including the financial crisis that almost had assumptions of shutting the club down when all but one of its players left to join 1. FC Wolfsburg. The only player remaining, Josef Meyer, worked with Willi Hilbert to reform the side by signing new players. The new team adopted the moniker VfL Wolfsburg, VfL standing for Verein für Leibesübungen. This can be translated as "club for gymnastics" or "club for exercises." Within a year they managed to get the local Gifhorn title. In late November 1946, the club played a friendly against longtime Gelsenkirchen powerhouse Schalke 04 at the stadium owned by Volkswagen, emerging as the successor to BSG as the company sponsored side.
Ownership
| | |
| --- | --- |
| Managing director – sport |  Jörg Schmadtke |
| Sporting director |  Marcel Schäfer |
Coaching Staff
| | |
| --- | --- |
| Head coach |  Oliver Glasner |
| Assistant coach |  Michael Angerschmid |
| Assistant coach |  Thomas Sageder |
| Goalkeeping coach |  Pascal Formann |
| Fitness coach |  Michael Berktold |
| Rehabilitation coach |  Michele Putaro |
| Rehabilitation and fitness coach |  Christoph Tebel |
Management
| | |
| --- | --- |
| Video analyst |  Tim Cezanne |
| Head of medicine |  Heiko Wehe |
| Team doctor |  Dr. Gunter Wilhelm |
| Team doctor |  Dr. Stephan Bornhardt |
| Head physiotherapist |  Sascha Weiß |
| Physiotherapist |  Patrick Kasprowski |
| Physiotherapist |  Manfred Kroß |
| Physiotherapist |  Steffen Mantei |
| Chiropractor |  Alexander Steinbrenner |
| Kitman |  Heribert Rüttger |
| Kitman |  Nils Scholz |
| Team manager |  Philipp Wegner |
Squad
| | | |
| --- | --- | --- |
| No | Position | Player |
| 1 | GK | Koen Casteels (vice-captain) |
| 2 | DF | William |
| 4 | MF | Ignacio Camacho |
| 6 | DF | Paulo Otávio |
| 7 | MF | Josip Brekalo |
| 8 | MF | Renato Steffen |
| 9 | FW | Wout Weghorst |
| 11 | MF | Felix Klaus |
| 12 | GK | Pavao Pervan |
| 13 | MF | Yannick Gerhardt |
| 14 | FW | Admir Mehmedi |
| 15 | DF | Jérôme Roussillon |
| 19 | DF | Kevin Mbabu |
| 22 | DF | Marin Pongračić |
| 23 | MF | Josuha Guilavogui (captain) |
| 24 | MF | Xaver Schlager |
| 25 | DF | John Brooks |
| 27 | MF | Maximilian Arnold (3rd captain) |
| 30 | GK | Niklas Klinger |
| 31 | DF | Robin Knoche |
| 32 | DF | Marcel Tisserand |
| 33 | FW | Daniel Ginczek |
| 35 | GK | Lino Kasten |
| 36 | GK | Phillip Menzel |
| 38 | MF | Ismail Azzaoui |
| 40 | FW | Victor Sá |
Honors
Domestic
Bundesliga:

Winners: 2008–09
Runners-up: 2014–15

DFB-Pokal:

Winners: 2014–15
Runners-up: 1994–95

DFL-Supercup:
Regional
Deutsche Amateurmeisterschaft:
Amateuroberliga Niedersachsen-Ost(II):

Winners: 1952, 1954, 1963

Regionalliga Nord(II):
Oberliga Nord(III):

Winners: 1991, 1992
Runners-up: 1976, 1978, 1988

Lower Saxony Cup (Tiers 3–5)

Winners: 1962, 2002, 2003
Youths
German Under 19 championship

Winners: 2010–11, 2012–13
Runners-up: 2007–08

Under 19 Bundesliga North/Northeast

Winners: 2007–08, 2010–11, 2011–12, 2012–13

Under 17 Bundesliga North/Northeast

Winners: 2008–09, 2015–16