Video Assistant Referee, VAR, has been introduced in the Premier League from the 2019/20 season after tasting fair success across competitions. The English FA took a call to introduce VAR to get rid of some contentious decision that might turn the fate of a match or the Premier League title.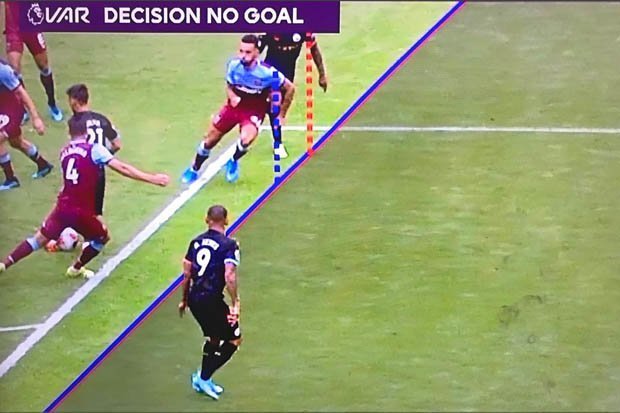 While VAR's debut came with the opening game of the 2019/20 Premier League season, between Liverpool and Norwich City, it was in the game between Manchester City and West Ham United that it was called upon first and had its bearing, when in the 54th minute, a Gabriel Jesus goal was cancelled on account of off-side after the VAR check.
Raheem Sterling, who played the ball to Gabriel Jesus for a tap-in was apparently off-side on VAR check, as his hand, including the shoulder was seemingly ahead of the last man. The referee disallowed the goal and the score was brought back to 2-0.
Another VAR incident had a bearing in the 85th minute, this time to the advantage of Manchester City. City had won a penalty and substitute Sergio Aguero set-up to take it. He hit to the keeper's left and Fabianski got a hand to it, denying Aguero the goal, however on VAR check, it was seen that Fabianski had both his legs off the line, which isn't allowed as per the latest rules, which saw a re-take of the same. Aguero didn't make a mistake this time and slotted it home, to give Manchester city a 4-0 lead.
Manchester City were clinical on the day, as they beat home side West Ham United 5-0. Gabriel Jesus got the first goal for the visitor, while Raheem Sterling doubled, and subsequently, tripled the lead. Aguero scored a penalty to send City 4-0 up, and Raheem Sterling completed his hattrick to round-up a riot of West Ham United. City now go top of the table for the moment, on goal difference.
Please follow and like us: