After winning their last match against Bleed Esports in Valorant India Invitational, Global Esports were all set to go against BOOM Esports with hopes of reaching the Semi-finals already over but will look to end the season with a win. Despite having an experienced sqaud BOOM Esports are yet to win a match.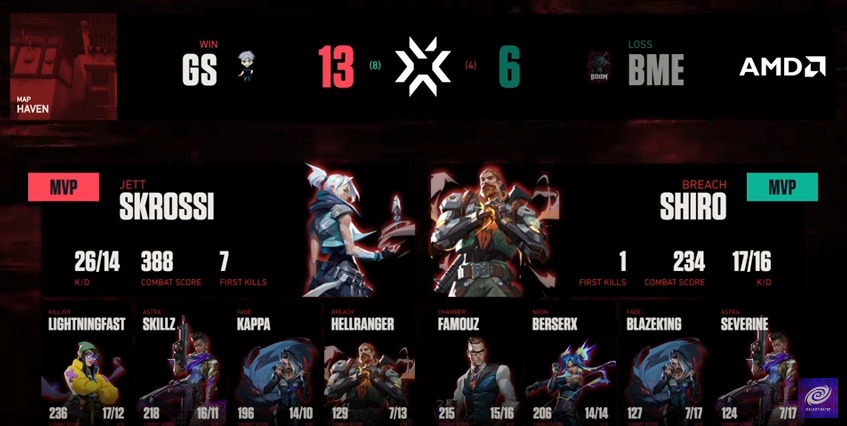 Indian representatives, Global Esports are favorites to win this match but in a tournament like this nothing is assured. As soon as the match started BOOM Esports looked bright and won the first two rounds but Skrossi's side pulled one back to make it 2:1. The fourth round again saw Global Esports bag a win and both the teams are now on level terms with 2:2.
Round number 5 yet again went in favor of Global Esports as they have taken the lead for the first time in this match by 3:2. BOOM are now on the back pedal as GE has kept the pressure on them but the next round saw teams again coming back on level terms with 3:3.
The next round saw BOOM Esports win it thanks to their defensive game play as they defused the Spike bomb without much difficulty to make it 4:3. However, Global Esports are not looking to slow down either as they won the next two rounds to make it 5:4. Clutch attack there by Global Esports after HellrangeR's ecstatic gunmanship to take the lead further to 6:4.
Global Esports are really filling the Indian esports fans with joy as they are now just 6 points away from reaching the Semi-finals. Skrossi is on fire and he is devastating the opponents using his incredible skill and experience. His efficiency took the score line to 8:4 and BOOM Esports have a lot of work needed to be done.
Skrossi has been the best player in the first half with 19 kills already and KDA of 2.3. GE's temperament and approach is very clear that is go all ballistic. They won the first round after Half-time followed by a round win by BOOM. The score line during the 15th round – 9:5.
BOOM are chasing the Indian side very well and they have now won 6 rounds and need to win three more to level the score line. Meanwhile, GLobal esports performed a Flawless round win to reach double figures and they are another 3 round wins away to end the Valorant India Invitational on a high.
In terms of attack as well defense, GE are just seeming to be unstoppable as they are closing on in yet another victory (second on the trot) with the score line favoring them by 11-6. Only one point needed to complete this famous victory. Rossi's side are really turning it around and it is 12-6, Bleed Esports in the mud and they will exit the tournament without winning a single match.
Amazing performance that by Global Esports as they register their second win on the trot. The crowd is on their feet worshiping God squad and they end this tournament with a bang. Final score line was 13-6.