U Mumba Come out Triumphant: Puneri Paltan slumped off to their second loss in as many games as they went down to U Mumba, 33-23, at the NSCI, Mumbai today. U Mumba's defence stood tall and contributions from Abhishek Singh and young Arjun Deshwal, sealed the deal for the Ronnie Screwvala owned side. Puneri Paltan had another off-day, and the collective failure let them down.
Puneri Paltan started off the proceedings with an empty raid, and after a series of 2 more, Dong Geon Lee came in to raid for U Mumba. The Korean was aggressive and he got the bonus, only to be caught out by Sanket in the PuneriPaltan defence.
It was time for a do-or-die raid for PuneriPaltan, and Sriram came in to raid, only to find himself being strongly blocked by Sandeep Kumar to hand U Mumba the points, and an early lead. Scores were level soon, as Manjeet tackled RohitBaliyan.
ShubhamShinde then produced, arguably, the moment of the match as he displayed impeccable awareness and presence of mind, and rushed in to the Mumbai side of the court to toe touch a returning Abhishek, earning PuneriPaltan the lead.
It was then time for a Dong Geon do-or-die raid, and in wake of getting some points for his side, he held out to Sawant and Shinde. PuneriPaltan were now two points up at 4-2. Sandeep Narwal went in for the next U Mumba raid, but was held by Manjeet, who produced a magnificent double thigh hold, showcasing aggressive and fearlessness. Pune were now up by 3 and Manjeet went to raid looking for some points on that side of the mat. U Mumba pounced on the super tackle opportunity as Atrachali and Surender combined to send Manjeet down on the mat, earning 2 points for the home side. The lead was now down to 1 and the score read 5-4.
Pawan was next for PuneriPaltan, as he was solo-tackled by Surender Singh, not caring for any support, sending Pune's lead raider off the mat. Teams seemed to be adopting a patient and cautious approach as they looked to pick do-or-die raid. It was time for another and Abhishek Singh didn't miss his opportunity this time around, getting a touch on Shinde and then using the lobbies to get back.
Then the series of do-or die raids set in, and U Mumba made the most of it as Surender took the opportunities coming their way. Manjeet was sent to the bench again. Bengal Warriors were down to 3 now and Surjeet Singh went in, with an intent to come back empty handed, but force a do-or-die raid for U Mumba. U Mumba teamed up ahead of the baulk line to not let Surjeet execute the raid, and to their dismay, 2 defenders rushed in, allowing a couple of points to PuneriPaltan, bringing them right back in the game, and given them a 1-point lead at 9-8.
Abhishek then has his revenge against SurjeetSingh and then got another point on the do-or-die raid to send U Mumba ahead 11-9 at half-time.
It was yet again Abhishek who began the proceedings in the second half, and got a point for U Mumba to leave PuneriPaltan with the last man on the mat. The raider then took bonus but jumped into the lobby, and with that PuneriPaltan were all-out, awarding 3 points to U Mumba and the score read 15-10.
Manjeet went in to raid in wake of getting his first raid points of the night, but his sixth raid on the night was also empty. Arjun Deshwalwas then brought on to add life to the U Mumba raiding department and he won the first points of the night, sending Girish Ernak off. Girish looked completely out of sorts as the score now read 16-10. Manjeet then finally had his first raid point, albeit, just a bonus. But Pune looked to have panic and they tried to effect improbable tackles, which saw RohitBaliyan get his first points of the night. The score was now 17-11.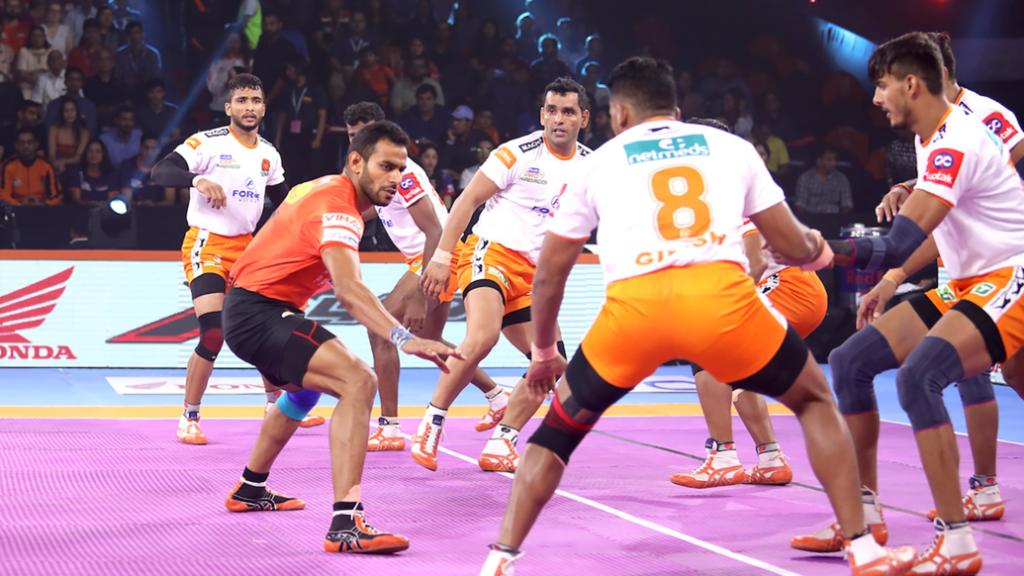 The next couple of minutes belonged to the U Mumba defence. First it was Abhishek, who got the points, and then Deshwal produced a moment of brilliance, running circles around the PuneriPaltan defence to get two points for his side to take the score to 19-11.
PuneriPaltan then had a slight sight at a comeback as Pawan Kumar got a touch on Baliyan, while Surjeet affected another super tackle to give Paltan three points in less than a minute, reducing the gap down to 5.
U Mumba then consolidated on the lead and looked to get away with the game as Baliyan and Deshwal got points in their raids, and soon the score was up to 24-16. Surender then came into his own to affect a super tackle and it was getting away from Mumbai, thick and fast.
PuneriPaltan then introduced Shashank, who had superb pace and a low centre of gravity, which he made most use of. He got three quick points to push for a comeback, however, U Mumba were alert now and Fazel Atrachali, Surender and Sandeep were unbeatable in the next few minutes, as they sealed the game for U Mumba 33-23.
This was Pune's second defeat in as many games. It hasn't been an ideal start for Anup Kumar as the coach of the team and he would be looking to inflict his spirit and mind into his side.
Starting Sevens
PuneriPaltan – Surjeet Singh, Girish Ernak, PawanKadiyan, ShubhamShinde, SanketSawant, Manjeet, R Sriram
U Mumba – FazelAtrachali, Surender Singh, Sandeep Narwal, RohitBaliyan, Abhishek Singh, Harendra Kumar, Dong Geon Lee
Top Performers
PuneriPaltan
Top Raider –  Sushant Sail (3 points)
Top Defender – Surjeet Singh (4 points)
U Mumba
Top Raider– Abhishek Singh (5 points)
Top Defender– Surender Singh (4 points)