Liverpool are one of the most successful clubs in England and if we go by the records before the revamped edition of Premier League football in 1992, the Reds had won 18 Division 1 titles. They were one of the most dominant teams and are classified as one of the most elites in the European continent.
However, they severely fell down after the re-launch of English Premier League in 92. And since then, the Merseyside won only 1 PL title. There are many reasons to blame – managers, attitude of players and slip ups at the most pressure situation.
Which Liverpool fan can barely forget that Steven Gerrard slip which handed the title to Manchester City. Since then, the 2 clubs have formed a rivalry and if there is any club which goes toe-to-toe with City then it is Liverpool.
Eight years ago today, Steven Gerrard slipped and allowed Demba Ba to score as Chelsea beat Liverpool.

They went on to finish second in the Premier League 🙃 pic.twitter.com/raQIdGbApk

— ESPN FC (@ESPNFC) April 27, 2022
But all of it wouldn't have been possible without the man who delivered that one and only PL title since 1989. And the name is of course Jurgen Klopp. The German who made it possible for Liverpool to become a force once again.
He took over as the head coach, 4 days after Brendan Rodgers was fired. 8th October 2015 was the date when the Klopp era officially began at the Anfield and he has taken them to heights since then. In his very first season, he took Liverpool the EFL Cup final alongside a shocking entry to the UEFA Europa League final.
But on both occasions, Liverpool lost. At the domestic circuit they lost to Manchester City and in the continental competition, the Reds crashed out against Sevilla. Then in 2018 Liverpool reached their first UEFA Champions League final since 2006 but again lost to Real Madrid.
So, seven years of Jurgen Klopp. He's quite simply the best thing that's happened to Liverpool in my lifetime.

Magnificent football, many trophies, one of the greatest managers of his generation, and most importantly, a humble, classy human being.

Stay forever… pic.twitter.com/VFqxf7gJJH

— Henry Jackson (@HenryJackson87) October 8, 2022
However, one of their most memorable story was the way they came back in 2019. Liverpool reached another UCL final and they conquered their 6th European title. A year later, they finally landed a Premier League trophy and also went on to win the FA Cup and Carabao Cup last year.
Klopp was obviously the key behind Liverpool's success but without his commanders, none of that would have happened. So here are the Top 5 players from the Klopp Era who took Liverpool back to the summit.
1. Mohammed Salah 
2. Sadio Mane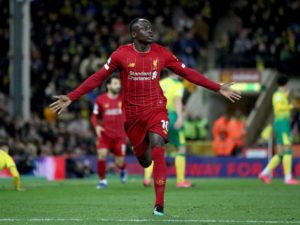 3. Virgil Van Dijk
4. Alisson Becker
5. Trent Alexander Arnold