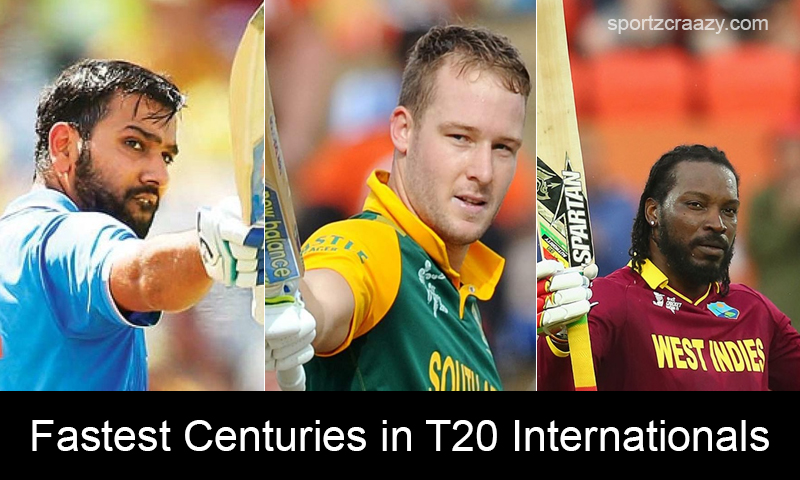 Fastest Centuries in T20 International
T20 version of cricket is the most entertaining version of the game. After the advent of T20, the game has started making its roots in relatively unpopular areas. With guaranteed entertainment and shortest duration made the format more popular across the globe.
It started impacting on other formats too as there are lots of high scoring games now happening in one-day internationals and 300 seems to be the achievable target these days. Batsmen are innovating new shots to topple the bowlers and same ways bowlers are looking for new tricks to get better of the batsmen. Overall the quality of the game has been improved a lot these days. Cricket formally called as batsmen's game and t20's are no exception from this. Lots of new records have been created these days and towering sixes and boundaries make the game more interesting. Here are the lists of top 5 fastest centuries in T20 internationals.
#1 David Miller and Rohit Sharma (35 Balls)
Both are similar kind of batsmen who can change the game on their own David Miller of South Africa and Rohit Sharma of India has hit fastest century in T20 Internationals. They have done this in 35 balls. David Millers' century came against Bangladesh at Potchefstroom while Rohit Sharma's century came against South Africa at Indore. David Miller coming to bat at 10th over of the match has hammered the Bangladeshi bowlers for seven fours and 9 towering sixes. He remained unbeaten on 101 at 36 deliveries.  The highlight of his innings was he hammered 5 consecutive sixes against Mohammed Saifuddin.
David Miller
With two months later hitman Rohit Sharma equaled the record with 12 boundaries and 10 sixes.  With this record, he becomes the first Indian to score two- centuries in all formats of the game. Leading the side with the absence of regular captain Virat Kohli, Rohit Sharma devastated the Sri Lankan bowling line-up and finally got out at 118 of 43 deliveries.
Rohit Sharma
#2 Richard Levi (45 Deliveries)
Once touted as the perfect replacement for Herschelle Gibbs, Richard Levi lived up to the expectations in the earlier stages of his career but faded away due to inconsistent performance.  After the strong domestic performance, Richard Levi announces himself at the international stage with the record-breaking century in 45 deliveries against New Zealand. With his century South Africa made a successful run chase of 173 against New Zealand in that match.  His first fifty came in 25 deliveries where he blasted the second one in just 20 deliveries which helped the team to chase down the target with 24 balls to spare. The highlight of his innings was he hit 34 runs in Doug Bracewell's over which included 5 sixes. Finally, he remained not out on 117 which include 5 boundaries and whopping 13 sixes.
3. KL Rahul and Faf du Plessis (46 Deliveries)
KL Rahul
It has been the run-fest at Lauderhill as West Indies took on India that turned out to be the great advertisement for the game of cricket. Both teams had big hitters to their name and with the flat pitch; fans expected the high scoring encounter and both teams have lived up to the expectations. Batting first Evin Lewis hammered Indian bowlers and scored a magnificent century and with the help of that century, West Indies imposed a mammoth 246 runs to chase in 20 overs for India.  In reply India had a bad start losing two openers in quick succession but walking at no.4 KL Rahul ensured the ship doesn't slip away and scored a magnificent hundred in 46 deliveries for a team which helped the team to come close to the target. Finally, he remained not out on 51-ball 110.
Faf du Plessis
After losing early wicket of Hashim Amla captain Faf du Plessis walks at no.3 against west indies at Wanderers.  he resurrected the innings at gave the hint of his batting form in the final over of the batting powerplay where he hammered Sulieman Benn for 0 runs that included 3 consecutive boundaries and a six.  He hammered a six to complete his half-century and a boundary to complete his maiden ton in 46 deliveries and thus he becomes the second centurion for his country. Finally got out against Jason Holder in the final over of the match but the damage is already done with his 119 runs which helped the team to post mammoth 231/7 in 20 overs.
#4 Aaron Finch and Chris Gayle(47 balls)
Aaron Finch
Australian opener Aaron Finch made a brutal assault on English bowlers where he made a century in just 47 deliveries. He marked the brutal assault in the very first by lofting the ball into the stance bowled by Steven Finn. Australia scored 58/1 in 6 power play overs but made 156 runs in just 63 deliveries in later part of the innings. With 11 boundaries and record 15 sixes, he remained not out on 156 in just 63 deliveries that helped the team to impose the target of 256 where the might Aussies won comfortably.
Chris Gayle
"Six machine" Chris Gayle set the expectations high on 2016 T20 world cup with his entertaining knock of 100 in just 47 deliveries. Opting to bat England made competitive 182 in 20 overs in reply Gayle made the target easy by his outstanding knock. The "Six machine" has hit 8 sixes where his first fifty came in 27 deliveries and his next fifty came in just 20 deliveries which helped them to chase down the target in 20 balls to spare. After a slow start, Gayle hit two consecutive sixes against Adil Rashid and marked the start of his assault.  He broke his own record of fastest century in t20 international cricket.
#5 Evin Lewis (48 balls)
With the 489 runs scored in 40 overs, Evin Lewis becomes one of the centurions of the match by assaulting the Indian bowlers by scoring a century in just 48 deliveries.  Lewis playing his second T20 he along with Jason Charles provided the nightmares for Indian bowlers during the match. in the company, Jason Charles also scored 79. The highlight of his innings was he hammered 5 consecutive sixers of Stuart Binny in one over which helped the team to score 245 runs and Dwayne Bravo bowled an outstanding final over to take the game away from Indians.
Also Check:
Please follow and like us: