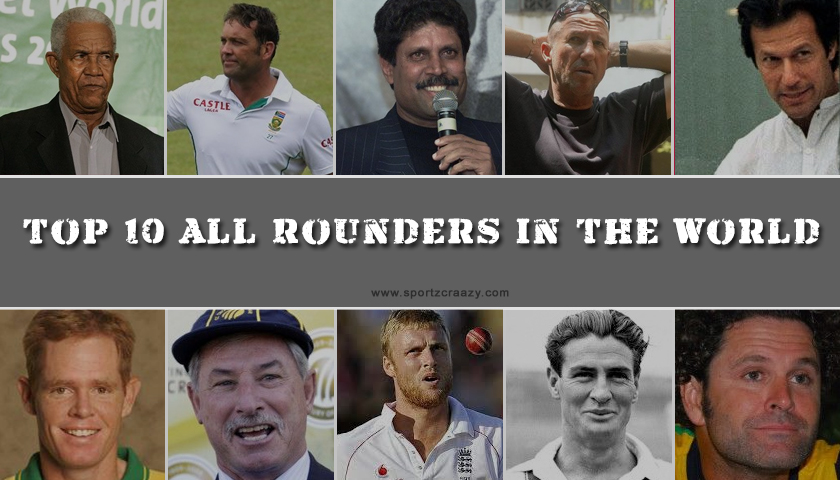 All Rounders in the World:-  Nowadays, with the T20 format is gaining a huge Popularity among the fans, specialist bowlers are slowly dying as showing a talent for a maximum of 4 overs alone is not be counted by most of the franchise. Only very few bowlers like Starc and Steyn stand out. Franchise of most of the teams prefer quality all rounders which made most of the youngsters to practice both batting and bowling for being notice in the high level. But, before all this popularity is gained, there was still greatest all rounders in the cricket history. Now let us look at the Top 10 all-rounders of all time:
#1 Sir Garfield Sobers
All Rounders in the World:- If you ever ask an old man or woman who is a cricket fan about batting, they will say Don Bradman; Ask them about all-rounder, they will surely scream the name of the legendary West Indian all-rounder Sir Garfield Sobers. He was such a go to man for every captain in every department. He automatically qualifies for our top spot of the top 10 all time all rounders ranking in the history.
#2 Jacques Kallis
All Rounders in the World:- Ask the 90's kids about batting, they will say the name of Sachin Tendulkar. Ask the kids about Indian bowling, they will say Zaheer khan. Now, combine the record of both, you will match the batting and bowling record of Jacques Kallis. He is one of the finest all rounders that South African cricket have ever produced. His top-notch legendary batting to technical pace bowling, he carried South African cricket like a pillar for a decade before getting retired from International cricket with an amazing 115 against India in his lat test innings.
#3 Kapil Dev
All Rounders in the World:- Can he be India's next Kapil Dev?" A question that every young all-rounder in India has to face only aptly sums up the impact of Kapil Dev till date. India's greatest all-rounder ever, the "Haryana Hurricane" became only the second bowler in world history to cross 400 Test wickets, ending with 434, then a world record. With the bat, he scored eight hundreds at an average of 31.05. In ODIs, Dev snatched 253 wickets and his knock of 175 against Zimbabwe during the 1983 World Cup earmarked him as one of the greatest all-rounders to have played the game.
#4 Sir Ian Botham
All Rounders in the World:- Sir Ian Botham is one of the greatest players England cricket has ever produced. He was the man who was fastest to reach 1000 runs in his times. He was also the fastest to achieve 100 wickets. He achieved this entire feat in just 21 tests. He was nicknames as beefy as he scores runs in a fast strike rate. He has the wicket tally of 383 in test cricket and also lots of runs to his name which makes him the greatest English all rounder. He was also known for his guts in approach of the game.
#5 Imran Khan
One of the greatest players from Pakistan, Imran Khan is best remembered for making a name for himself when the West Indian bowlers were creating havoc. He is still revered for his reverse swing and pace, taking 362 Test wickets at an average of 22.81. He finished his Test career with 3807 runs, at an average of 37.69, becoming only one of the eight cricketers to accomplish the 'all-rounders triple' of 3000 runs and 300 wickets in Test cricket.
#6 Andrew Flintoff
The hunt for all Rounders of British cricket since the time of Sir Ian Botham ended with Andrew Flintoff. He is one of the greatest all rounders the world has ever seen. Freddie flintoff is one of the most dangerous fast bowlers in test cricket and was one of dangerous batsman in limited overs. He had that rare combo in him which fetches him the place in this table. He was well known for his fantastic heroics in ashes when England was dominating in his times.
#7 Shaun Pollock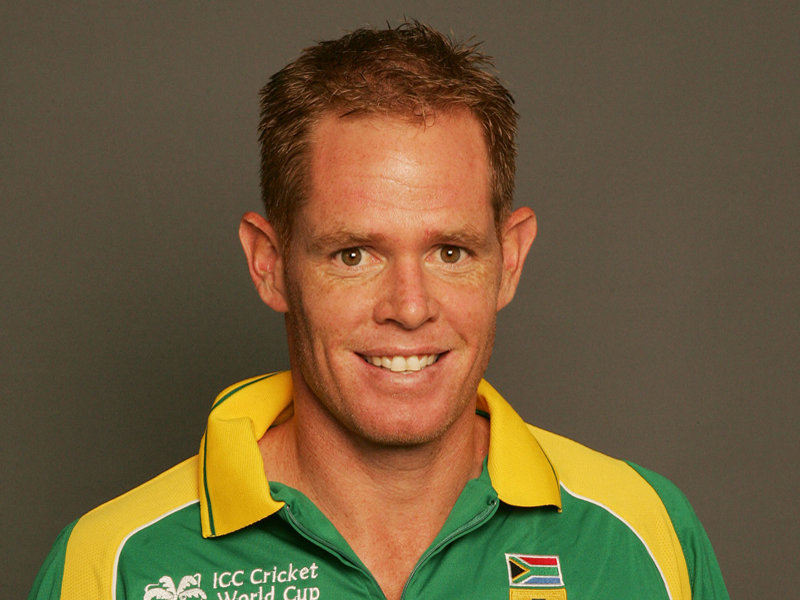 A bowling all-rounder, Shaun Pollock is best remembered for his ability to be accurate while delivering a swinging ball. Considered as one of the most consistent bowlers in world cricket, Pollock holds the record for the maximum wickets by a South African in Test matches (421). Even in ODIs, the South African holds the record for the best economy amongst bowlers with more than 300 wickets. Even though Pollock only has two centuries to his name, a batting average of 32.31 gives a fair glimpse of his skills with the willow as well.
#8 Sir Richard Hadlee
Ask any one, about the greatest New Zealand player, Sir Richard Hadlee will be the answer. He is one of the greatest of players the world cricket has ever produced. During his times, he made New Zealand has the most fierce Unit in world cricket circle. He reached 400 test wickets in his 78th match. He also had a great batting skill to execute in test level which makes him one of the greatest all rounders in the history of cricket. New Zealand cricket will always cherish the memories given by him.
#9 Keith Miller
Keith Miller is the first ever all rounder in the history of cricket. He is hard hitting player and always be remembered as first all rounder. It justifies the fact that everything has a beginning. He was the bowler with the ability of varying pace and the batsman with the ability of hitting the ball hard as it can be hit. Australian cabinet will always mark his name to one of the great players list.
#10 Sanath Jayasuriya
It was a great confusion in choosing between Sanath Jayasuriya and Chris Cairns, but Jayasuriya with his monstrous hitting ability and a great negative length bowling ability snatches up the last spot in our ranking. He was the most feared opener in his times. He hits the ball hard, also he hits ball out of the ground with his magical timing to drop the jaws of all the cricket fans. When it comes to bowling, it was him who gets batsman out with a perfect negative length.
It was fun discussing these all-time great all-rounders, we do love to give special mentions to Chris Cairns and Shakib al Hassan as they two are also on par of this top 10 list. Mastering the game is ability, mastering the game in both departments is super ability.
Also, Check: