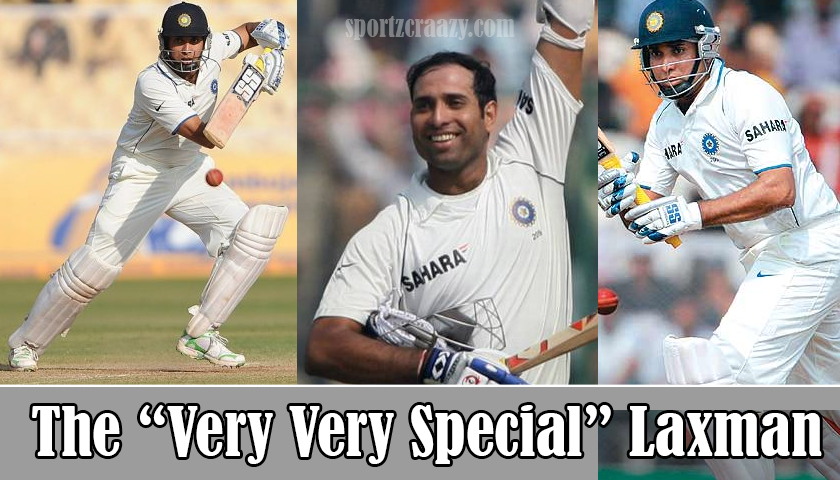 Whenever we hear the name VVS Laxman, only one memory flashes the mind, the magnum opus 281 at Eden Garden against Australia. During the first decade of millennium, whenever team India got derailed by the opposition, it was VVS Laxman down the order that not only put the team back on track, but took them to victory line.
The savior served his duty tenure for 16 years successfully, he was the part of the league of fab four (Sachin Tendulkar, Rahul Dravid, Sourav Ganguly, VVS Laxman). The opposition always knew they have a job in hand, here is a guy who played both spin and fast bowling equally well and scored match winning runs in all conditions.
For his sheer guts and determination, the batsman a total tally of 8781 runs in 134 test matches at an average of 46, which includes 17 hundreds and 56 fifties. Although, he was never a hurricane in one dayers, but still managed to score 2338 runs in 86 One Day Internationals with the help of 6 Hundreds and 10 fifties.
But there was a time, where he would have not become a cricketer at first place. At the young age of 17, the Hyderabadi was aspiring for medical, but opted to play Cricket, the first love of life. Both of his parents are Doctor by profession, but still encouraged him to go on with his decision. The road was clear for Laxman to make it big in Cricket, when focus is combined with passion, what we get is VVS Laxman.
The wristy batsman made his debut in 1996 against South Africa in a condition not friendly for batting. On a dusty pitch with uneven bounce, Laxman played a splendid knock of 51 in the second innings.  It was the first occasion, when the world saw the class and elegance of future Very Very Special Laxman.
The next 2 years was cold for Laxman, he got starts but couldn't convert. In 1998, Australia was touring India, the prime targets were Sachin, Sourav and Rahul Dravid for the opposition. Laxman was not even in the frame, but out of the blue he scored a fiery 95 in the second test, putting on an opening stand of 191 for the first wicket with Navjot Singh Siddhu. He missed the century by just 5 minutes, but a ton was just round the corner.
Almost a year later, India toured Australia to play 3 test match series, the series was seen as a revenge series and the Kangaroos left no stones unturned in making Indian curry tasty for dinner. India was whitewashed 3-0, but a star was born in millennium.
VVS Laxman slammed unforgettable 167 in the second innings out of a total of 261, it was the only shining spot for the Indians in the series. From there on Laxman was seen as a player of highest pedigree and even contributed with bat for a year, but then came the series, which made VVS Laxman immortal.
Australia was touring India in 2001 with consecutive 16 test matches victories under their belt and looked all set for 17 after posting a mammoth 445 in the first innings. India crumbled under pressure and got booked on 171 with a trail of 274 runs. Australia tasted the blood early, but one man stood between the victory and played the sixth best knock of all time. He put on a partnership of 376 runs along with Rahul Dravid, his individual score was 281.
India not only chased the follow on, but went to post a match winning total of 384. India thrashed the world champions in the bout, India went on to win the series. After the series Steve Waugh admitted it was a very very special knock of 281, which turned fortunes for India.
Sun was shining on Laxman face, he was scoring runs in all formats, but a shocker was right at the corner. He was dropped from the World Cup ODI squad, it was a major setback for him, he even admitted that it was the most depressing moment of his career. He even decided to quit the game, but then gathered his consciousness and asked himself is he playing cricket to play World Cup or serve the country for the longest time.
He came back hard and scored 75 runs in the first test match down under followed by scintillating 148 in Adelaide and 178 at SCG. He was the second highest run getter in the down under series. The Aussies had no answer to his flawless technique. His thunder bolt form continued in the one day series too, he went on to score 3 ODI tons in the series. Unfortunately India lost to Australia in the top 3 finals.
Although Laxman ODI career faded post 2004, but his dream run in test cricket continued. He played some instrumental knock between the period from 2004 to 2011, which includes his match winning knock of 96 in South Africa helping India win first ever test match on African soil or triumph 73* against Australia at home.
He played his best cricket during these years, until both his form and fitness came under scanner in 2011. He looked the pale shadow of his best version, he was committing silly mistakes and even struggled touching bat with ball. He knew his time is up and he waited for no one to decide his selection. He hung his boots in 2012 leaving a rich legacy for youngsters to follow. He might not be the greatest, but surely one of the greats of all time.
Also Check: