Australia limited over skipper Aaron Finch stated that we will put a strong show in the upcoming marquee event despite their lackluster form in the last few months where they lost series against West Indies and Bangladesh. They can derive some confidence from those tours as they competed against these teams with depleted sides with several main players who were not involved in that encounter due to injury and other miscellaneous reasons.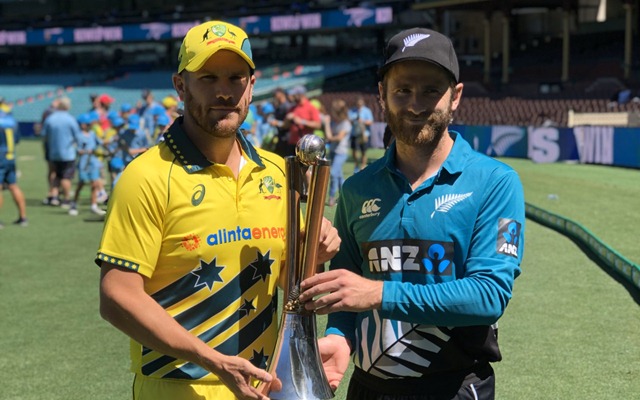 "It [T20 World Cup] is one trophy that has eluded us. I think we've been close a couple of times and quite far off on other occasions… We are still very confident going into it, we have got a group that's played a lot of T20 cricket, not a lot together. Some guys are at different stages of preparation, and some are at different stages of getting back to playing. It comes down to getting it done on that day," Finch said during an ICC captains' media interaction on Thursday.
Meanwhile, New Zealand skipper Kane Williamson said that considering the fickle nature of the tournament any time can beat an opponent depends on the kind of cricket they are playing on the given day. He is not bothered about "Underdog" tags given to them and his focus is to win another world cup title after World Test Championship which they won after beating India by eight wickets in 2021.
"The tags are tags. Everyone has one," said Williamson with a smile. "Anyone can beat anyone on a given day. It is an exciting prospect for the viewers, no doubt. It is a short tournament. The focus will be on trying and getting a bit of early momentum. In these tournaments, you play a different opposition every three days at a different venue, so there are some adjustments to be made quite quickly."
"As we have seen in the second half of IPL, it has been quite variable as far as what's been a competitive total is concerned .. and then on another day how the pitch has looked same, and the total has been 230… it is about making adjustments. In Bangladesh, it was spin heavy, and here, the spin will again be a large component and on surfaces that will be variable. That said, different players have different skill sets that they want to continue to apply. It is all about subtle adjustments."
T20 World Cup is all set to start from October 17th, 2021 and India will be starting their campaign against arch-rivals Pakistan on October 24th, 2021 in Dubai.