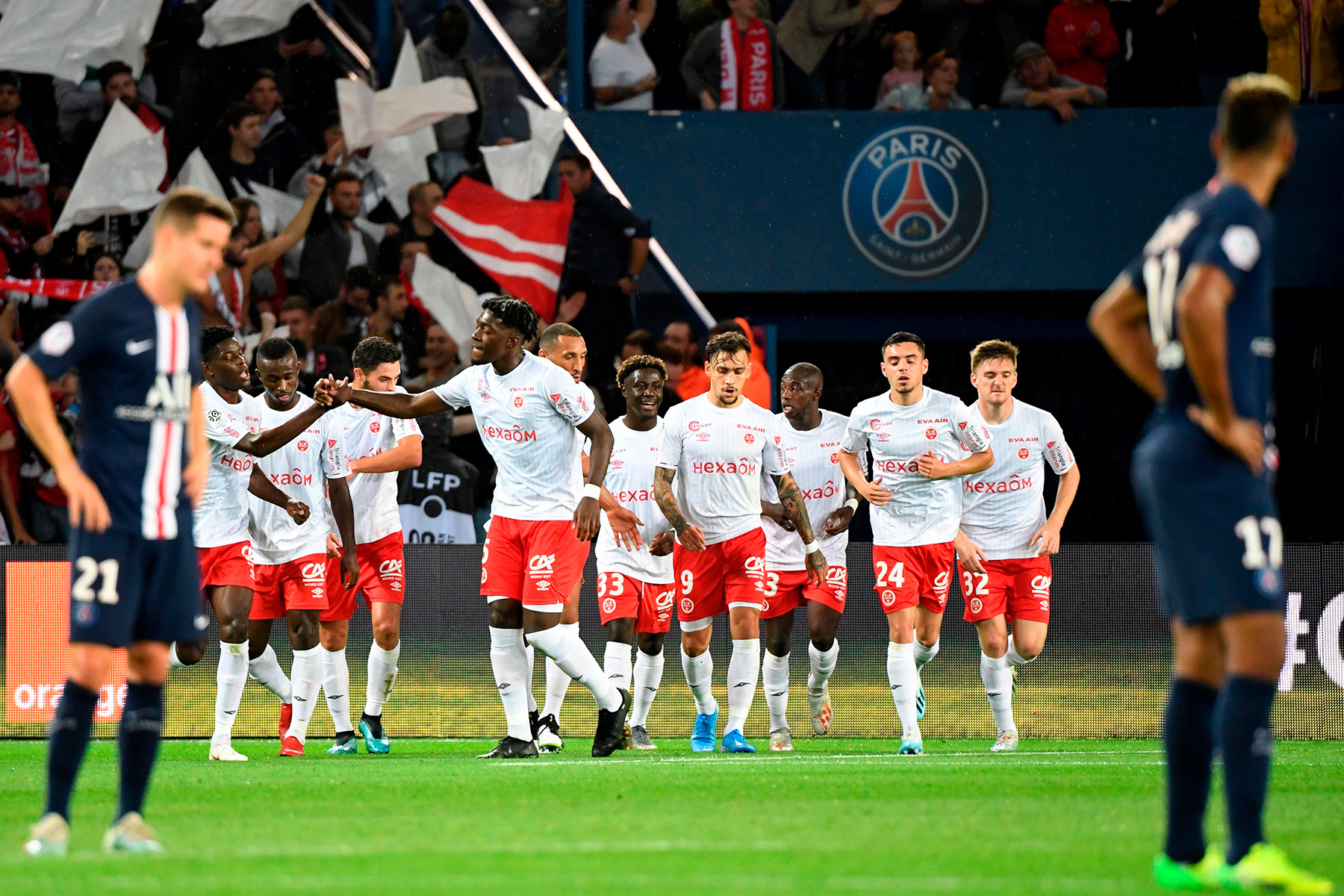 Stade de Reims, commonly alluded to as Stade Reims or basically Reims, is a French professional football club based in Reims in Grand-Est, The club was shaped in 1910 under the title Société Sportive du Parc Pommery and right now plays in Ligue 1, the top level of Football in France having been advanced from Ligue 2 within the past season. Reims plays its home matches at the Stade Auguste Delaune, a remodel of the ancient complex found inside the city.
History
Stade de Reims was established in 1910 under the title Société Sportive du Parc Pommery under the guidance of Marquis Melchior de Polignac, a Frenchman who afterwards went on to serve on the Universal Olympic Committee. The club embraced its current title on 18 June 1931. Despite the nation receiving professional football in 1932, Reims remained a beginner club until 1935 after the club won the Championnat de France beginner under the authority of Scotsman Billy Aitken.
The club comes to Division 1 for the first time in the 1945–46 season, the first championship taking after the conclusion of World War II. Amid the same year, the club advanced defender Robert Jonquet to the senior group and signed Roger Marche from Olympique de Charleville. Together, the two went on to gotten to be, apparently, the club's most popular players in its history.
Ownership
Coaching Staff
| | | |
| --- | --- | --- |
| Name | Position | Age |
| David Guion | Manager | 52 |
| Franck Rizzetto | Assistant Manager | 48 |
| Christophe Raymond | Assistant Manager | 50 |
| Stéphane Dumont | Assistant Manager | 37 |
| Laurent Bessière | Fitness coach | 37 |
Medical Staff
| | | |
| --- | --- | --- |
| Name | Position | Age |
| Bernard Gonzalez | Club Doctor | 50 |
Management
| | | |
| --- | --- | --- |
| Name | Position | Age |
| Jean-Pierre Caillot | President | 58 |
| Didier Perrin | Vice President | – |
Squad
| | | |
| --- | --- | --- |
| Name | Position | Jersey No. |
| Predrag Rajkovic | Goalkeeper | 1 |
| Nicolas Lemaître | Goalkeeper | 16 |
| Yehvann Diouf | Goalkeeper | 30 |
| Axel Disasi | Defender | 6 |
| Dario Maresic | Defender | 29 |
| Yunis Abdelhamid | Defender | 5 |
| Ghislain Konan | Defender | 3 |
| Hassane Kamara | Defender | 13 |
| Thomas Foket | Defender | 32 |
| Xavier Chavalerin | Midfielder | 7 |
| Marshall Munetsi | Midfielder | 15 |
| Nolan Mbemba | Midfielder | 26 |
| Sambou Sissoko | Midfielder | 14 |
| Alaixys Romao | Midfielder | 4 |
| Tristan Dingomé | Midfielder | 20 |
| Moreto Cassamá | Midfielder | 23 |
| Dereck Kutesa | Midfielder | 8 |
| Mathieu Cafaro | Midfielder | 24 |
| Arbër Zeneli | Forward | 17 |
| Nathanaël Mbuku | Forward | 33 |
| Moussa Doumbia | Forward | 25 |
| Boulaye Dia | Forward | 11 |
| Anastasios Donis | Forward | 9 |
| Kaj Sierhuis | Forward | 10 |
| Timothé Nkada | Forward | 19 |
| Virgile Pinson | Forward | 27 |
| El Bilal Touré | Forward | 34 |
Honours
Domestic
Ligue 1 (6): 1948–49, 1952–53, 1954–55, 1957–58, 1959–60, 1961–62
Trophée des champions (5): 1949, 1955, 1958, 1960, 1966
Ligue 2 (2): 1965–66, 2017–18
CFA 2 (2): 1998, 2015–16
Coupe de France (2): 1949–50, 1957–58
Championnat National (1): 2003–04
Division d'Honneur Nord-Est (1): 1994
Coupe de la Ligue(1): 1990–91
Championnat de France amateur (1): 1935
International
Latin Cup(1): 1953