Sri Lanka Captain Reveals Secret How Match Turned in their Favour
Sri Lankan team created the first upset of the 2019 World Cup after beating England in their sixth match. Sri Lanka's win against England has certainly added the much-needed excitement which was lacking for so many days. Host, England would be in a state of shock after the defeat, as they have now lost two matches in six World Games so far with the remaining three to be played against strong teams like Australia, India, and New Zealand.
While the cricket pundits couldn't see any change in the top four till tomorrow, Sri Lanka's win today has certainly raised their hopes of making into the semis even as Bangladesh would also fancy their chances, with three matches each left to be played for both the sides.
Team England was brilliant in the first half of the match, restricting Sri Lanka to just 212 in the first innings, however, it was Sri Lanka's biggest bid of the 2019 World Cup- Lasith Malinga, who set the stadium alight with his outstanding spell of 10 overs, picking four crucial wickets of Joe Root, Jos Buttler, Jonny Bairstow, and James Vince.
Defending a moderate 212, Malinga inflicted the hope of winning in Sri Lankan players by sending both the England openers inside 7 overs. He claimed Jonny Bairstow's wicket only in his first delivery, followed by Vince in his third over as Sri Lanka assured the hosts that isn't going to be a walk in the park for them on Friday.
Also Check: Team India to dress a New Jersey in the World Cup clash against England
Turning Point in the Match |

Sri Lanka Captain Reveals Secret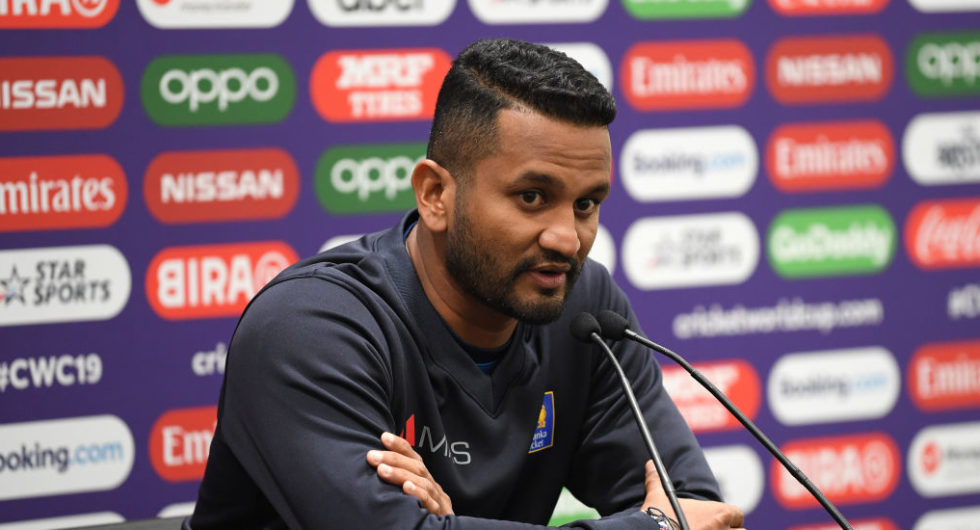 While wickets kept falling at regular intervals, In-form batsman Joe Root stood tall and kept scoring at the other end. England's best batsman Joe Root continued his rich vein of form, scoring another half-century in the match. England was cruising till the time Root was in the middle and considering the fact that he is in the supreme run of form, his wicket was perhaps the most important in the match.
After 29 overs, England was well placed at 122 for 3 with Root and Stokes developing a solid partnership between them. And just when Sri Lanka needed a wicket, it was Lasith Malinga once again who gave his team the most important breakthrough in the form of Joe Root in only his third ball of the second spell. Malinga sent Buttler packing in his next over to leave England in all sorts of trouble at 144-5 after 33 overs.  
Ben Stokes fought till the end who remained unbeaten at 82, but England fell short of 20 runs in the end only to hand Sri Lanka their second victory in the tournament.
Sri Lanka's skipper in the post-match presentation highlighted the importance of Joe Root's wicket while terming it as the most important wicket in the match.
"It was a close one. Sometimes we were under pressure and sometimes we were dominating. At the end of the day, it was teamwork – batters, bowlers, and fielders. This wicket looked good but when we were batting it was slow." Sri Lanka's skipper said.
"We knew we couldn't get 300, so we wanted to get 250-275 but unfortunately we lost wickets. Angelo batted really well and took responsibility. If we had the score, the bowlers knew what to do on this wicket. When Malinga got a couple of wickets we had to keep him for the last overs and then I gave Dhananjaya the ball and he did a good job." he added  
"Those are the things we want as a team and I am expecting those things as a captain. I think Root's wicket was the turning point. I was not confident (with the review) but still went for it." he concluded.
Also Check: Rashid Khan Reveals He Didn't want Gulbadin to be the Captain of Afghanistan Team