Somdev Devvarman Biography: Former tennis player, Somdev Kishore Devvarman is one of the exceptional tennis players from India. He has made headlines when he became the only collegiate tennis player to achieve three continuous finals at the NCAA. Since 1950, only 3 tennis players matched his record. Somdev's remarkable achievement at the ATP World Tour was securing a place in the final round of the 2009 Chennai Open as a wild card entry. Somdev Devvarman has achieved numerous titles, awards, and achievements throughout his sporting career.
EARLY LIFE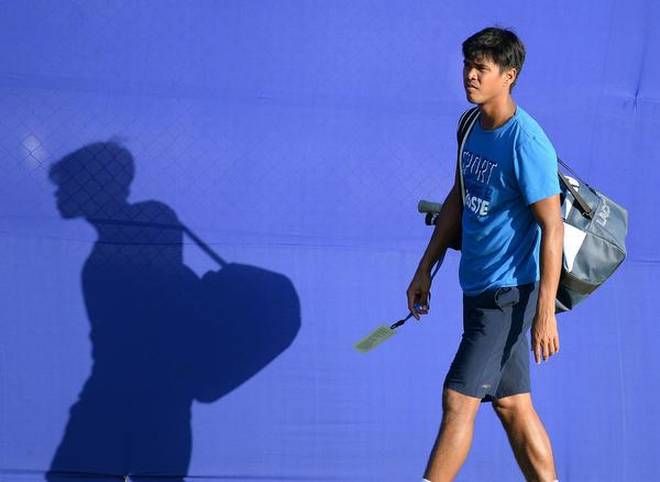 Somdev Devvarman is known to be one of the fittest Tennis players. After turning professional in 2008, Devvarman was India's notable singles Tennis player. The Arjun Award winner shocked his fans in 2017 by tweeting his retirement news.
Somdev Kishore Devvarman has also created history by establishing himself as the first Indian to earn the Men's Singles discipline at the Asian Games.
PERSONAL LIFE
Somdev Devvarman was born on 13 February 1985 in Guwahati in Assam, India. The tennis player was born into a Hindu family. His father Pravanjan Dev Varman is a retired income tax commissioner. His mother, Ranjana Devvarman, and his father have been a strong pillar of support for Somdev. Devvarman family is one of the royal families in Tripura.
When Somdev was 4 months old, his family shifted to Kolkata and till the age of 8, they stayed there. They shifted to Chennai due to his father's transfer. The tennis player grew up in Chennai and at the age of 9, he started playing tennis. Somdev completed his schooling at the Madras Christian College Higher Secondary School.
At the age of 17, Somdev started participating in the Future tournaments in 2002. One of his biggest achievements during the initial period was in 2004 when he won the Kolkata F2 Championship. After his victory at the Kolkata F2 Championship, the aspiring tennis player secured a world ranking of 666. Later that year, Somdev moved to the USA & he was unable to play tennis regularly at the University of Virginia
While he was at college, Somdev earned the NCAA Singles Championship in 2007 by beating John Isner. After a year, he went on to defeat J. P Smith & won his second NCAA Singles National Championship.
Somdev Devvarman completed his graduation and achieved a degree in sociology. Somdev turned a professional player in 2008. In the same year, he earned his first title at a futures tournament held in Rochester, New York. Later in 2010, Somdev was felicitated in Chennai by the Tamil Nadu Tennis Association.
The 34-year-old tennis player tied the knots with Shiwali Wal on 8th February 2019 in Udaipur.
PROFESSIONAL LIFE
After Somdev completed his graduation from the University of Virginia, he joined Mamba International which is a sports management company in Charlottesville. Somdev started his professional tennis career in a Future tournament held in Rochester where he earned the singles title. He also earns a doubles title with his university partner named Treat Huey. Ever since his first professional tennis match, Somdev kept bagging titles and achieving victories from various international competitions.
The year 2011 is believed to be a breakthrough year for Somdev as he got a wild card entry to the Australian Open based on his performance in 2010. He also got a direct entry to the South African Tennis Open in 2011 due to his good ranking in the ATP circuit.
Unlike 2011, the year 2012 turned out to be a bad phase for Somdev. The tennis player started the year with a shoulder injury. He was unable to compete in the first half of the season due to his injury. After a break, Somdev returned to the field as a wild card entry to compete at the London Olympics in the Men's Singles discipline. Unfortunately, Somdev was not able to perform well and lost most of the events. He completed 2012 with a world ranking of NO. 664.
In 2013, Somdev recovered from the shoulder injury. Somdev managed to secure a place in Top 100 after his miraculous comeback. One after another, Somdev kept chasing his lost fame and attained it back by his glorious achievements. In 2014, Somdev won the Singles at the ONGC-GAIL Delhi Open after defeating Aleksandr Nedovyesov from Kazakhstan. In 2015, Somdev preserved his title at the Delhi Open.
In 2017, Somdev announced his retirement from the tennis world via twitter. Somdev is managed by Globosport that is Mahesh Bhupathi's company. Also, he is sponsored by Babolat & Lacoste.
AWARDS
Arjuna Award for Lawn Tennis
Padma Shri
ACHIEVEMENTS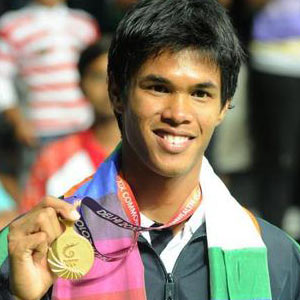 ASIAN GAMES
Gold: 2010, Guangzhou: Men's Singles
Gold: 2010, Guangzhou: Men's Doubles
Brown: 2010, Guangzhou: Team
COMMONWEALTH GAMES
Gold: 2010, Delhi: Men's Singles
OLYMPIC GAMES
GRAND SLAM SINGLES RESULTS
Australian Open: 2R, 2013
French Open: 2R, 2013
Wimbledon: 2R, 2011
US Open: 2R, 2009, 2013
GRAND SLAM DOUBLES RESULTS
Australian Open: 2R, 2010
French Open:1R, 2011
Wimbledon: 2R, 2011
US Open: 3R, 2011
DAVIS CUP: 1R, 2010
PERSONAL INFORMATION:
Name: Somdev Kishore Devvarman
Nickname: Somdev Devvarman
Sport: Lawn Tennis
Events: Men's Doubles & Team
Country: India
Father's name: Pravanjan Dev Varman
Mother's name:  Ranjana
Spouse: Shiwali Wal
Coach: Scott McCain
Height: 180 cm (5 ft 11 in)
Weight: 73 kg (160 lbs)
Plays: Right-handed (two-handed backhand)
Career Record: 68-81
Highest ranking (Singles): No. 62
Highest ranking (Doubles): No. 139
Eye colour: Black
Hair colour: Black
Date of birth: 13 February 1985
Age: 34
Birth place: Guwahati, Assam, India
College: University of Virginia
Zodiac sign: Aquarius
Nationality: Indian
Hometown: Assam
Residence: Charlottesville, Virginia, United States
Religion: Hindu
CONTROVERSY:
Somdev Devvarman hit headlines when he announced his retirement in 2017. The tennis player called time on his tennis career via Twitter. There were also rumours stating that he was interested in becoming India's Davis Cup coach.
Devvarman has also been in a tiff of words with the funding system of tennis. Also, the tennis player made headlines when he excluded Ankita Raina from TOPS. Although the player gave clarifications and said, he excluded her as he assumed she wouldn't make it to the Tokyo Olympics in 2021.
NET WORTH:
The 34-year-old tennis player has received prize money of $ 1, 459, 122.
SOCIAL MEDIA HANDLES:
FACEBOOK- NOT ACTIVE
INSTAGRAM- https://www.instagram.com/sdevvarman/?hl=en
TWITTER- https://twitter.com/SomdevD?ref_src=twsrc%5Egoogle%7Ctwcamp%5Eserp%7Ctwgr%5Eauthor