Mahesh Bhupathi Biography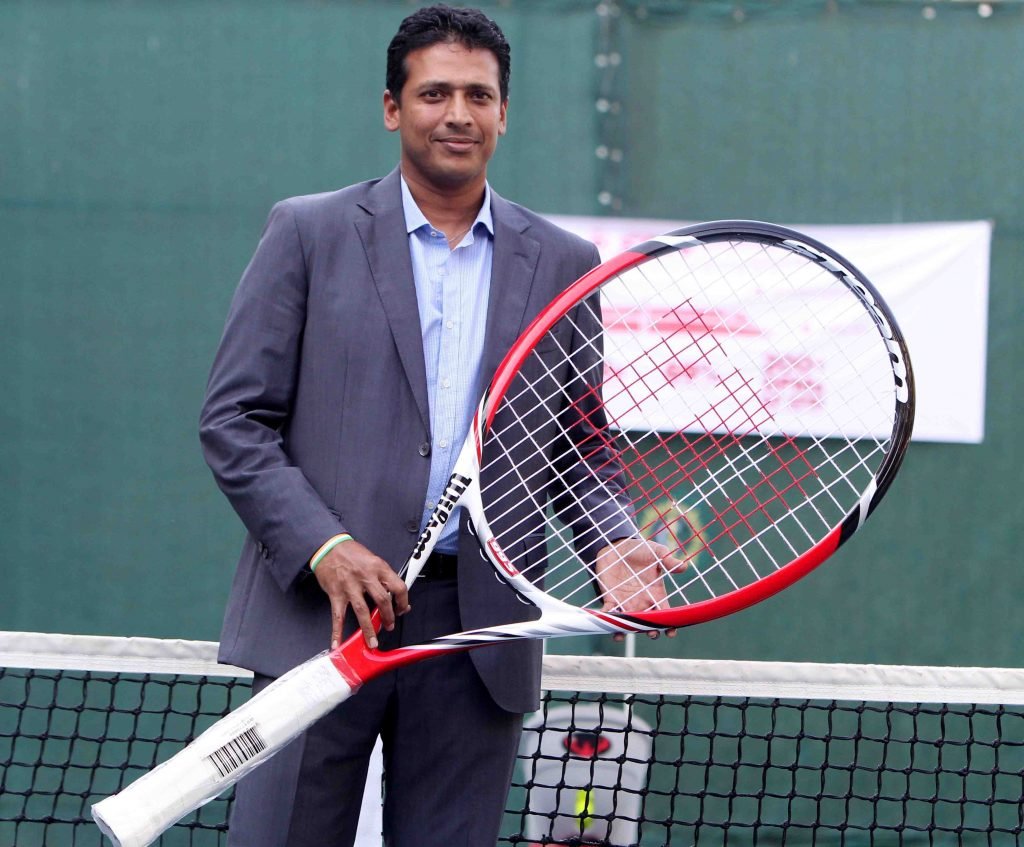 The first Indian to win a Grand Slam Tournament along with Rika Hiraki, Mahesh Shrinivas Bhupathi is a retired Indian tennis professional player.  He was truly a rarity in the Indian sporting scenario. Bhupathi has made his nation proud on a number of occasions, achieving numerous singles titles in his career.
PERSONAL INFORMATION
| | |
| --- | --- |
| Name | Mahesh Shrinivas Bhupathi |
| Sport | Tennis |
| Events | Men's Doubles & Team |
| Country | India |
| Father's name | C. G Krishnan Bhupathi |
| Mother's name | Mira Bhupathi |
| Spouse | Lara Dutta (married in2011), Shvetha Jaishankar (2002-2009) |
| Children | Saira Bhupathi |
| Coach | C. G Krishnan Bhupathi |
| Height | 1.85 m (6 ft 1 in) |
| Weight | 89 kg |
| Career Record | 10- 28 |
| Retired | 2016 |
| Highest rank | No. 217 (2nd February 1998) |
| Career titles | 0 |
| Eye colour | Black |
| Hair colour | Black |
| Date of birth | 07 June 1974 |
| Age | 45 |
| Birthplace | Chennai, India |
| Zodiac sign | Gemini |
| Nationality | Indian |
| Hometown | Chennai |
| Religion | Christianity |
EARLY LIFE
One of the exceptional sporting heroes, Mahesh Bhupathi is also titled as the Top league Doubles Tennis star. He is best known for his outstanding serves & hard-hitting volleys. He unarguably is known as the best-mixed doubles players in the world.
PERSONAL LIFE
Mahesh Shrinivas Bhupathi was born on 07 June 1974 in Chennai, India. His father, C.G. Krishnan Bhupathi is his first coach. His mother Mira Bhupathi is a Christian evangelist. Bhupathi's mother tongue is Telugu. Mahesh Bhupathi has completed his education in Dubai, Muscat & in the USA. His father who was also his coach trained him on hard courts in the Middle East. The little Mahesh equally toiled and that is why he was able to make it to this far in his career.
In 2002, Mahesh Bhupathi married Model Shvetha Jaishankar but ended their relationship after 7 years. Later in 2011, the tennis player married Lara Dattu, Bollywood actress and former Miss Universe. On 16 February 2011, they got married in a civil ceremony in Bandra, Mumbai. In 2010, they also started a production company, namely Big Daddy Productions. The couple had their first child, Saira on January 2012.
PROFESSIONAL LIFE
From an early age of 14, Mahesh Bhupathi started travelling and participating in both national & international tournaments. The tennis player also has an excellent 2-year career at the University of Mississippi, i.e., from 1994 to 1995 where he earned singles and doubles All-America honours. At Wimbledon, Bhupathi was a finalist in doubles in under-18.
He became a professional tennis player in 1995. In 1995, Bhupathi paired up with Ali Hamadeh and participated in the NCAA doubles where they completed in No. 1 player in doubles and no. 3 in singles. In 1994, Mahesh was titled as India's National Champion. He has also earned one silver medal & three gold medals at the SAF Games. Bhupathi even represented India at the Atlantic Olympics in 1996 and took his country to the quarter-finals along with Leander Paes.
In the year 1997, Bhupathi became the first person to earn Grand Slam when the tennis player won the French Open with Rika Hiraki from Japan.
The partnership of Mahesh Bhupathi and Leander Paes helped India to reach heights of glory. The duo's first major win was the ATP Gold Flake Open Tennis tournament in 1997 in Chennai. Following this victory, they continued winning many more tournaments. By winning Gold Flake Open titles in 1988 & 1999, they made it their hat-trick victories. But soon the world ranked pair separated their ways due to misunderstandings. After 8 months gap, the duo paired up again and competed in many tournaments. There come back helped them to regain their lost reputation. They won the Men's Double in Japan Open in 2000 and their pair was ranked no. 2 in the world.
In 1996, Bhupathi won the Arjuna Award and also received Padma Shri in 2001. Mahesh's father, who is the main reason behind his success runs "the Tennis Village" in Bangalore where they provide training for aspiring tennis players.
Mahesh Shrinivas Bhupathi has earned 521 matches and lost 253 matches. The tennis player has also earned 44 doubles titles along with different partners.
Awards and Achievements
Padma Shri

Arjuna Award for Lawn Tennis
GRAND SLAM DOUBLES
Australian Open: F (1999, 2009, 2011)

French Open: W (1999, 2001)

Wimbledon: W (1999)

US Open: W (2002)
OTHER DOUBLES TOURNAMENT
Tour finals: F (1997, 1999, 2000, 2010, 2012)

Olympic Games SF- 4TH (2004)
GRAND SLAM MIXED DOUBLES
Australia Open: W (2006, 2009)

French Open: W (1997, 2012)

Wimbledon: W (2002, 2005)

US Open: W (1999, 2005)
CONTROVERSY
Apart from his achievements and performances, Mahesh Bhupathi was once accused of non-payment of dues by the production company of star-studded league IPTL. Also, Bhupathi has hit headlines for his fight with Mahesh Bhupathi.
NET WORTH   
The primary net worth and income of Mahesh Bhupathi comes from his tennis academy named Mahesh Bhupathi Tennis Academy. As a tennis player, he also received prize money of $ 6,665,907.
SOCIAL MEDIA HANDLES 
FACEBOOK- NOT ACTIVE
INSTAGRAM- https://www.instagram.com/mbhupathi/
TWITTER- https://twitter.com/maheshbhupathi?lang=en