Former Pakistani pacer Shoaib Akhtar is widely hailed as the fastest bowler world has ever seen. His whirlwind deliveries uprooted batsmen wickets with fear. Dread him, run from him, but he will get better of you. He has shown early morning stars even to the likes of Lara and Tendulkar.
But overdose of aggression and big mouth has its own side effects, we call them "Controversy". Besides bowling lethal spells, his 14 year long career includes high voltage controversies and threatening injuries.
Shoaib Akhtar announced his arrival in international cricket at a young age of 22 in 1997, but this article is on a short glimpse of his struggling days before becoming a star. This is a story of a prodigy, whose life started with a "No", but he dreamt and ran towards his dream ultimately becoming the fastest bowler in the world.
Yes dreams do come true, but you have to chase them. It all started in 1992 when he saw Imran Khan cultivating a young pedigree of fast bowlers, backing them and winning the first World Cup for Pakistan. Shoaib eyes lit up as if he knew this is the thing he wants to achieve in life.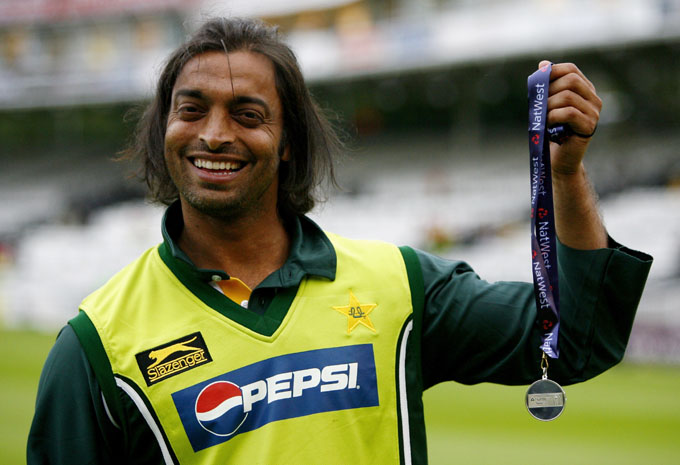 He just wanted to bowl fast as if he needs some platform to let his adrenaline rush flow. Shoaib was always street smart, he knew how to get things with minimum resources, but didn't know what to do in life. Post 1992 Cricket World Cup, he was a man on a mission. He wake up early morning and ran for 5 miles to catch a public bus with no money in the pocket.
Somehow he managed the bus driver to sit at the seat every day, if they ask for fare, the lad sat at the roof as he was not afraid of speed. According him, it was more of a struggle within, people around had never savored success in life and envied if someone moved fast towards success.
But the speedster always kept the spirit high. He was a rebel since childhood because everything he asked was denied, people told him "No you cannot become big", "You cannot become cricketer and earn huge money", etc. His life started with a big No, but his immense self-belief made him the superstar he is today.
Just like another Pakistani kid, he was a die-hard fan of Imran Khan, Wasim Akram and Waqar Younis. He tried to copy the actions of all three to become a little of all of them. Sometimes he tried quick bowling action from the pitch, sometimes he mocked the walk through of Waqar Younis to develop his own unique action.
With time people started talking about his fast bowling and then came trails, the event Shoaib had been waiting for years. Zaheer Abbas was invited by the board to take the trials. Excited Akhtar reached Lahore after spending entire night on road to showcase his priceless talent.
When Shoaib Akhtar reached the trials, he saw 5000 waiting for their trial. The young tornado knew he needs some magic to impress Zaheer Abbas, he started running around the ground like a Rocky showing off her stamina and speed. After 5 rounds Zaheer Abbas called him and ask Shoaib his introduction.
He replied "I am a fast bowler looking for a chance". Zaheer Abbas asked Shoaib to bowl, while commenting "Let's see what you are going to do". Shoaib took his 50 yards run up and bowled a bouncer taking the helmet off the batsman.
Zaheer Abbas was impressed and asked his subordinate "Who is this mad bowler, the answer was just another mad guy from Rawalpindi. Impressed Zaheer Abbas offered Shoaib the job for PIA (Pakistan International Airlines) and also gave Rs. 500. From then there was no stopping them, in a few years he became a big name in cricket corridors that shined forever.
Most of us know about his achievements, his first ball dismissal of Sachin Tendulkar and Rahul Dravid, fastest delivery, but most of our fans don't know that he was born with flat legs, he suffered from a knee degenerative condition, during his career he had to go for multiple knee surgeries, but despite all odds he played and won. A perfect role model for all emerging fast bowlers.
Also Check:
Please follow and like us: