Indian Cricketers & their Life Partners:-   Cricketers are one of the most loved creatures in the world, some experienced divinity in their excellence and some admired their style statement and luxurious lifestyle. The cricketer life is like a departmental store, there is something for everyone. They are the trendsetters of the society, atleast in the Indian subcontinent.
The deadly combination of the beauty and the beast, the eternal relationship of valor and glamour is written by the cosmos itself. In the real world, we call those damsels as better half or wives. Do you know who are the most popular wives of cricketers, how they met, and fallen in love and became love partners forever?
Let's take a look at some famous love stories of Indian cricketers:-
Gautam Gambhir and Natasha Jain
It was always hard getting pass the fiery Gautam Gambhir, he was always a price wicket. Both Gautam and Natasha knew each other since childhood but only started knowing each other 2-3 years before the marriage. Natasha found Gautam a deeply rooted humble guy with immense self-belief, whereas Gautam was clear from the beginning that he wanted a girl who is well grounded, has a good head over shoulders and doesn't get boggled by the limelight and star status.
After 2 years of dating, the love birds finally got consent from their parents and tied nuptials in October 2011. Both Gautam and Natasha are the proud parents of two lovely daughters Aazeen and Anaiza.
Suresh Raina and Priyanka Choudhary
The couple knew each other since childhood but was hardly in touch after Priyanka family shifted to Punjab. It was only in 2008 when the duo met at the airport for just 5 minutes. Priyanka was heading back to Holland (where she works) and Suresh was reaching Bangalore to play IPL game.
Both developed a warming camaraderie in those 5 minutes, reliving the old sweet memories and cherishing them like chocolate. The numbers were exchanged and long distance looked like next door. The world became a smaller place and soon both fell in love with each other. Suresh hinted his feelings about Priyanka to his mother. In 2014, when Suresh Raina was touring Australia to play the one-day series, his mother took a grand step and discussed marriage plans with Priyanka family, asking Priyanka's hand for his son.
While Raina was playing in Australia, the marriage was fixed by his mother and finally, on April 3, 2015, the love was chiseled to the shape of marriage. A year later the couples were blessed with a baby girl Garcia in 2016. Looks like a perfect fairy tale ending.
Irfan Pathan and Safa Baig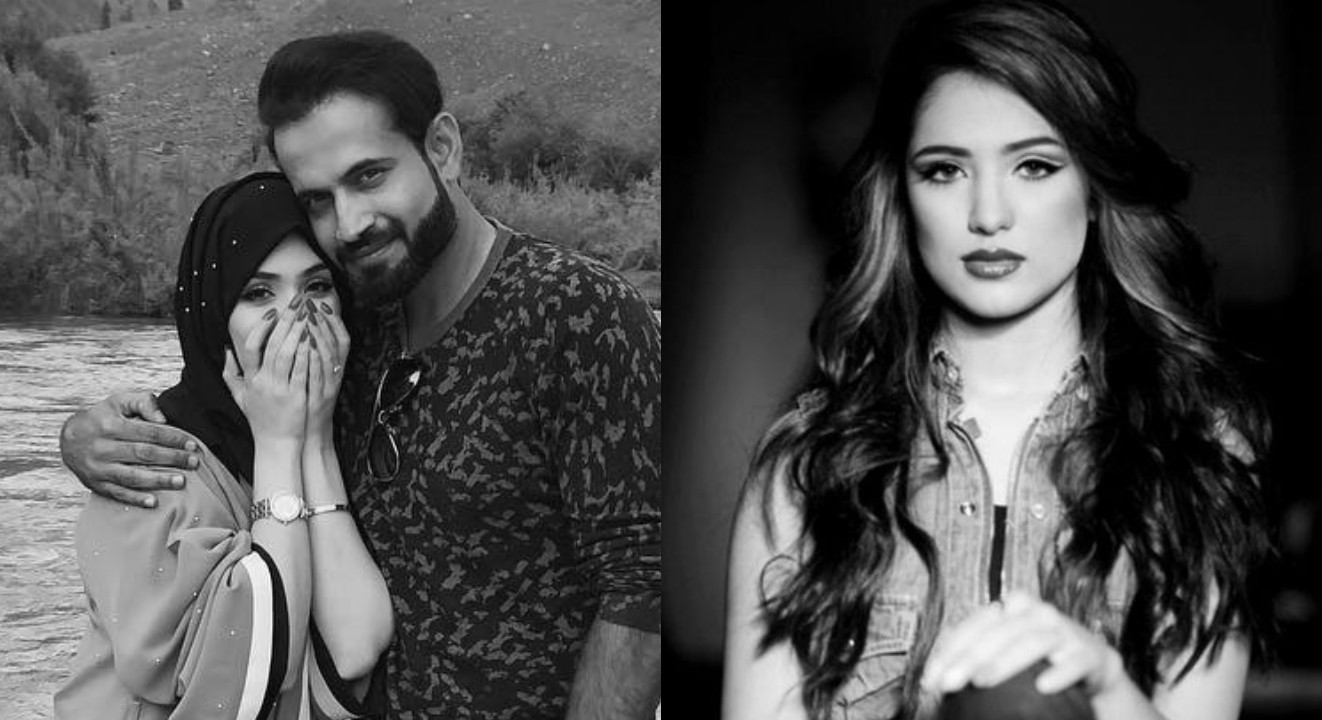 Irfan Pathan was once the blue eyed boy of the Indian team, millions of girls went gala over him. The world waited for more than a decade to see their favorite cricketer tying the wedding knot.
It was in 2014, when Irfan Pathan met the Jeddah based model Safa Baig at a social gathering, after getting to know each other for 2 years Irrfan introduced Safa to his parents. In 2016 the couple decided to take their relationship to the next level and married in 2016.
The couple chose the holy city of Mecca for the marriage ceremony. Safa Baig is a big name in the Middle East modeling circuit and is also an executive editor of a PR firm.
Zaheer Khan and Sagarika Ghatge
In the age of dating sites, tinder and social media keeping anything secret is a big deal. Most of the affairs often result in a breakup, only a few lucky ones convert a relationship into a marriage, Zaheer Khan and Sagarika Ghatge are one of them.
Chakh De India fame Sagarika Ghatge and Zaheer Khan dated secretly for 4 months. The couple grabbed eyeballs when they were seen holding hands at the Yuvraj Singh and Hazel Keech wedding and soon announced their relationship on social media by posting their engagement pics.
Post engagement when Sagarika was asked on Zaheer Khan Proposal, she said "It was a surprise for me too as it came right in the middle of the IPL season. We wanted to get away from the city as we had two days off in between matches. So he flew me to Goa for a day and that's how the engagement happened."
On May 23, 2017, both became life partners in a low profile court wedding and became partners of life.
Dinesh Karthik and Deepika Pallikal
You never know when the cupid arrow strikes your heart and you get acquainted with your love. Love changes your identity, opinion and heals the old wounds. Dinesh Karthik was heartbroken after the divorce with Nikita and was looking for a ray of hope to stop him from going into depression.
When things looked gloomy, she met Deepika Pallikal at the start of 2013 and found here warming and emotionally infectious and in a span of 3 months proposed her in England. The two became friends while working under the same trainer Basu Shankar and developed a warm camaraderie in a few meetings.
When Deepika was asked how she fell in love with Karthik, this is what she said "It was February and I had just won a tournament in Canada while Dinesh was playing domestic cricket in India. I went to Leeds (England) to train for a week and I found him there, coming all the way to see me. That was when I fell for him, realizing not many would do something like that. He used to watch me train at the academy and even tried his hand at squash. He played much better than I thought,"
The two got engaged in 2013 and got married in August 2015 in a grand style. Their love sage still continues.
Yuvraj Singh and Hazel Keech
Indian Cricketers & their Life-Partners:-  The love story of Yuvraj Singh and Hazel Keech is nothing less than an old romantic novel, where the boy saw the girl at some function and get infatuated and after a hard-fought romantic tussle for years, he finally wins over her heart.
Post engagement, when the couple visited the Kapil Sharma Show, here is what Yuvraj Singh said "He (Yuvraj) revealed that for the first three years, he kept trying to get her to meet him for coffee. She would agree every time he messaged her, but on the appointed day, she would switch off her phone and not turn up."
It took a year to meet a Hazel Keech as a person through a common friend and that was the day when Cupid arrow hit the couple. After spending some quality time with each other, the couple finally accepted Yuvraj proposal and made the relationship official. Soon within a year, the couple got married and as they say, lived happily ever after.
Manoj Tiwary and Sushmita Roy
Indian Cricketers & their Life Partners:- Manoj Tiwari may not have been lucky in Cricket and despite extraordinary performances in domestic cricket never got enough opportunity to represent India on the international podium.
But his love life always had a dream run and finally gave their relationship an eternal name "Marriage" in 2013. Both got to know each other through a common friend and fell in love at first sight. Manoj Tiwari dated his super glamorous wife Sushmita Roy for 7 years giving dream relationship goals to youngsters.
Umesh Wadhwa and Tania Wadhwa
Indian Cricketers & their Life Partners:- Umesh Yadav met Tanya Wadhwa at one of the IPL parties through a common friend and soon started dating. According to Tanya, the quality that separates Umesh with others is simplicity. She finds Umesh well cultured, polite and a great listener. He is a lady man and knows how to handle them.
After dating for 4 years Umesh finally proposed Tania for marriage and instantly accepted the proposal. Tanya is a fashion designer by profession.
Robin Uthappa and Sheetal Gautam
Indian Cricketers & their Life-Partners:-  The swashbuckler batsman is widely famous for hitting lofty sixes out of the stadium making him the dreaded nightmare for the bowlers, but the case is complete vice versa in love life.
In real life, he was lifted out of court by a tennis player leaving him completely spellbound.  It is one of the longest courtship that began on courts bringing the two love birds together and ended into a marriage. It is believed that both started dating in 2006 and sailed in the ocean of love for years, stood with each other during the entire thick and thins and ignited their eternal love behind the scenes.
Finally on 11th November 2015, out of blue Robin proposed his love lady and she cheerfully agreed.  The couple declared themselves as husband and wife on 3rd March 2016 in a Christian wedding ceremony in Bangalore. On 13th March 2016, the couple had another wedding ceremony in traditional Koorg style to fulfill Robin's father wish. Robin father hails from Koorg.
Harbhajan Singh and Geeta Basra
Indian Cricketers & their Life Partners:- Harbhajan "Turbonator" Singh has the reputation of a predator deceiving the preys in his spin web. He was and still is one of the most feared bowlers in the world. But in a love affair, it was the other way around. A Bollywood damsel clean bowled him in the first sight and as we say rest is history.
The couple was first spotted in 2008 when Geeta was spotted arriving at the hotel just to meet Bhajji. In 2010, Geeta was spotted standing around Film city studios, where Bhajji was shooting for the dance reality show "Jara Nach Ke Dikha".
Once the shooting was over, Geeta stepped inside Harbhajan Singh vanity van to meet him. Soon, they fond of each other and were regularly spotted in IPL bash or dining out with Sachin Tendulkar when in Mumbai.
Everyone knew what's cooking within, but the couple waited for the right moment and got married on October 29, 2015, in a big fat Punjabi wedding in Phagwara, near Harbhajan residence.
Shikhar Dhawan and Ayesha Mukherjee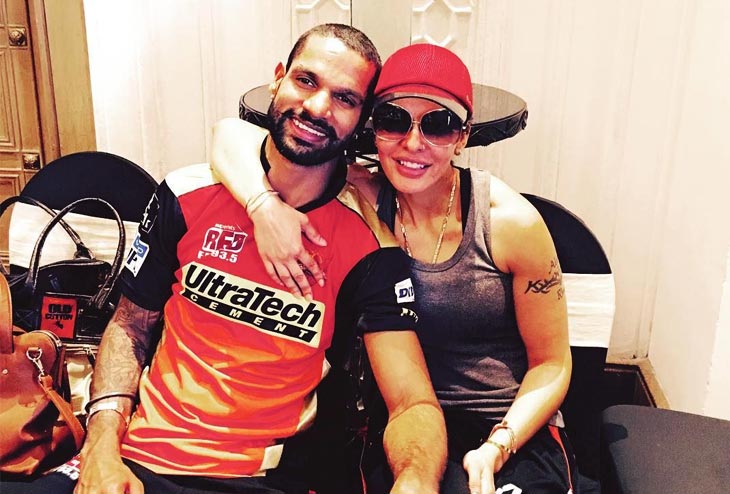 Indian Cricketers & their Life-Partners:-  The Gabbar of Indian cricket Shikhar Dhawan is not only famous for his aggressive batting and mustache but for his lovely wife Ayesha Mukherjee too. The mustache man met the Bengali damsel on Facebook and went gala over her; fortunately, she was a mutual friend of Harbhajan Singh. He sent her the friend request and she accepted it gracefully. After long late night chitchat, they became good friends and started dating each other. She even encouraged Shikhar Dhwan over fitness and stood with her during the rough phase.
With time both fell in love and got engaged in 2009. Ayesha is 10 years older to Shikhar and a mother of two lovely daughters. She had a broken marriage in the past with an Australian businessman.
Before Marriage, both Ayesha and Shikhar ensured that Shikhar develops a warm cordial relationship with the kids to make them feel a part of the joint family. Shikhar Dhawan and Ayesha Mukherjee had a traditional Sikh wedding and were blessed with a baby boy, Zorawar Dhawan, 2 years later in 2014.
MS Dhoni and Sakshi Rawat
Indian Cricketers & their Life Partners:-  Both Dhoni and Sakshi knew each other since childhood, their fathers worked in the same company MECON in Ranchi. The love birds even went to the same school until Sakshi family shifted to Dehradun splitting the love birds apart.
The destiny reunited them again after a decade in the beautiful city of Kolkata at hotel Taj Bengal. It was the last day of Sakshi internship at the hotel. Dhoni was introduced to Sakshi by a common friend and manager Yudhajit Dutta. When Sakshi left the hotel, Dhoni asked Dutta for Sakshi number and texted her.
Sakshi didn't take Dhoni messages seriously; she considered it as a prank by some friend until she realized it was real MSD. Dhoni had to play find and chase game with Sakshi to steal her heart. Finally, in March 2008, the two started dating secretly and out of the blue married on July 4, 2010.
In February 2015, the couple was blessed with a baby girl Ziva completing their family frame.
Rohit Sharma and Ritika Sajdeh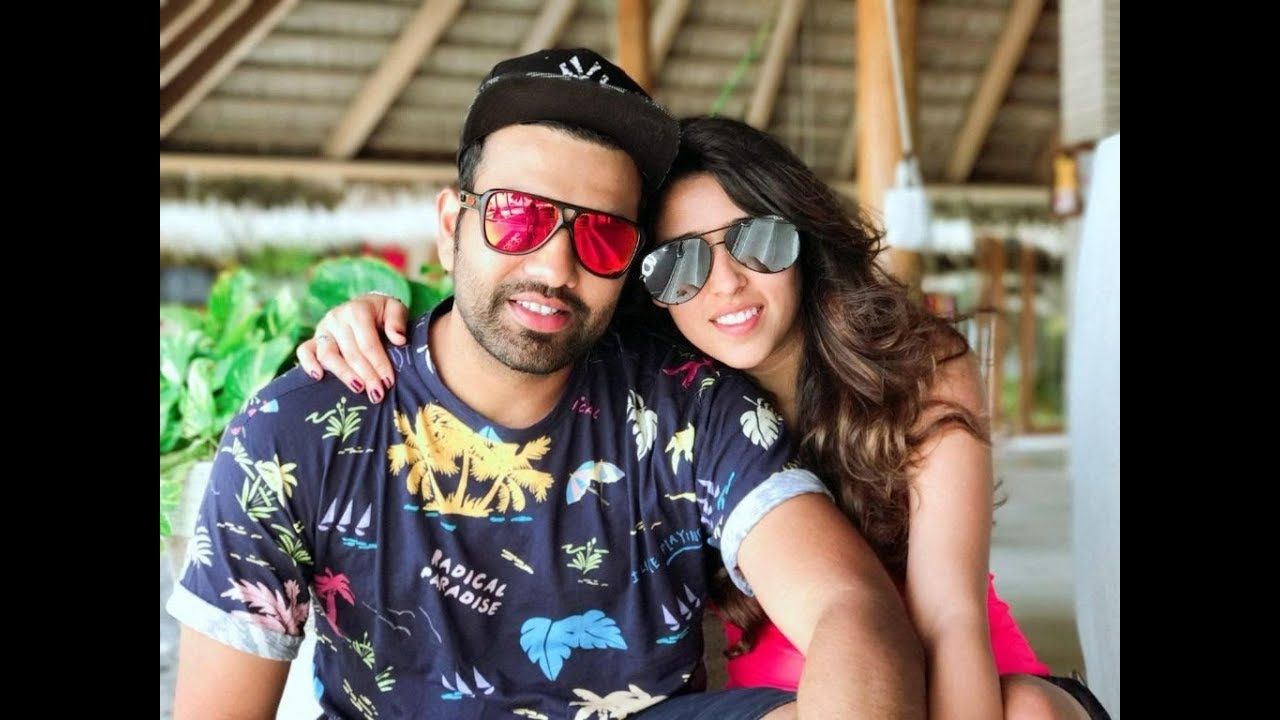 Indian Cricketers & their Life Partners:-  Rohit Sharma has always been associated with various eye candies in the past, but finally got hitched with Ritika Sajdah. Most of us know Ritika as a Yuvraj Singh rakhi sister before getting married to Rohit, but she has much more to tell.
Ritika was a sports events manager and use to take care of engagements of different cricketers as a manager including Rohit Sharma. She has handled Rohit Sharma engagements for almost 6 years.
Initially, they met for work, but after knowing each other well they came closer and one fine day Rohit proposed Ritika with a solitaire ring in his hand at Borivali Sports Club, Mumbai. The two got married in December 2015.
Virat Kohli and Anushka Sharma
Indian Cricketers & their Life Partners:-  There is nothing we didn't know about wonder boy Virat Kohli and Bollywood nymph Anushka Sharma. It has been 1 year since they did a secret wedding in Tuscany, Italy on December 11, 2017.
We know how they met, spilled beans about their affair for years and finally got engaged. The amazing fact about their union is that it refurbished our lost faith in true love.  Fairy tales do happen in real life too. Whenever you find your better half, don't hesitate to express your feelings in front of the world.
Also, Check: