Shivani Kataria is one of the most talented Indian swimmers, who specializes in the Women's 200m freestyle. Shivani is a holder of numerous records & was the only Indian Woman swimmer contender at the Commonwealth Games. Shivani has been working hard on her game and is looking to make the cut for the Tokyo 2020 Olympics in wake of making the country proud.
EARLY LIFE
The swimmer hailing from Haryana discovered swimming inside a pool at the age of six. The little swimmer developed an interest in swimming when she went to a summer camp at the Baba Gang Nath Swimming Center, near her house.
At an early age, she made herself to the 2004 Olympics. Her talent helped her to get selected for the Rio Olympics as India's wild card entry by the SFI and the rest of the swimmers failed to qualify. Shivani's will to learn & improve makes her different from the rest of the swimmers.
PERSONAL LIFE
Shivani Kataria basically belongs from Haryana but was born & brought up in Gurugram, India. She has done her schooling at DAV Public School. At the age of 6, Shivani discovered & developed her interest in swimming without realizing that one day she will represent India. Throughout her process, her parents did support her. They never underestimate her passion & motivated her at every phase.
The simmer took her initial training under Mr. Yadav. Under his guidance, she participated in various district level competitions. The talented swimmer earned a bronze medal at CBSE National, Gujarat.
In 2012, Shivani decided to become a professional swimmer. In order to pursue her dream, the little Shivani started to practice swimming 4 hours every day along with hardcore exercises.
Although Shivani was a slow learner but she always made sure that she improvises her swimming skills at every step and this is the reason she got the ticket to Rio Olympics.
Her training in FINA camp was a nightmare as she swam three times a day & exercises on dry land even when there was no match. At Thyanpura, her time table was to wake up, practice, eat, practice, eat, exercise on dry land and repeat.
At a small age, Shivani was able to face & overcome all the hardships because of the constant support from his family.
PROFESSIONAL LIFE
Shivani Kataria started her march towards her ultimate dream in 2013. In 2013, Shivani participated at the Asian Youth Championships where she finished in the sixth position. In 2016, she earned a gold medal at the South Asian Games 2016. The young swimmer also took one-year training at the FINA camp (Thyanpura) in Phuket, Thailand. She got the confidence to participate at the Summer Olympics 2016 when she was titled B Cart after finishing with a clock time of 2:04:00.
Shivani Kataria was lucky to qualify through the wildcard entry by Digambar Kamat, Swimming Federation of India (SFI) president, for the Rio Olympics. With her qualification to the Olympics, she became the first Indian woman to participate in the Summer Olympics.
She finished with a clock time of 2:09:30 in the Women's 200 m freestyle event but failed to qualify for the semi-finals. Shivani Kataria holds many Indian national records.
ACHIEVEMENTS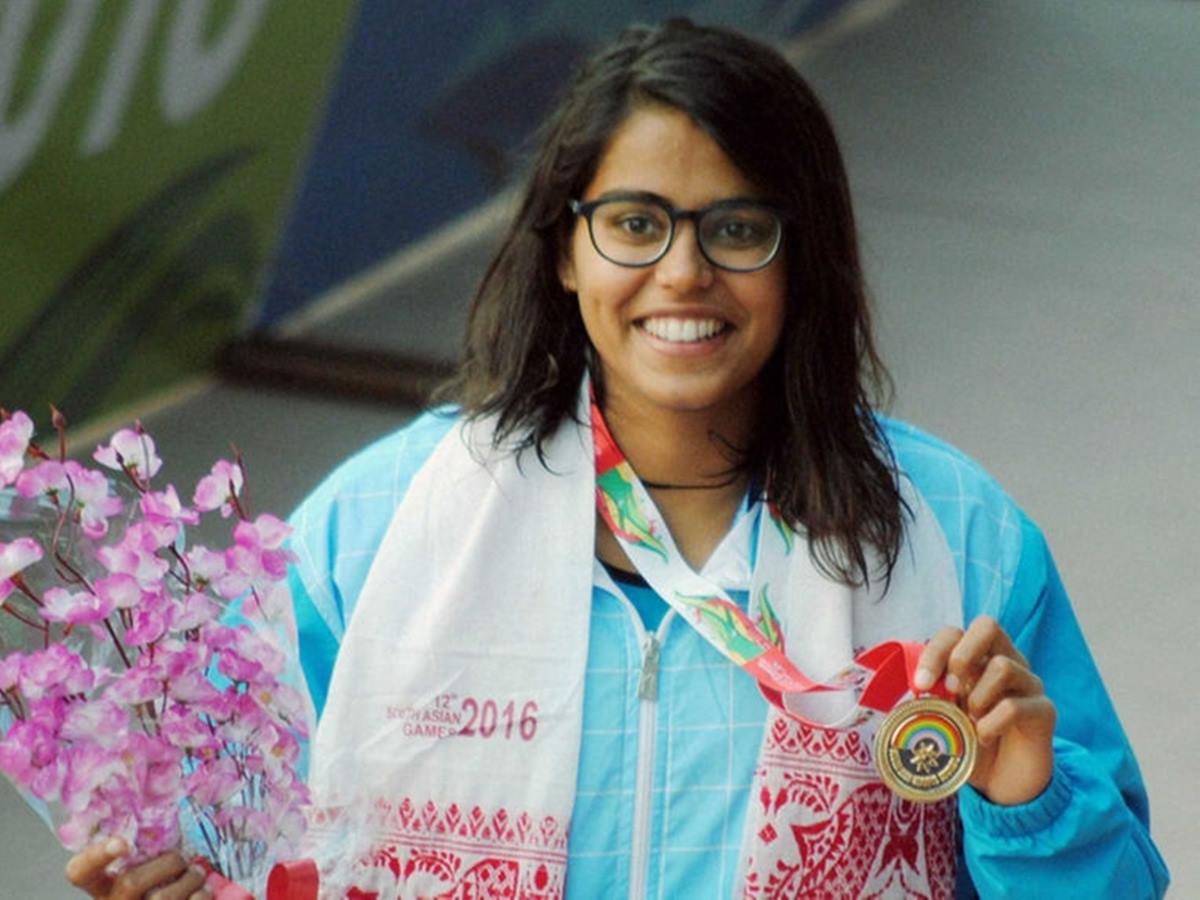 SOUTH ASIAN GAMES
Gold, 2016: 200 m freestyle
ASIAN YOUTH CHAMPIONSHIPS
Sixth position: 2013: 200 m freestyle
PERSONAL INFORMATION
Name: Shivani Kataria
Nickname: Shivani Kataria
Sport: Athletics
Events- Women's 200 m freestyle
Father's name: Harbir Kataria
Mother's name: NOT UPDATED
Coach- Mr. Yadav
Date of birth: 27 September 1997
Age: 21 years
Birth place: Gurugram, India
Zodiac sign: Libra
Nationality: Indian
Hometown: Haryana
Religion: Hindu
PHYSICAL MEASUREMENTS
Height: 1.63 m
Weight: 60 kg (132 lb)
Eye colour: black
Hair colour: black
CONTROVERSY
Shivani Kataria made many headlines when she successfully got qualified for the Rio Olympics. Other than this, the 21-year-old swimmer was glorified for her achievements & mind-blowing performances.
NET WORTH OF SHIVANI KATARIA    
NOT YET UPDATED.
SOCIAL MEDIA HANDLES OF SHIVANI KATARIA
FACEBOOK- https://www.facebook.com/Shivani-Kataria-436852446496700/
INSTAGRAM- https://www.instagram.com/shivani_kataria/?hl=en
TWITTER- https://twitter.com/shivanikataria6?lang=en