Saikhom Mirabai Chanu Biography:
Chanu Saikhom Mirabai is an Indian athlete who represents India in the 48 kg weighlifting category. Chanu has won the World Championships and multiple medals at the Commonwealth Games. She was awarded the Padma Shri by the Government of India for her contributions to the sport.
EARLY LIFE:

Saikhom Mirabai Chanu was born on 8 August 1994 in Nongpok Kakching, Imphal, Manipur. She was raised in Imphal in Manipur which is a very less populated state in India. Her family consisted of five siblings including her and her parents. In her childhood, She used easily carry huge bundle of firewood to her home for cooking the food along with her father. The fact that she could easily lift those woods didn't go unnoticed by her family members. It was when she was just 11 years old when Mirabai started practising what she was good at i.e., Lifting heavyweights. 
PERSONAL LIFE: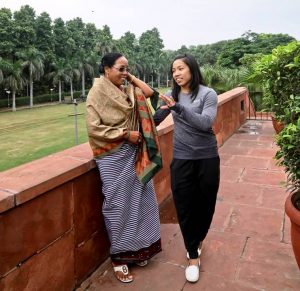 Mother- Saikohm Ongbi Tombi Leima (Shopkeeper)
Father- Saikhom Kriti Meitei (Employee- Public Works Department)
Brother- Saikhom Sanatomba Meitei
Sisters- Saikhom Rangita, Saikhom Shaya
Mirabai Chanu is the youngest one among all the Six siblings. Her father Saikhom Kriti Meitei is an employee at the Public Works Department and is a government employee. Her mother Saikohm Ongbi Tombi Leima is a shopkeeper as she runs the shop run by the family. She completed her studies from her hometown Imphal as she concentrated on her sport in weightlifting. 
PROFESSIONAL LIFE: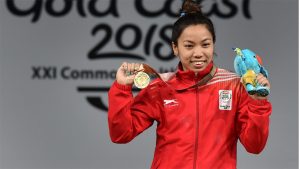 Coach- Kunjarani Devi & Vijay Sharma
Mirabai started her professional career when she was 11 years old. She won her first-ever competitive gold medal at the age of 11 as she became the under 15 National Champion. She began weightlifting in the year 2007 at Khuman Lampak Sports Complex situated in Imphal. By the age of 17 years, Mirabai won a Gold medal at International Youth Championship and subsequently earned her national call up. Since then she was coached by her idol Kunjarani Devi. Mirabai got her major recognition when she won a Silver medal at the Commonwealth Games in Glasgow in 48 Kg category. She also qualified for the Rio Olympics that was supposed to be held in 2016. For the preparation of Olympics, she was coached by Vijay Sharma who helped her in reaching her limits and then surpassing them.
She qualified for the Rio Olympics and was one of the medal hopefuls for India but then she succumbed to the pressure and couldn't perform well. She bounced back in 2018 by winning a gold medal in Commonwealth Games and recently she lifted a record 201 kg, the first by any Indian woman to do so. She failed to win a medal at the World Championships in Pattaya, Thailand but her record of lifting the four times her weight.
She achieved this rare feat when she was competing in 49 kg category. Besides, due to her contribution in sports, she was offered a job in the Eastern railways and she works as a Senior Ticket Collector. She has been conferred by Rajiv Gandhi Khel Ratna Award and Padma Shri Award.
PERSONAL INFORMATION:
Date of Birth- 8 August 1994
Age (as of 2019)- 25 years old
Gender- Female
Birthplace- Nongpok Kakching, Imphal East, Manipur, India
Complexion- Wheatish
Zodiac sign- Leo
Nationality- Indian
Hometown- Manipur, India
Nick name- Millennium Child
School- Not Known
College- Not Known
Occupation-  Weightlifting
Event- 49 Kg category
Net worth- $ 2-3 millions (estimated)
Marital Status- Unmarried
Qualification- Graduated
Food Habit- Non Vegetarian
Religion- Hinduism
Ethnicity- Manipuri
Sexual Orientation- Straight
Hobbies- Working out, Listening to Music, Travelling
Favorite food- Kangsoi
Tattoo – NO
Smoking-  NO
PHYSICAL MEASUREMENTS:
Height- 4'11" (182 cm)
Weight (approx.) – 203 lbs (49 kg)
Eye Color- Black
Hair Color- Dark Brown
ACHIEVEMENTS: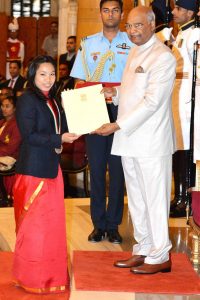 She won a Gold medal at International Youth Championship in 2011.
She was awarded the Best Lifter Award in the Junior National Championships held in Guwahati, India in 2013.
She won a Silver medal at the Commonwealth Games in Glasgow in 48 Kg category, lifting a total of 170 kg.
She qualified for the Rio Olympics that was held in 2016 and participated in 48 kg category.
She got  a job in the Indian Railways as a Senior Ticket Collector.
She won a Gold medal for India at the World Weight lifting Championships in 2017. Competing in 48 kg category, Mirabai lifted a total weight of 194 kg (85 Kg snatch, 109 Kg clean and jerk) and won India a gold medal after 22 years since 1995.
She won gold in the 12th South Asian Games held in Guwahati in 2016.
She lifted a total of 201 Kg(87 in snatch and 114 in clean and jerk) in 49 Kg  category at the World Championships in Pattaya, Thailand.
She won the gold medal in the 48 kg category at the Commonwealth event in 2018.
She received India's highest civilian sports honour Rajiv Gandhi Khel Ratna in 2018.
She was felicitated with Padma Shri Award in 2018 by the Indian President Shri Ram Nath Kovind.
For her hard sportsmanship, Industrialist Anand Mahindra gifted her tough TUV 300.
NET WORTH:
Mirabai Chanu is a Government employee as she works as a Senior Ticket collector in the Eastern Railways. She also received a cash prize of ₹2 million from the Chief Minister of Manipur, N. Biren Singh. However,  her net worth is not revealed.
SOCIAL MEDIA PROFILES:
Facebook- @s.mirabaichanu  https://www.facebook.com/s.mirabaichanu/
Twitter- @mirabai_chanu   https://twitter.com/mirabai_chanu?ref_src=twsrc%5Egoogle%7Ctwcamp%5Eserp%7Ctwgr%5Eauthor
Instagram- @mirabai_chanu