Sahana Kumari Biography: Sahana Kumari is one of the well-known high jumpers from India. She became the 14th & last athlete from India to successfully qualify for the London Olympics.
The high jumper specializes in the high jump event. She broke the 8-year long national record of jumper Bobby Aloysius by jumping 1.92 m at the 52nd National Inter-State Championships.
She became the very first athlete after Bobby to secure a place for the Olympics in high jump discipline.
EARLY LIFE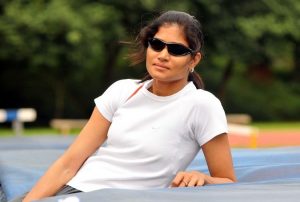 The Karnataka born high jumper comes from an athletic family. Kumari earned her high jump skills from her father. Sahana's father is actually her first coach who has played an exceptional role in turning her a professional athlete. 
Even the long jumper's spouse is also a national level athlete & Sahana's brother is an excellent volleyball player as well. As a kid, Sahana was always excited about outdoor sports.
From a tender age, Sahana participated in like Kho-Kho, long jump and Kabaddi in her schooling time, which clearly depicts that an athletic seed was sown inside her from her early phase.
With time, the young long jumper from India reaped numerous achievements. Sahana Kumari has also had a fair share of controversies & struggles as an athlete.
PERSONAL LIFE
Sahana Kumari was born on 06 March 1982 in Dakshina Kannada, Karnataka, India. She was born to Rajendra Kumar and Yashoda.
Sahana's elder sister was also an athlete & her younger brother too played volleyball.
Sahana was motivated to take up high jump by her teacher and also her father trained the young Sahana to jump.
The high jumper completed her schooling from Anandashram High School in Someshwar.
She participated in every sport in her school and that is how her school noticed an athlete inside Sahana & encouraged her to pursue a career in sports.
In the year 2002, Sahana completed her graduation from Sri Gokarnanatheshwara College in Mangalore.
The long jumper's mother, Yashoda, taught them to be punctual by waking them up at sharp 4:30 am. Sahana's father, Rajendra Kumar, worked at the Indian Air Force back then and he was the one who guided his children to sharpen their skills in their specific sport.
Sahana Kumari tied the knot with B.G Nagaraj who is also a national level athlete and the couple also have a daughter, Pavana. Today, the Indian High Jumper is working in the South Western Railway Zone as a senior clerk.
PROFESSIONAL LIFE
In 2012, Sahana Kumari became the last qualifier for the London Games. The high jumper secured the B standard (Olympic berth) at the 52nd  National Inter-State Senior Athletics Championships in Hyderabad at the G.M.C Balayogi Athletic Stadium.
In the same event, she was successful in breaking an 8-year-old long national record (1.91 m) that was set by Bobby Aloysius from Kerala.
Sahana Kumari was not allowed to take Ukrainian coach, Nikhil Evgeny to the Olympics. The Indian high jumper wanted to accompany her coach to London but sadly she was unable to afford his travelling expense. Surprisingly, a non-government organization named Ek Aur Prayaas provided the required funds for Sahana's coach to travel with her.
Finally, she was able to take her coach so that she can get feedback about the competitors and also help her train.  
Unfortunately, Sahana Kumari got quashed from the women's high jump event at the 2012 Olympics Games where she was not able to clear 1.85 m.
PERSONAL INFORMATION
Name: Sahana Kumari    
Nickname: Sahana Kumari    
Sport: Track and field
Events: High Jump
Country: India
Father's name: Rajendra Kumar
Mother's name: Yashoda
Sister: Harishini Kumari    
Husband name: B. G Nagaraj
Daughter: Pavana
Coach: Purushottam
Personal best: 1.92 m (Hyderabad, 2012)
Height: 1.76 m (5ft 69 inch)
Weight: 59 kg (130 lbs)
Eye colour: Black
Hair colour: Black
Date of birth: 06 March 1982
Age: 37
Birth place: Dakshina Kannada, Karnataka, India
Zodiac sign: Pisces
Nationality: Indian
Hometown: Karnataka
Religion: Hindu
CONTROVERSY
Sahana Kumari has always hit headlines for her performances and achievements at various major competitions. The focussed athlete has never been dragged into any controversy in her sporting journey.
NET WORTH:
The primary income and net worth of Sahana Kumari come from her job in the South Western Railway Zone as a senior clerk.
SOCIAL MEDIA HANDLES: 
FACEBOOK– NOT AVAILABLE
INSTAGRAM– NOT AVAILABLE
TWITTER– NOT AVAILABLE