Sajan Prakash Biography: One of the well-known Indian swimmers in India, Sajan Prakash specializes in the butterfly, Men's freestyle & relay event. He created history on 8 February 2015 by winning 6 gold and 3 Silver medals and became the best athlete of the Indian National Games, held at Trivandrum, Kerala.
EARLY LIFE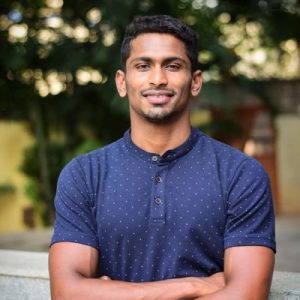 At an early age swimmer, Sajan Prakash, acquired motivation from his athlete mother to take up the sport. Once he built an interest in swimming, Sajan started dreaming of achieving more honours in swimming. He has competed in the butterfly, Men's freestyle & relay events at the National Games 2015 in Kerala. Sajan Prakash created history by earning 6 gold medals and 3 silver medals and the swimmer was titled the best athlete of the Indian National Games. Sajan Prakash has also represented the nation at the Olympics Games 2016 in 200 m butterfly.
PERSONAL LIFE
Sajan Prakash was born on 14th September 1993 in Thodupuzha, Idukki in Kerala. Sajan's mother V.J. Shatymol is also a former athlete who has also represented India in various national as well as international events. She owns a job with Neyyeli Lignite Corporation. At a small age, Sajan moved to Neyyeli. When his mother was busy working in Neyyeli, the young swimmer was getting engaged in several sports available around him in the staff quaters.
He played many sports before sticking to swimming including running & badminton. But the young swimmer was directed by a talented swimmer that was his mother. The swimmer chose swimming before his teenage time. The reason why he chose swimming out of all other sports was that Sajan had a flat foot which was not eligible for track and field. After his ultimate decision, the swimmer started his training under Joy Joseph and Saji Sebastian.
PROFESSIONAL LIFE
At the initial phase of his athletic career, he fell into an unexpected problem when Neyveli's authority started showing less interest in swimming. At this point, his coaches advised him to join one of the famous swimming centres in India, Basavanagudi Aquatic Centre (BAC).
After achieving from Kerala, the swimmer earned six gold medals and three silver medals at the National Games. This achievement not only put him into the limelight but also encouraged him to sharpen his skills to compete more exceptionally.
In 2015, FINA, the world aquatic body created a partnership with a swimming centre in Phuket, Thailand in order to train 21 aspiring Olympians ahead of the Rio Games 2016.
When FINA had a word with the Swimming Federation of India, they suggested Sajan for the programme. Finally, he enrooted to Phuket and this turned beneficial for the young swimmer. Sajan Prakash proved himself and made it for the Rio Olympics under the University quota. But the swimmer failed to achieve any medal and realised the fact that where India as a country was lacking which make Olympics a distant dream.
Olympian Sajan hopes for a change in the swimming scenario in India. But the swimmer continues to be one of the best swimmers of India who has his eyes on the coming 2020 Olympics.
ACHIEVEMENTS
35TH INDIA NATIONAL GAMES, KERALA, 2015
Gold: 100 m Butterfly
Gold: 200 m butterfly
Silver: 200 m freestyle
Gold: 400 m freestyle
Gold: 800 m freestyle
Gold: 1500 m freestyle
Gold: 4*100 m Relay freestyle
Silver: 4*100 m Relay Medley
ASIAN AGE GROUP, BANGKOK 2015
1 Gold, 4 Silver and 2 bronze
ASIAN INDOOR GAMES, ASHGABAT 2017
ASIAN AGE GROUP, TASHKENT 2017
1 Gold, 2 Silver and 3 Bronze
COMMONWEALTH GAMES: 2014, GLASGOW, SCOTLAND
100 m butterfly- failed to qualify for semi-finals
ASIAN GAMES: 2014, INCHEON, SOUTH KOREA
9th position, 400 m freestyle
Holds the most number of National records in long course and short course swimming
Holds 3 South Asian Records
Holds Asian Record in 800 m freestyle
PERSONAL INFORMATION
Name: Sajan Prakash
Nickname: Sajan Prakash
Sport: Swimming
Events- freestyle & butterfly
Father's name: NOT UPDATED
Mother's name: V.J. Shatymol
Coach- Joy Joseph and Saji Sebastian
Height: 178 m (5 ft 10 in)
Weight: 70 kg (154 lb)
Eye colour: black
Hair colour: black
Date of birth: 14 September 1993
Age: 25 years
Birth place: Thodupuzha, Idukki, Kerala, India
Zodiac sign: Virgo
Nationality: Indian
Hometown: Kerala
Religion: Hindu
CONTROVERSY
Sajan Prakash has made headlines for his glorious performances and numerous achievements.
NET WORTH OF SAJAN PRAKASH
Swimmer Sajan Prakash's net worth comes from Swimming sports and Kerala Police.
SOCIAL MEDIA HANDLES OF SAJAN PRAKASH
FACEBOOK- https://www.facebook.com/sajanprakash/
INSTAGRAM- https://www.instagram.com/sajanprakash/?hl=en
TWITTER- https://twitter.com/swim_sajan?lang=en