Indian badminton player, Bhamidipati Sai Praneeth, more popularly known as Sai Praneeth is a professional badminton player from India. He is the first Indian male shuttler who won a bronze medal in the 2019 BWF World Championships. Sai was honoured with the Arjun Award in 2019.
Praneeth has also been a success at the Premier Badminton League, the IPL style league for the sport of Badminton, where he last represented Bengaluru Raptors, who went on to win the title. Sai Praneeth was prolific for the team.
Sai Praneeth's impressive recent showing has seen him earn a place in the Sports Authority of India's Target Olympics Podium Scheme (TOPS), lending him support to fulfil his dreams of an Olympic medal.
Early Life of Sai Praneeth
Kasturi Devi, Praneeth's aunt was his inspiration and she was the only reason why a young Praneeth decided to pick up the racket at his early age. Kasturi Devi failed to become a shuttler due to some serious injuries that came her way.
The right handed badminton player was born on August 10, 1992. Hyderabad born badminton player has a keenness for sports ever since his childhood. During his schooling, he devoted 4 hours for training every day. At the youth level, in U-13 and U-16 tournaments, Sai has also given exceptional performances.
Determination and hard work have built Bhamidipati Sai Praneeth and helped him to acquire all his achievements and titles.
Sai Praneeth's Personal Life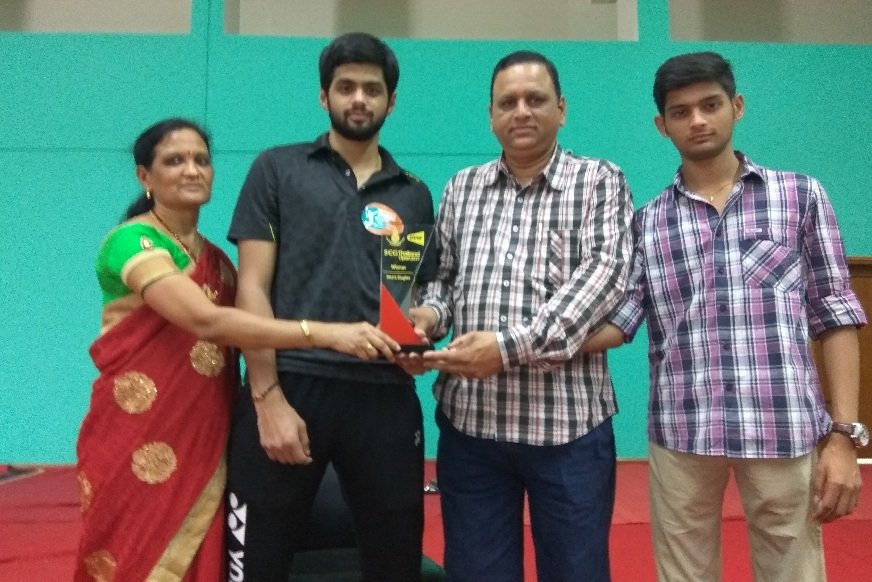 Deekshitulu, Praneeth's father, and his mother worked in private sector. At Sai Praneeth's initial stage, his parents were not capable to afford sports equipments for their son. But when they recognized their son's capability, they decided to spend all their savings to encourage him and purchased him all the necessary badminton equipments that were needed for him to excel.
Life was never easy for Sai Praneeth but he never gave up in order to change his destiny and finally, made his parents proud.
Sai Praneeth is single currently and isn't dating anyone. He is solely focused on the game and is eyeing glory at the 2020 Tokyo Olympics.
Sai Praneeth's Professional Life
Sai Praneeth is a talented player who currently trains at the Gopichand Academy, Hyderabad. Praneeth started his career on a high. The then 20-year-old shuttler from Hyderabad sent shockwaves through the international badminton circuit when he stood tall in front of some of the heavyweights in back-to-back tournaments in 2013. The first victim was former All England Champion Muhammad Hafiz Hashim of Malaysia, who lost despite going a game-up as Sai Praneeth announced his arrival, in the first round of the SCG Thailand Open.
Next up was Taufik Hidayat, who was playing his last International event and as it turned out, his last international game as Praneeth got the better of him in the opening round of 2013 Indonesia Open. The Indonesian stalwart was stunned at home.
Although Sai Praneeth is an exceptional athlete, but there was a hard phase in his life when his ranks dropped due to his injuries and lack of fitness. In fact, he even lost in the second round at India Open and also lost the Malaysian Open.
Like a good sportsperson, Praneeth too accepted his failures, and used them as a ladder to climb towards the success. In 2016, the world witnessed the comeback of Praneeth in the All England Super Series Premier. Sai won the Canada Open Grand Prix in July 2016 and this was his great break in the men's singles category.
In the Badminton Asia Team Championships 2016, Praneeth was a part of the Indian team. But the young badminton player didn't get a chance to play any game in the tournament. Indian team gave a stunning performance throughout that won the team and Sai a bronze medal.
And today Bhamidipati Sai Praneeth is ranked #15 in the world.
Awards
After Prakash Padukon, Praneeth is the first Indian male shuttler who earned a bronze medal at the BWF World Championships, when he won Bronze in 2019, after 36 years.
B. Sai Pranneth was also honoured with the Arjun Award in 2019.
Sai Praneeth Achievements
BWF World Championships:
Bronze: 2019, Switzerland-
Sai achieved a bronze medal in Men's Singles by defeating Kento Momota
BWF World Tour:
Swiss Open: Runner up: 2019
BWF Super Series:
Singapore Opens: Winner: 2017
BWF Grand Pix:
Thailand Open: Winner: 2017
Canada Open: Winner: 2016
Sai Praneeth Personal Information
Name: Bhamidipati Sai Praneeth
Nickname: Sai Praneeth
Profession: Indian Badminton Player
Father's name: Deekshitulu
Mother's name: yet to be updated
Coach- Pullela Gopichand
Date of birth: 10 August 1992
Age: 27
Birth place: Hyderabad, Andhra Pradesh, India
Zodiac sign: Leo
Nationality: Indian
Hometown: Hyderabad, Andhra Pradesh
Religion: Hindu
Physical Measurements
Height: 1.73 m (5 ft 8 in)
Weight: 70 kg
Eye colour: dark brown
Hair colour: black
Chest: 40 inches
Waist: 31 inches
Biceps: 13 inches
Sai Praneeth's Controversy
Sai Praneeth's foremost objective was his passion for badminton. Praneeth has always made headlines for his splendid performances & achievements. His focus on his ultimate goal kept the Indian badminton player out of any controversy.
Net Worth of Sai Praneeth
B. Sai Praneeth net worth is estimated to be around INR 5 crores.
Social Media Handles
B. Sai Praneeth Facebook- https://www.facebook.com/b.saipraneeth
B. Sai Praneeth Instagram- https://www.instagram.com/saipraneeth92/
B. Sai Praneeth Twitter- https://twitter.com/saiprneeth92