Sachin vs Kohli Comparison: Sachin Tendulkar and Virat Kohli are both blockbuster players. They are very well respected in Cricket both on and off the field. Here are a few significant differences between Tendulkar and Kohli. We all know that these two legends are arguably the two most iconic modern-day ODI batsmen, Tendulkar had reached his landmark by scoring a whopping 139 against Australia in Indore in 2001; But Kohli went past this milestone with an unbeaten 157 runs against West Indies.
They are the only two batsmen to reach this prominent landmark with remarkable centuries. With Kohli bulldozing Tendulkar's record of fastest to 10,000 ODI runs in terms of innings, it is an excellent time to compare Kohli's current stats with Tendulkar's, at the time the latter reached the landmark.
Statistics When it Comes to Runs:
When looking at the stats, there's very little doubt that Virat Kohli takes over the runs. If we are talking about of innings to reach the 10,000-run milestone, Kohli is 21% better than Tendulkar; when it comes to the average and the innings per 100 runs, he is 40% better; Sachin's strike rate advantage is relatively lower at only 7%.
Based on these statistics, there is undoubtedly no argument about who wins the contest, but most of those comparisons are a little bit unfair to Sachin Tendulkar. It's pretty evident that ODIs are a lot more scoring or let's say easier to score when in comparison to any other series. Tendulkar scored his first 10,000 runs; this comparison of numbers, especially when strike rates are considered, should be taken into that into account.
In the 266 matches that Sachin Tendulkar had initially played to reach the 10,000-run landmark before his retirement, the average strike rate by other players was 71.51; in Kohli's era, it is higher in number- 85.99. The average for the other batsmen during Tendulkar's first 266 matches was 27.90; for Kohli, it is again increased up to a 31.73. Taking this fact into account, it is evident that Tendulkar exceeds the average strike rate of his time by a much higher margin than Kohli, although Kohli remains better in terms of the ratio of averages. Tendulkar has also won more Man-of-the-Match awards, but that cannot be considered because it depends on the players who are accompanying you in the game.
Sachin vs Kohli – Performance Analysis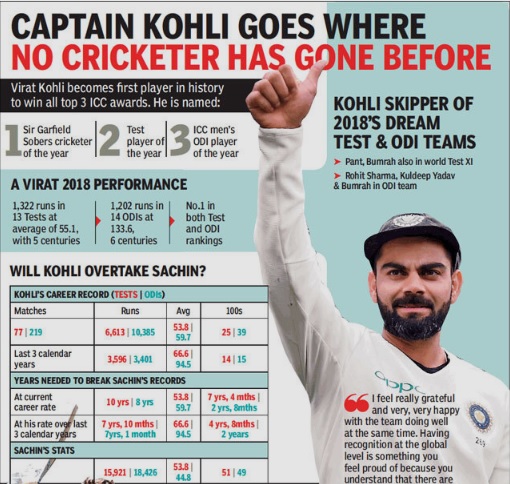 Kohli has collected multiple hundreds, compared to all the other players both nationally and internationally in his One Day International career so far, but the numbers in the book indicate that Tendulkar was very well ahead of his teammates on this factor too. During the very period after he started opening the batting, Tendulkar scored only a few hundreds every other match. That means Sachin was just 3.6 times better than the others batting in the top panel during that period. For Kohli, that ratio is only3.11, which shows distinctly that scoring centuries has become a lot more comfortable in this era than in the first half of Tendulkar's age or the previous few years. These ratios indicate just how commendable both batsmen have been in their ways of scoring hundreds, but everything comes down to the fact that Tendulkar was at an even higher level compared to his mates than Kohli has been in the entire current era.
Sachin vs Kohli are both Incredible Batsmen, but this is what sets them Apart
Virat Kohli's numbers in chasing runs are really good, but from 1994 through 2001, Tendulkar's statistics in chasing runs is phenomenal. He averaged at 50.28, with a strike rate of 94.65, to Kohli's average of 68.54 at a scoring rate of a whopping 94.51. Hence Tendulkar's strike rate ratio is more excellent, but Kohli's greatest strength has hands down been the way he scores the big runs and how well he chases runs. That will forever be unbeatable. Kohli holds the record of not being out 28 times in 116 innings when batting in the second position, which gives him a much higher average and hence a better average ration in comparison to Tendulkar.
Let us talk about Chases:
The other batsmen who are part of the line-up have always allowed Virat Kohli to bat more often in a more systematic way, but Kohli's outstanding skill is his ability to play long innings and take control of the game with his above average scoring rates, hence increasing the team's chances to win. This kind of innings have led to him smashing the most prominent record to the fastest 10,000 in ODI history by a very long way, and this is going by the way he reached that milestone, it looks unlikely his hunger for runs will diminish anytime soon.
Sachin vs Kohli in One Day International
Sachin vs Kohli Comparison: In ODI's Kohli definitely take the lead. Both the stats and results prove that Virat Kohli has always been the most consistent Indian batsman in the last five years. Kohli has been a batting machine in the ODI format, with an average of around 50 and with 22 centuries in his name in only 143 One Day innings. And hence, a result his name got noted down in the history books as the quickest batsman to reach the 22 centuries in The previous record was held by Tendulkar who achieved the feat in 206 innings. That means that the 26-year-old Virat took almost a little less than half as much time to reach the 22 centuries cap as Tendulkar did! Of course, Tendulkar is a legend in itself, but Virat is a powerhouse that will always be engrained in History.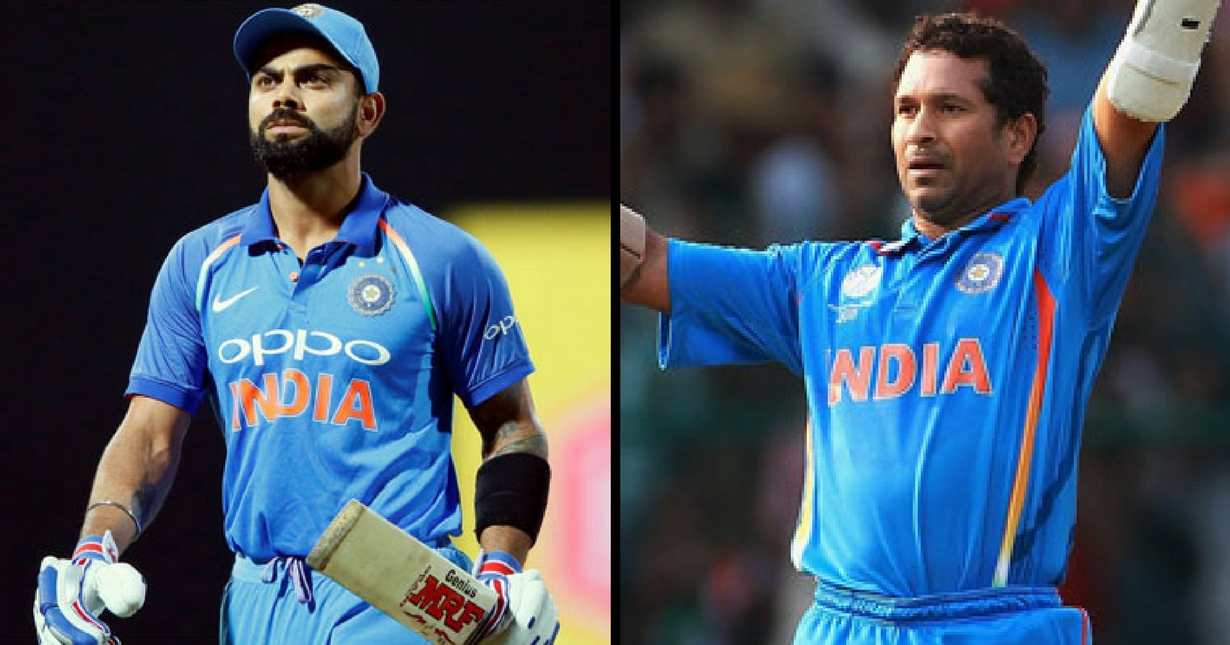 The most crucial thing about Virat's One Day games is that he is always there for his team, always fulfilling the task when his team needs him most. To all of our surprise, the majority of India's unbeaten run chases over the last few years have resulted solely from just Kohli's bat. Out of his 22 One Day International centuries, Kohli has scored a whopping 14 centuries when his teammates have just been chasing! What a player! These stats alone have made critics, analysts, several journalists, and a few former players declare Virat Kohli as the better ODI performer than the very powerful Sachin Tendulkar.
With all due respect to the great Sachin Tendulkar, if Kohli continues to go at this astonishing rate, him breaking the little master's record of 49 centuries would seem almost effortless in the future. That thought gains more strength from the fact considering Kohli is just 26 and also considering India play quite a lot of One Day International I matches every single year. The average age for retirement of all great cricketers is 35. Let us assume that Kohli does play for ten more years. That means he will continue to play more than 250 ODIs at least, which also means he has a very realistic chance of moving up and beating Sachin's record of over 18000 ODI runs. Can Virat Kohli do that? We just have to wait and watch.
In an interview with the news channel NDTV in the year 2013, former Indian batsman and current commentator Sunil Gavaskar said that records are obviously meant to be broken, and he believes that Virat can beat the record considering the manner he is batting.
Sachin vs Kohli In Test Cricket
We have to give it to the man, the legend himself Sachin Tendulkar. He is hands down the best, and can never be beaten by Kohli in Test Cricket.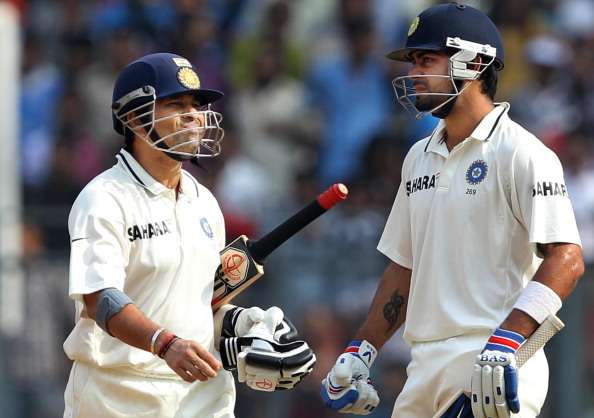 Kohli's One Day International form has not been matched to its fullest in Test cricket over the years. Kohli has of course like any other player, experienced patches of both good and bad forms in the more extended version of the game.
Despite the inconsistency in the test format, Virat Kohli has 11 hundred in around 37 test matches, at an average of about 45. The figures are pretty decent, but they sure do not stand head to head with the very best and the most reputed in the test formats. Both stats and history tell us that Sachin was much better at this stage in his test career than Kohli is right about now. This master of cricket averaged 60 in Test matches for almost a decade now, from 1993 to the year 2002. Now that is a record that seems to be not broken at least any time soon!
But in Kohli's defense, this young Indian ace is only 26 years of age. Considering, the fact that he is the world's greatest batsmen, he has only experienced the peak of their forms aged 27-32, Kohli's best is still have yet to come. Although records say he is a lot of sounders and more prolific in the limited overs versions of the game, Kohli is at the end of the day very talented and has potential to be a great test batsman. The fact that he is only one of the youngest in the area, he can focus on his batting and can become one of the very best. But of now Sachin's record still stands and his history of runs and centuries that he has made looks like they might just be unbeatable.
Sachin vs Kohli Personality
Kohli is extremely aggressive on the field, he is confident, and his game is super versatile. He is an absolute gem of a player in all areas of the game, especially the limited overs format. Kohli like any other players need some improvements as a Test batsman, and he has already started showing glimpses of only that, in his recent performances in the Australian tour, Kohli registered about four centuries in the four-match test series! That too was a significant record of the first batsman in history to score four hundred in four Test games against the Australian Cricket team.
Looking at his records and accomplishments at such a young age of 26, and given the fact that he is surely one of the most talented and dedicated players ever who are never ready to stop learning, there is absolutely no reason on Earth why anybody would again not consider predicting Kohli to one day surpass Sachin Tendulkar's records.
Sachin Tendulkar possesses an immense talent for creativity and self-expression. He is exceptionally witty both on and of the field, and he loves to savor the limelight. Sachin Tendulkar is internationally acknowledged as one of the greatest cricketers of all time and is considered legendary in the Cricket field. He was born on Tuesday, April 24th, 1973, in the land of dreams Bombay, Maharashtra, India.
Tendulkar is known to be optimistic and masters the art to overcome many setbacks. He is like the backbone of the team. Sachin loves to be in the center of attention and uses his time wisely. He is a great inspiration to this world; he also does a lot of charity work and is very down to earth. He is an inspiration to many and is very fond of uplifting others and helping the ones who are in need. He brings happiness and joy to all those around him.
When he was younger, Sachin Tendulkar wanted to become an artist because of his expressive personality. He developed his abilities and turned towards cricket where he started playing from a very young age. He maintained discipline and was committed to his work. In other words, Sachin Tendulkar uses his creativity even in cricket; he has a very distinct style and is known to take up the match on his own.
Sachin Tendulkar and Virat Kohli have dashing personalities and are both great at the game. We cannot say for sure who exceeds who, or who is better in the field of Cricket. But there is one thing that we can say, and that is that both Tendulkar and Virat are excellent at whatever they do. They both have immense talent and can achieve more milestones and victories. They have won the hearts of the people, both on and off the field. There is something great in store for them; if they continue to play like this, they will excel in life and bring more victories to the team.
Also Check:-