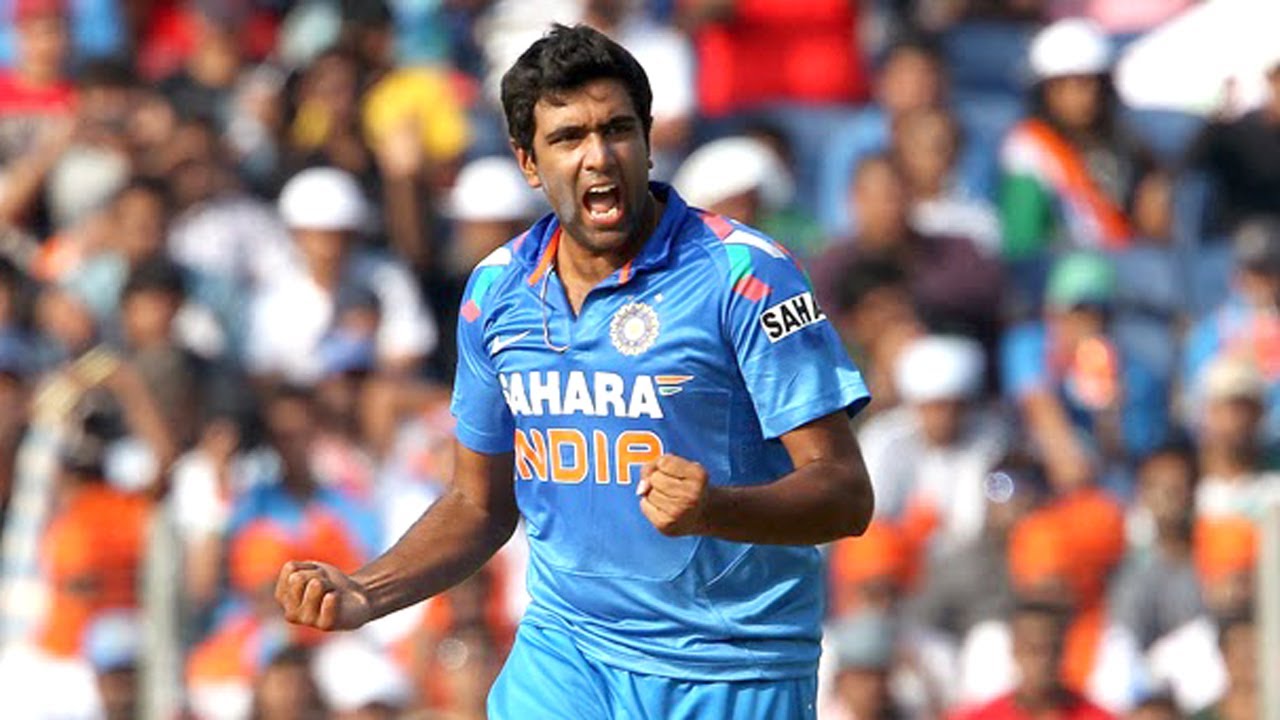 Full Name: Ravichandran Ashwin
Nickname: Ash, Dada
 Father Name: Ravichandran
Ravichandran Ashwin's Mother Name: Chitra
Ravichandran Ashwin's Date of birth: 17 September 1986 (age 32)
Ravichandran Ashwin's Birth Place: Madras (now Chennai), Tamil Nadu, India
Ravichandran Ashwin's Height: 6′ 1″ In Feet Inches
Ravichandran Ashwin's height: 1.88 m In Meteres
Ravichandran Ashwin's height: 188 cm In Centemeters
Ravichandran Ashwin's Weight: 75 Kg in Kilogram
Ravichandran Ashwin's weight: 165 lbs in Pounds
Ravichandran Ashwin (Body) Measurements: Chest- 40 inches
Waist – 32 inches
Biceps- 12 inches
Ravichandran Ashwin Marital Status: married (Prithi Narayanan)
Ravichandran Ashwin Hobbies: Play Tennis, Long Drive
Ravichandran Ashwin Role: Bowling Allrounder, India
Test Debut:   6 November 2011 v West Indies
ODI Debut:   5 June 2010 v Sri Lanka
T20I Debut:  12 June 2010 v Zimbabwe
Ravichandran Ashwin IPL Career
2009–2015    Chennai Super Kings
2016-2017     Rising Pune Supergiant
2018-present Chennai Super Kings (7.60 cr)
Ravi Chandran Ashwin Biography: Hailing from Tamil Nadu, Ravichandran Ashwin was born on 17th September 1986. He did his schooling from Padma Seshadri Bala Bhavan. With his school possessing an excellent cricket academy, Ashwin honed his skills there, becoming a potent a spin bowler. Ashwin's father, Ravichandran also played cricket till club level. Ashwin started as a medium-fast bowler but then with the assistance of his coaches, C.K Vijay and Chandra, he turned into a spin bowler.
Ravi Ashwin made his first-class debut in the year 2006. In the very next year, he led Tamil Nadu side in the Ranji Trophy. However, he came into prominence after playing for Chennai Super Kings in 2010.
The same year he earned his maiden India call-up in June 2010 and also played for Chennai Super Kings in the 2010 Champions League T20 Tournament in 2010. He ended up as the leading wicket-taker and player of the tournament.
If one looks at his early days in International career, Ashwin certainly has made rapid strides. He was also included in India's 2011 World Cup squad and did play two matches, including the quarter-final game against Australia.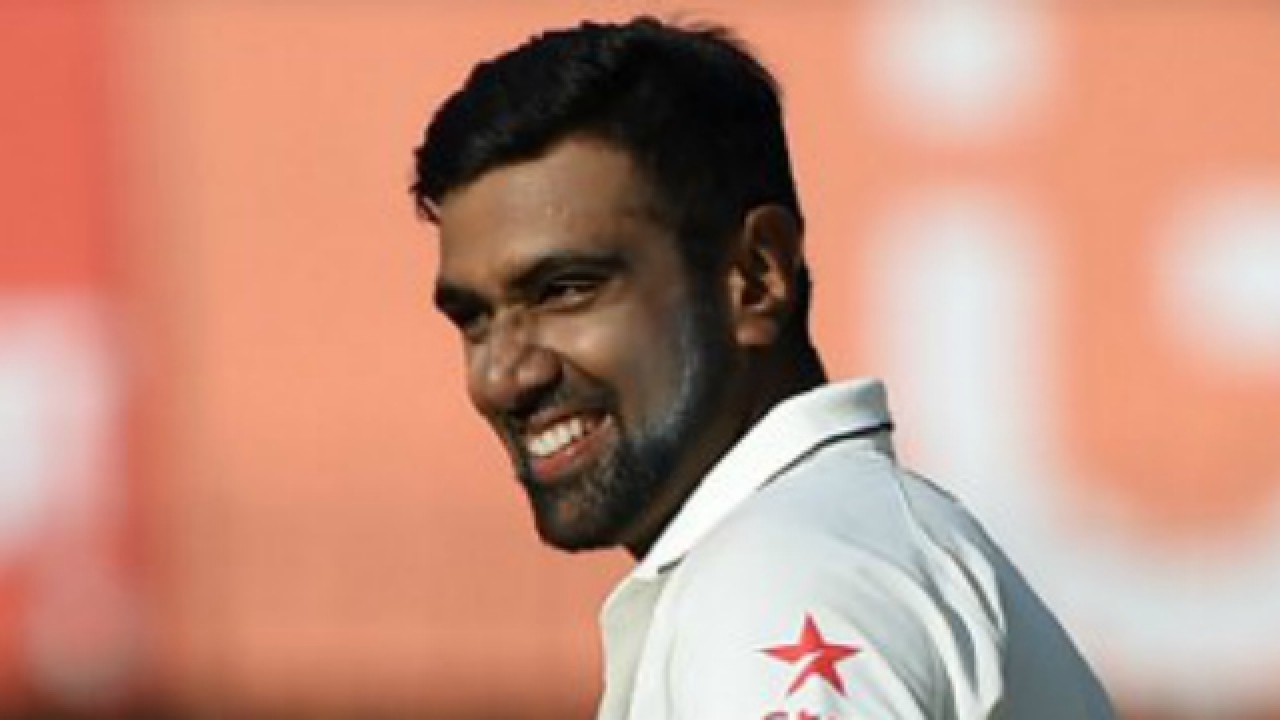 In the same year, he made his Test debut against West Indies and took a five-wicket haul in that game, becoming the seventh Indian to claim a five-wicket haul on Debut.  
Ashwin was best suited for sub-continent conditions. During his initial career, he couldn't produce the same magic in overseas conditions.
Ashwin was ineffective on India's 2011/12 tour of Australia. He played in three Tests on the tour taking nine wickets at an average of more than 62. He also featured in the subsequent triangular CB Series against Australia and Sri Lanka and took seven wickets in as many matches at 43.42. In March 2012, he took five wickets in three matches of the 2012 Asia Cup in Bangladesh. He had a quiet tour of Sri Lanka in July–August 2012 taking five wickets at 39.40 in the five-match ODI series and 1/22 in the one-off T20I.
FASTEST INDIAN TO TAKE 50 TEST WICKETS
During England tour of India, Ashwin recorded a milestone after becoming the fastest Indian to claim to 50 test wickets. He achieved the feat in the first test match of the series and was his ninth test match. India, though, lost that series 2-1. Perhaps, for the first time in his international career, the world got to see his belligerence with the bat, having scored 243 runs in the series at an average of 60.75. He hit two half-centuries and finished as India second leading run-getter in the series.   
2013 Champions Trophy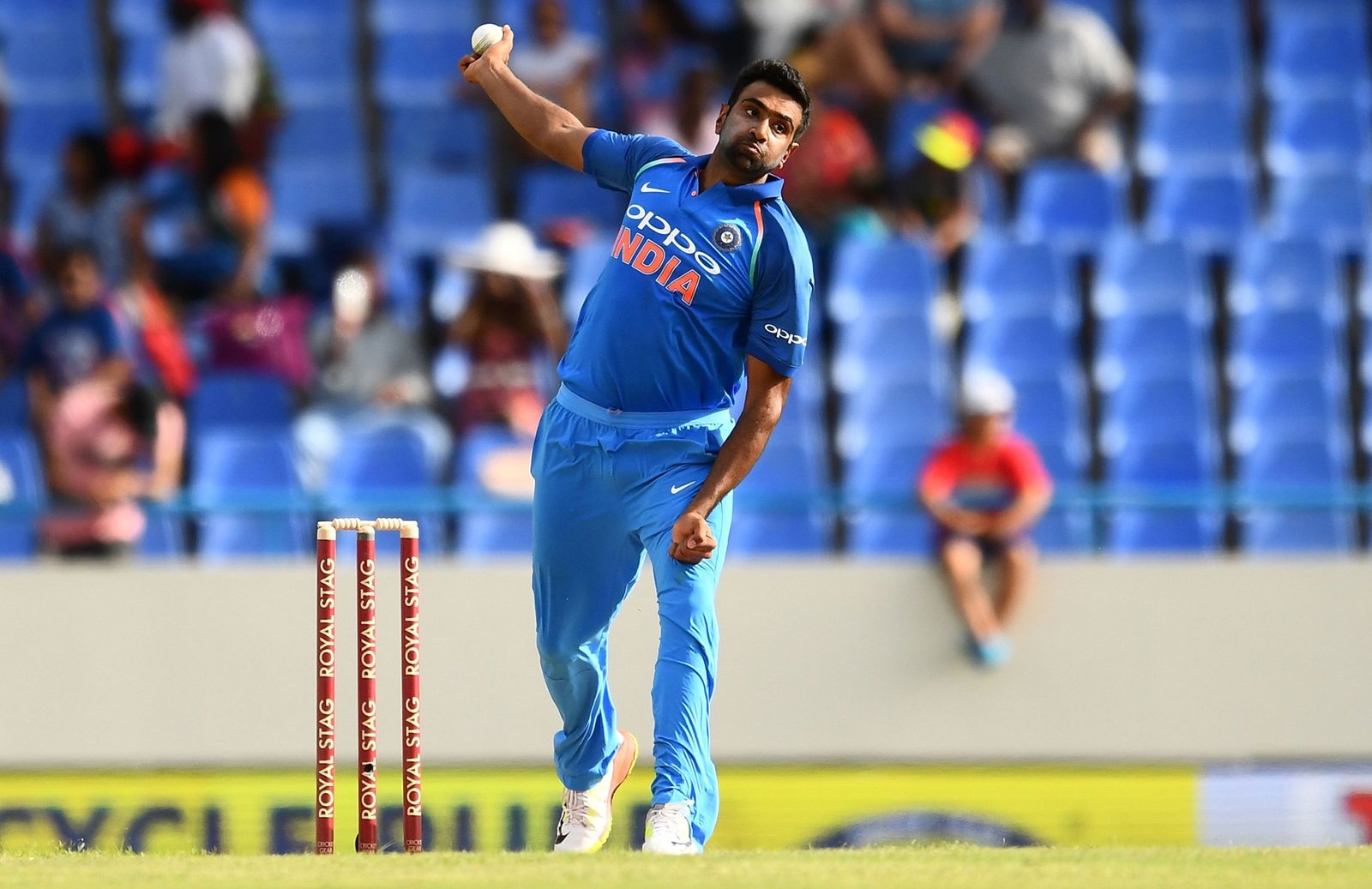 Ahead of the 2013 Champions Trophy, Ashwin was regarded as India's best spinner. He exhibited good numbers in the tournament and also produced a stellar four-over spell in the final against England. He claimed 2 wickets for just 15 runs and also bowled the final over the match, helping his side win the game and thereby the tournament. He took a total of eight wickets in five matches at an average of 22.62 and an economy of under 5.
2015 World Cup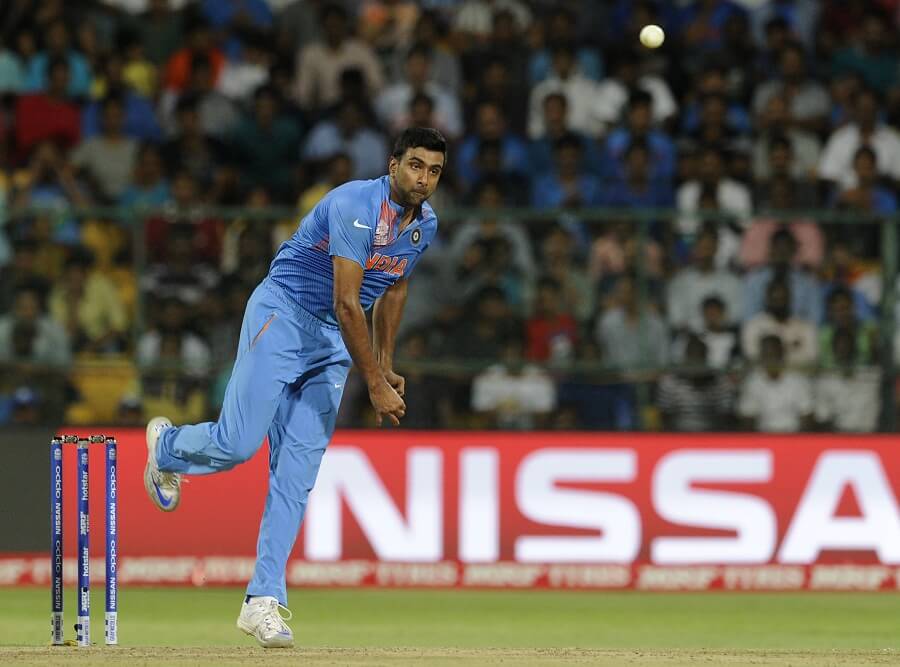 Ashwin played his second World Cup in 2015 edition, held in Australia and New Zealand. He played 8 matches in the tournament, picking 13 wickets at an average of 25.38, including one four-fer. He was also included as bench in the team of the tournament by Cricbuzz.
While Ashwin has been vital force in Test Cricket, the emergence of Chahal-Kuldeep led him to be axed after June 2017. He played his last one-day international on 30th June 2017 against West Indies against West Indies.
In his overall International career, Ashwin has played 111 one-day internationals, 70 test matches and 46 T20 internationals, picking 150, 362 and 52 wickets respectively.
INDIAN PREMIER LEAGUE:
Ravi Chandran Ashwin biography: Ashwin made his debut for Chennai Super Kings in 2009 edition of the Indian Premier League. He played only two matches in that edition. However, he made heads turn in the following edition, claiming 13 wickets in 12 matches at an excellent average and economy of 22.53 and 6.10 respectively.
ASHWIN'S BREAKTHROUGH IPL SEASON:
He played all 16 games in the 2011 edition of the IPL for CSK, claiming as many as 20 wickets. Ashwin was considered a go-to bowler for Dhoni and was superb in the power play as well as middle overs as his economy of 6.15 suggests. His performance played a pivotal role in helping CSK win the title that season. In the final against RCB, he bowled the first over for CSK and produced his best spell of the entire tournament. He claimed three wickets while giving away just 16 runs.
Ashwin made a name for himself playing for Chennai Super Kings for the majority of his career before moving to Rising Pune Super Giants.
2018 edition of IPL saw Ravichandran Ashwin becoming the captain of Kings Eleven Punjab. He didn't have a fruitful season as captain as Punjab ranked seventh with 6 wins in 14 matches. It was also his worst performance with ball, giving runs at an economy of 8.09. He took 10 wickets in 14 matches.
RAVICHANDRAN ASHWIN AWARDS AND ACHIEVEMENTS:
Arjuna Award: 2014
ICC Test Team of the Year: 2013, 2015, 2016, 2017
BCCI's Dilip Sardesai Award for India's best cricketer: 2010–11, 2015–16
BCCI's Polly Umrigar Award for international cricketer of the year: 2012–13
ICC Test Player of the Year: 2016
ICC Cricketer of the Year: 2016
CEAT International Cricketer of the Year: 2016–17
RAVICHANDRAN ASHWIN NET WORTH:
Ravi Chandran Ashwin's net worth is estimated to be Rs. 115 crores. His income comes from match fees, brand endorsements and personal achievements. Ravichandran Ashwin's net worth is said to be one of the highest among the current Indian players.
 RAVI CHANDRAN ASHWIN BIRTHDAY:
Ravichandran Ashwin's birthday is celebrated on 17th September. He was born on 17th September 1986. On Ashwin's next birthday he will turn 34.
SOCIAL MEDIA ACTIVITIES: 
https://www.instagram.com/p/CAp5AWCHaoJ/
https://www.instagram.com/p/CAiRXOLH1PP/
https://www.instagram.com/p/CAIdXpyn1gD/
In Ravichandran Ashwin's biography, we have tried to cover every aspect of Aswin's personal and professional life. Let us know if we have missed anything.