During PKL season 9 auction in February, Tamil Thalaivas made history when they acquired the services of Season 6,7 and 8's leading Raider Pawan Sehrawat for a whopping 2.26 Crore INR. Despite having a purse of only 4 crores, Thalaivas decided to splurge all the cash and banked on Pawan Sehrawat's number in the past 3 seasons. Alongside Pawan, they also brought a 22-year-old raider Narender Kandola during the auction.
Fast forward 7 months, it's time to justify the amount Pawan receieved as Tamil Thalaivas were facing Gujarat Giants in  their first match of season 9. Within the first 20 minutes, Pawan Sehrawat gets stretched out of the mat after sustaining an injury while supporting his defenders for a tackle. He did not appear again in that match and as a result the match ended in a draw of 31-31.
The surprising thing is that Tamil Thalaivas were all set to lose the match but thats when Pawan's deputy Raider and debutant Narender Kandola enters the scene. He was filling the void left by the most expensive raider in PKL that too in a time when all the strategies were set around the latter. In his very first PKL appearance, Narender did not disappoint and completed a Super 10 (one of the many this season).
The following 2 matches did not produce anything incredible either as Thalaivas lost both the fixtures with score lines of 27-22 and 39-32. They had to wait until their 4th fixture against Patna Pirates to register their 1st win of PKL 9 by a narrow margin of 1 point. In the first four matches, Narender accumulated 37 raid points including 2 Super 10s.
Thalaivas were very inconsistent early on as they lost the next 2 matches as well by embarrassing score lines of 45-28 and 41-24. Narender had scores of 10 raid points and 2 raid points. It is not that the South Indian outfit is missing Pawan Sehrawat because Kandola has consistently performed for the team but lack of support from other 6 players did prove costly.
However, Thalaivas won their next 4 out of their 5 matches and drew only one game against Bengal Warriors. Narender was their main man yet again as he scored 13, 24, 15, 3 and 13 raid points. In 8 outings for Tamil Thalaivas, the debutant is 5th among the best raiders with 115 raid points under his belt (as of 9th november).
The Rise of Narender Kandola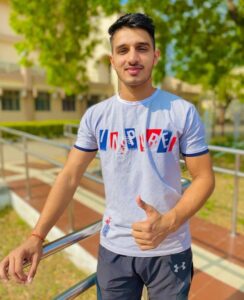 I first began playing when I was 12. I used to watch senior players like Vikash Kandola and Sandeep Kandola as I started playing in the mud since we didn't have a mat in the village. He (Sandeep) used to coach all of us in the village back in 2013. He taught me the fundamentals of the game. I then travelled to SAI Gandhinagar to train with coach Jaiveer Sharma who helped me get better."
The 22-year-old comes from the same village as Bengaluru Bulls raider Vikash Kandola (Budain) and just like Vikash, Narender has been handling his team's offence this season. It will be unfair to say that Thalaivas are missing Pawan Sehrawat because Narender Kandola has been bringing points at the crucial stages and he has maintained a raid strike rate of 60%, which is good enough for a debutant.
He came into the radar of PKL teams during the Khelo India youth games in 2019 and 2021. When he was made available in this year's auction he was picked by Tamil Thalaivas through New Young Player's programme. Narender is a raiding product of the Sports Authority of India's youth system, where he trained alongside another NYP star, Jatin Phogat at Gandhinagar.
The youngster is solid with great athleticism and game awareness. He can take on defenders very well and maintains a fearless approach. He has helped the team win important games and has answered every question thrown towards him.
While speaking about Pawan Sehrawat's absence, Narender Kandola said in an interview –
"He was the strike raider with the power to take 30 or even 40 points in a game, and it is unfortunate to not have his services. It truly is a significant loss for us."

They told me not to focus on things like the lights and just play my natural game." Coach (Ashan Kumar) wanted us to slow down the pace, and we followed his instructions because that's the best way to proceed. – said Narender on game strategies.
Also Read – PKL Season 9 : Key events from Day 23