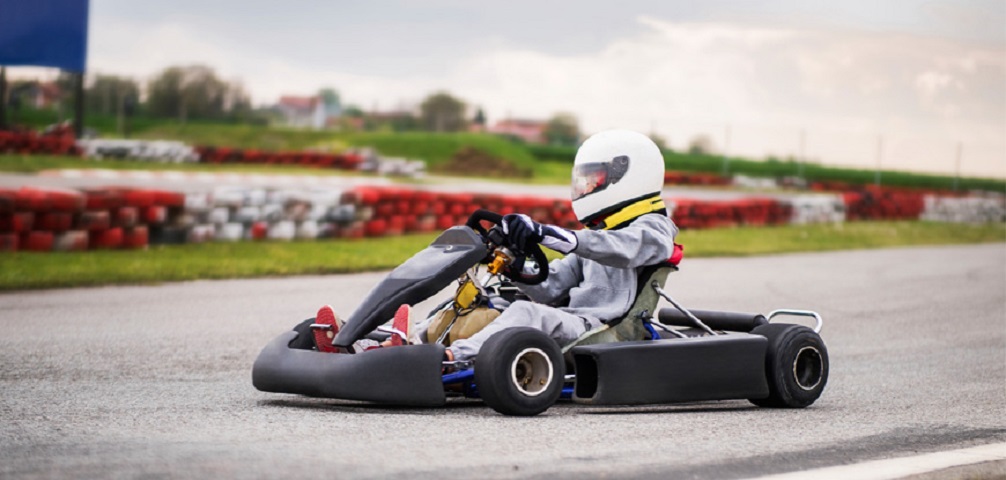 Hearing the name 'Go-Karting' itself gives you excitement. Such is the craze for the game. Go-Karting is a type of motor game in which the players do racing in an open-wheel car which is called as Go-Kart. It is a small vehicle with the seat existing for only one passenger. These cars are available in all the shapes and forms. Some are motor less while others are high-powered racing machines. The engines are available mostly as two-stroke engines. But rarely are they powered by four-stroke engines. The racists should drive the car for a certain distance or a limited number of laps. The simplest type of Go-Kart is the Gravity racers. This is also the most exciting type where the racers drive down a hill.
These cars are allowed for use on the public roads in some countries. Apart from the traditional Karting, there are some areas which offer recreational Karting. The Karting can be done in both outdoor and indoor. In addition to Go-Karting, some places offer other recreational activities such as bowling or paintball.
Bangalore can be considered as the best place to go Go-Karting. Moreover, it is one of the most favourite places for the kids. Some of the places where we get the wonderful Go-Karting are
Torq03
This Go-Karting track is situated inside the Ezone Club at Marathahalli. This is the longest track in Bangalore. It is spread over an area of 550 m and it has a gallery where you can get a complete view of the track. You can also take part in the races which are being organised every year. The minimum charge is Rs.200. The track is open for the players from 10:30 am to 10 pm. You need not worry about the safety as there are adequate safety barriers around the track. The most important attraction in this is you can also have other forms of fun activities such as bowling, other indoor games.
Raceway Motorsports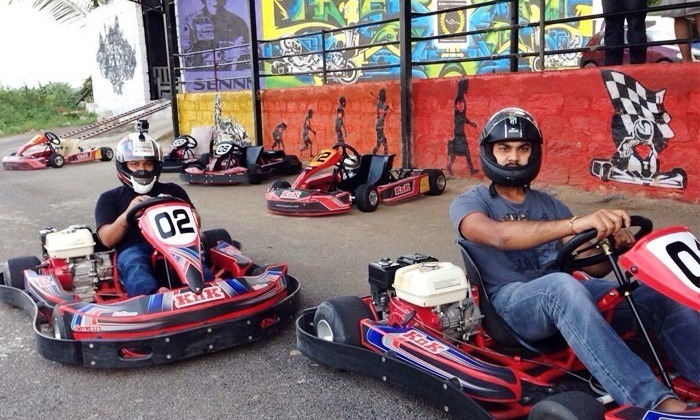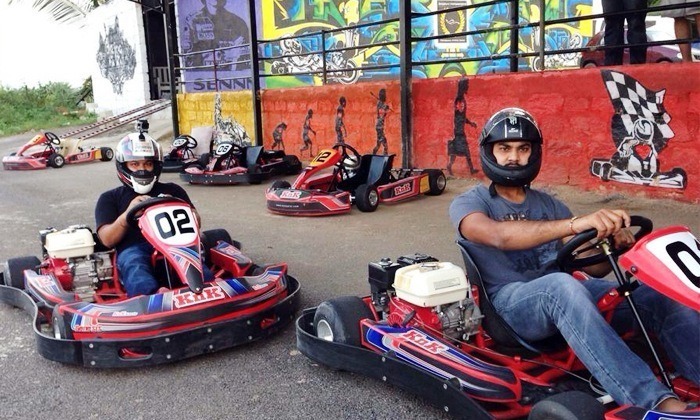 This track is considered to one of the cheapest tracks and it offers us the best experience. It is located on Kanakapura road and it is available for the users from 10 am to 7 pm. It is closed on Mondays. They charge us the amount of just Rs.250 for 10 laps.
Patel's Inn
This is the perfect place for the holidays where you can enjoy the delicious food and can indulge in a lot of sports activities like swimming, table tennis etc. But the most fantastic part of this is the Go-Karting activities organised in this resort.  This place is so famous that the 6th leg of the JK Tyres National Karting championship was organised in this place. You can get registered on its website and book your timing and the date accordingly. Get yourself lost in this beautiful place!!!
Grips Go-Karting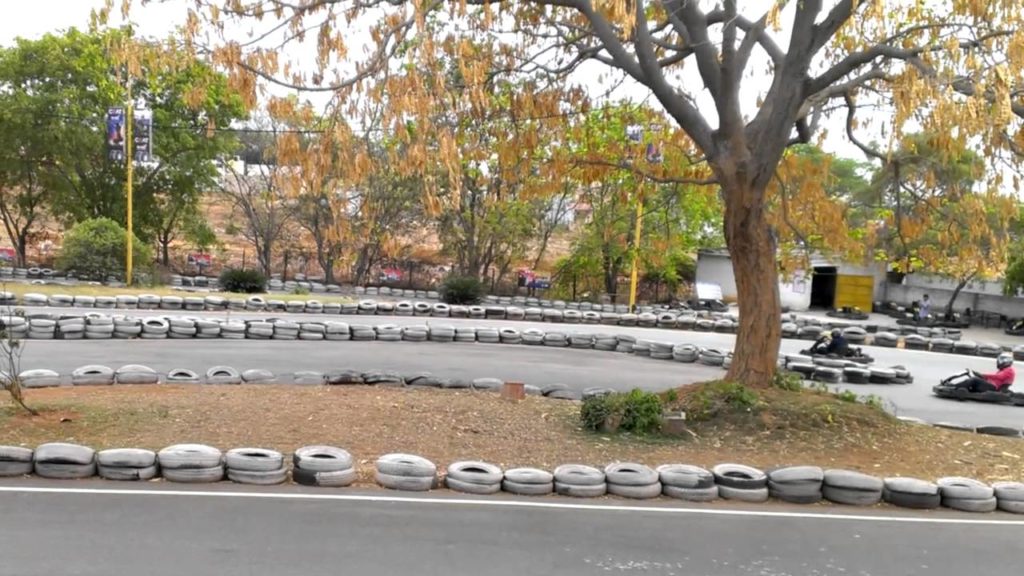 You can have a perfect adrenaline rush by enjoying the Go-Karting in Grips which is located in Anchepalya Mysore Road. It has a well-designed multi-level track with the thrilling corners. Here, you can find around 40 karts of different types. They also have facilities for racing under the floodlights. You can very well refresh yourself in between the sports as they offer a beautifully designed cafeteria for that. In addition to Go-Karting, there are bowling alleys which are of international standards with advanced bowling equipment. It is available on weekdays from 10:30 am to 6:30 pm while on weekends from 10:30 am to 9:30 pm. The minimum charge is Rs.200.
Meco Kartopia
It is the only track in Bangalore which is built according to the international standards. It is situated on Hennur Bagalur road. So, the track can be used not only by the budding players but also by the racing stalwarts. It has a 1.2 km Pro Karting track and 750 meters and 450 meters recreational Karting tracks. These tracks are certified by FMSCI. They also offer training programs which were organised by Meco Karting Academy. Tracks are available in different types ranging from baby kart to level-2 adult kart. The prices are charged accordingly with the minimum range of Rs.335/5 laps. The track timings are from 12 pm to 8 pm and Monday is the weekly holiday.
Red Rider Sports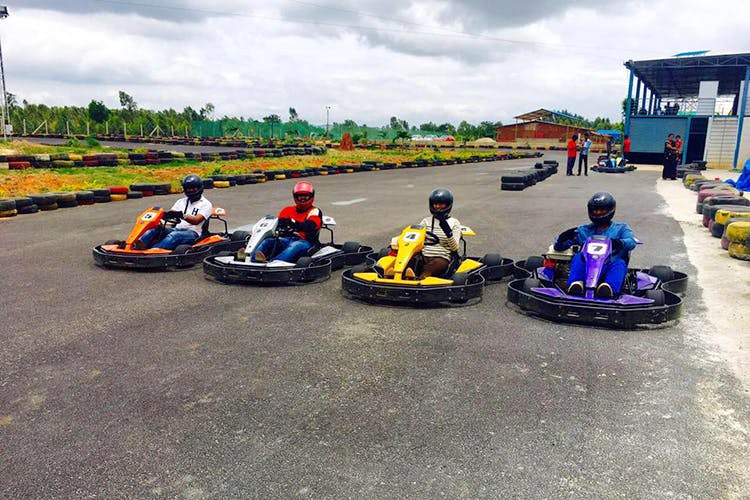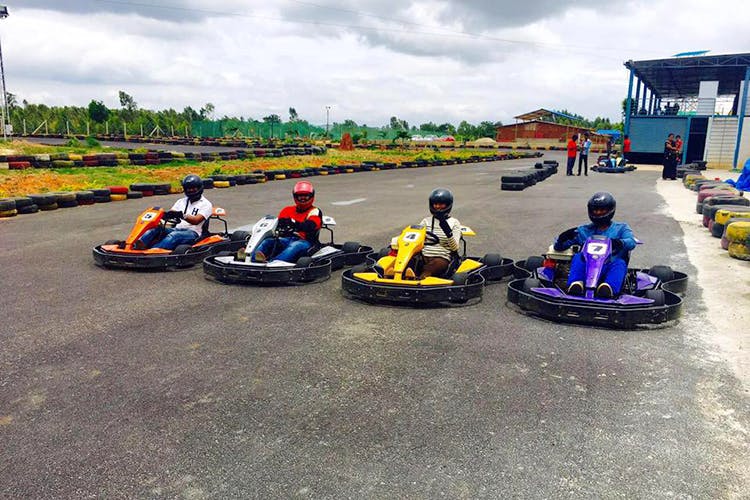 It is one of the most wonderful sports club located in Sarjapur Road. Though they organise a lot of sports, their main theme is the Go-Karting. It has an advanced track fitted with adequate safety features.  After having a wonderful ride in the Go-karts, you can chill out playing other games like paintball, dirt bike, archery, target shooting etc. They even offer facilities for the campfire where you can have fun with your friends. The minimum cost for Go-Karting is Rs.350 for 5 laps.
Play Arena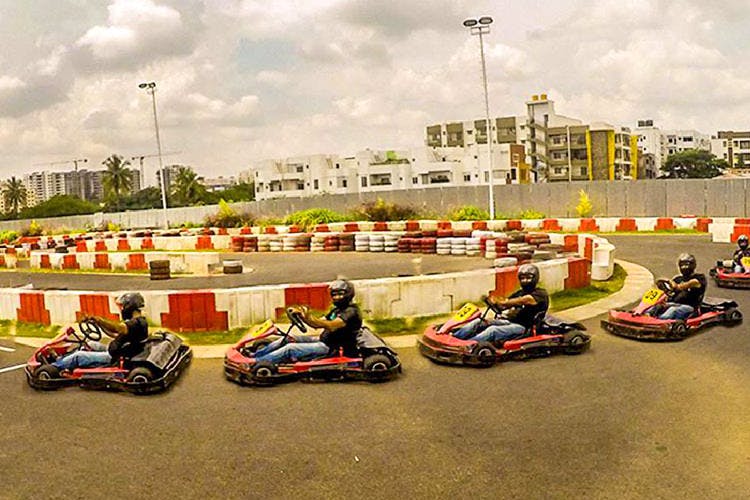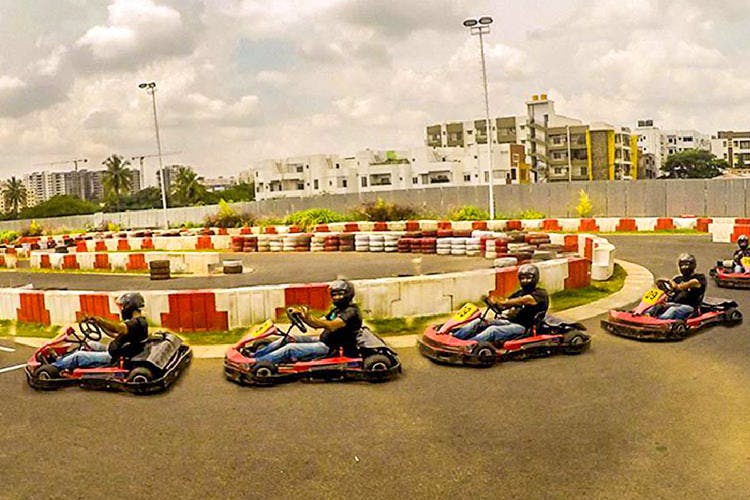 This has the best Go-Karting track in the presence of adequate safety features such as kart barriers to prevent collisions. They are also equipped with the race track software complying with the international standards. It is also present on the Sarjapur main road. You will be amazed by looking at the length of the track which is 250 metres. It can be used by all kinds of players. It is available on all days from 10 am to 10 pm with the price of Rs.150 for 6 laps from Monday to Friday and Rs.200 for 6 laps for Saturday and Sunday.
Also Check : Best 5 Swimming Pools in Bengaluru for Swimming Lovers
Of course, Go-Karting is an amazing game which gives you a chilling experience but you have to be more careful to prevent any mishaps. All the racers particularly the beginners should take the necessary precautions. It is necessary to drive smoothly and avoid jerking motions. You should always wear the race boots, gloves, race crash helmets. Make sure not to crash into other karts. One must follow all the rules of driving. Above all, one should be very relaxed and composed for an exciting ride.
Next time, when you visit Bangalore, allocate a complete day for Go-Karting.  You will have a thrilling experience which you cannot get in any other kind of sports.
Please follow and like us: