Germany National Football Team: To be Considered as a successful team in any sports, not just the title they have won counts, but it's their continuous efforts and performances that people remember. Many think that Football is all about the goal scored by an individual but what is left as unrecognized is the team's collaborative work; the reason for being a success for a long time is certainly effective teamwork which seems to be simple yet looks difficult at the same time. Here we take look at one such team in football "Germany", whose diverse culture has not impacted their journey however there have been ups and downs even for them but they have come out stronger each time they failed which is an inspiration for generations to come.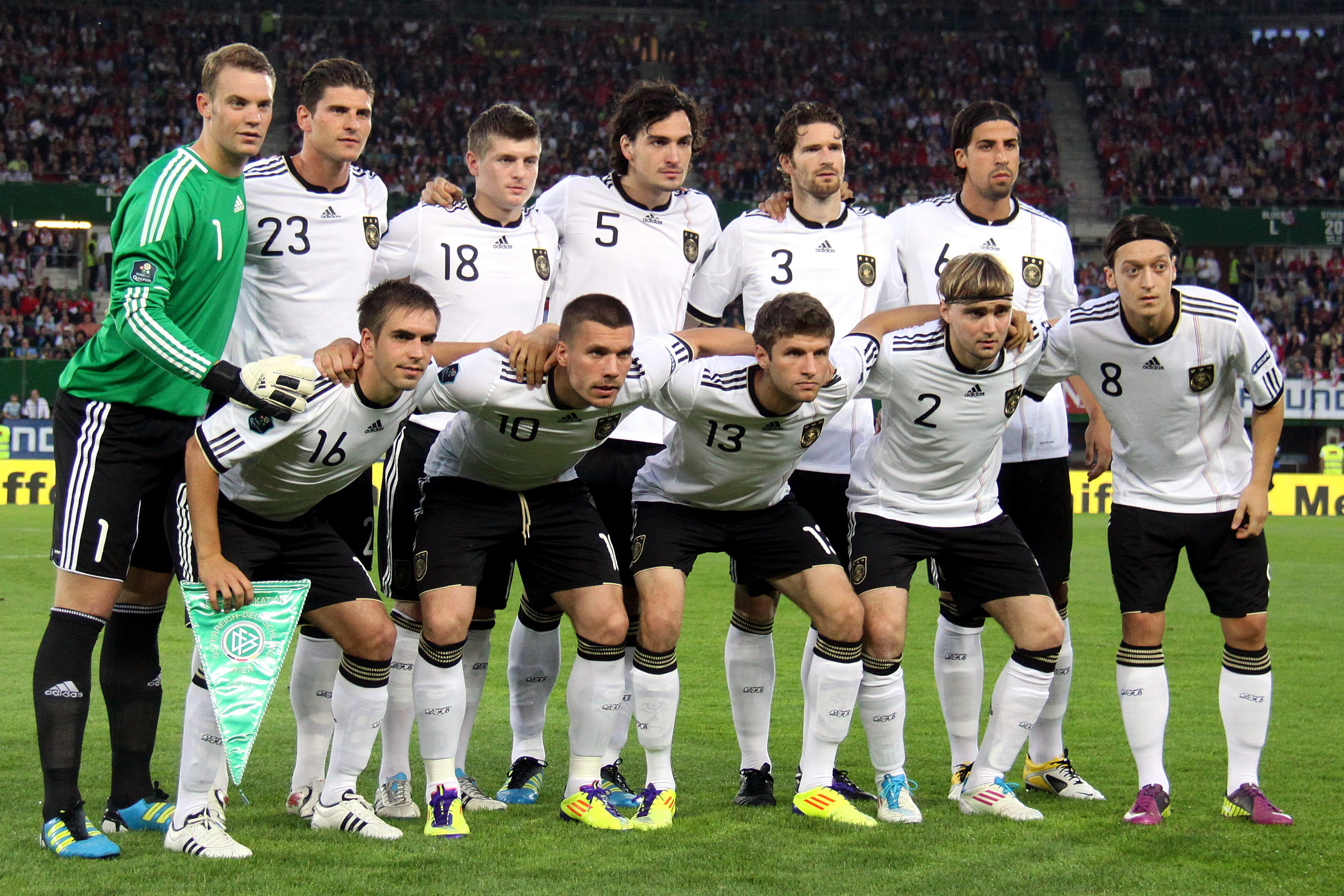 Football is not about just scoring the goal and winning a match, it is their skills, hard work, team effort and management that is needed for building a strong team. While there will always be an argument with respect to the best team as each and everyone has an opinion based on their understanding with dew facts supporting the case, but with the brief details provided below, you will have a clear picture of what I am conveying. The elements that are required to be included are of past or bygone days, the growth amidst the tough situations, their continuous execution of plans and vital factors that brings positiveness in and around the team.
Germany National Football Team History
It's all about the past actions that teach you to build the path for the future and understanding history gives you rich experience and knowledge. To start with Germany's football history, it was not before the 5th of April in the year 1908 that they officially played the first international match against Switzerland which ended in losing cause with scores 3-5. In the beginning, there were three German teams namely West, East, and Saarland that were recognized by FIFA under Allied Occupation and division.
Two world cups have been won among these teams in the year 1954, 1974, but the reunification process in the year 1990 absorbed the teams and their triumphs and new team named Germany was formed, all this could not come in the way of winning their third world cup which was held in the same year. Initially, the players were selected by the German Football Association (DFB) as there was no coach at that time. It is the only nation that has won the FIFA World Cup in Men and women Category.
The performance at the Olympics game is not great when compared to the rest of the tournament. During world war II most of the national games were suspended and players were asked to join armed forces to fight alongside the present force in war. After the war was over, Germany National Football Team was banned from playing the major competitions of football as it was not a full member of FIFA. There are many players who represented this nation but to be a part of history it takes greater deal and effort and Gerd Muller was the one to be considered as the greatest player whose goal scoring rate is almost 1goal/match his clean striking ability is highly spoken about.
The Rise in Standards
Slow and steady wins the race suits best to Germany even though they started their professional soccer in 1908 it was only late after the second world war that new era had begun for this team through their first world cup win in the year 1954 and a team's rebirth happened under Fritz Walter captaincy, which soon turned dramatic after the loss against Italy by 3-4 and it is called "Game of the Century". The best way to answer the critics is to make them silence through showing your performances and that's exactly what happened when they won their second consecutive world cup in 1974 as hosts showing their class Act. Not only the players are important to achieve big things but the management level should also be equally caring and supportive at all times which can motivate them to do better at every stage.
The Coach or Manager of a team plays a vital role in the decision taking matters as well as keeping a healthy and friendly environment. Franz Beckenbauer can be considered as the building block of a strong base for Germany Football Team. It was under his captaincy that won the world cup title and so as to coach. He is the first man to succeed in both the roles that he was assigned. Even though the position of head coach was held by several greats all could not meet the expectations and it was under the rise of Joachim Low that saw the re-emergence and rises through ranks after continuous slump form for some time but even he could help their team to cross the line as they suffered defeats in knockout stages at the hands of Spain in EURO 2008 and World cup 2010 knockouts.
The year 2014 was to be theirs as they finished not just as the first qualifying team for world cup tournament but also as reigning champions defeating Argentina football team. After winning the 2017 FIFA Confederations Cup they were given the titles of favorites to win one more world cup the following year, but as said expectation hurts more than the benefits that we receive from it. Germany earned the highest Elo rating national football team in history, with a record 2205 point. It is also the only European nation that has won a FIFA World Cup in the Americas.
FIFA Tournaments and their Performance
While there are many competitions in football like World Cup and confederations cup that are associated with FIFA (International Federation of Association Football), and there are others such as European Championship and Nations League that are connected with UEFA(Union of European Football Associations) and here is brief about Germany and its record at this level. To start off with they have won 4 world cups the second most in the year 1954,1974,1990,2014 beating Hungary, Netherlands, and Argentina twice respectively. Out of three German teams, West Germany was the one which won the 1954 world cup under the leadership of Fritz Walter beating Hungary by 3-2 the stunning goal from Helmut Rahn provided the lead and the cup.
1974 world cup win captained by Franz Beckenbauer will be remembered for a long time as it was in their home soil and it was Nederlands this time who were beaten in the finals with a goal from Gerd Muller. Beckenbauer was the reason for the third world cup win in the year 1990 this time not as a captain but as a Manager. While the 90's kids missed the first three world cup wins but we were a witness for their unbelievable victory against Brazil in the semifinals which meant their world cup final was to be played against Messi led Argentina which was thrashed by the former with a lone goal from Gotze's in the 113th minute.
The record for the most number of goals (16) scored in this tournament is held by Miroslav Klose from Germany. After several players retired from the team post their world cup win which was one of the reasons for their disappointing outing in Euro 2016 qualifiers. But less than a year they emerged as winners in the 2017 FIFA Confederations Cup with 1-0 win against Chile at Krestovsky stadium in Saint Petersburg, it was also their first confederation cup. They are runners up in as many competitions as they have won.
With the entrance to the 2018 world cup as defending champions faced a nightmare with defeat at hands of Mexico and their win against Sweden did not count as they were soon eliminated from the tournament after being crushed by South Korea. While they are three times champion in UEFA European Competition in the year 1972, 1980 and 1996 as well as runners-up in 76, 92, 2008 not only these trophies but their ranking wise list if observed has been great as they are being in top five at most of the times. These stats are proof but to be able to stand on their own at hard times is what makes them a well quality and managed side.
Key Players of Germany National Football Team
Although it's a team game, sometimes the phenomenal play by an individual makes the marginal difference required for winning the match. There is always a thrilling instance for the fans whenever their favorite player scores a goal and we cannot disagree with the fact that the Germany National Football Team has some incredibly talented guys. Of course, it's a proud moment to be part of the national squad, but some deserve more than just honor of playing for the team and the best way is to recognize them individually. Here is the best of those to be wearing black and white jersey who gave their sweat and sometimes blood to win the match.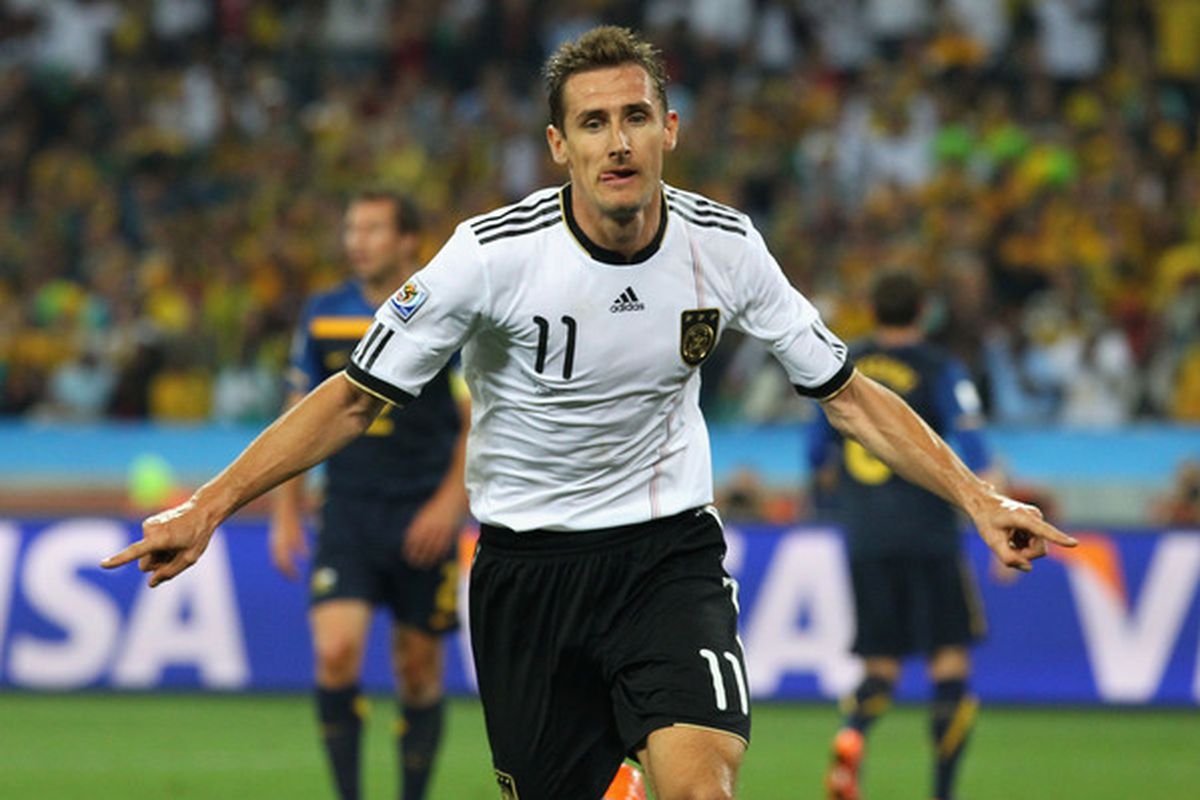 The first one to be included in the list is arguably the best Gerd Muller, with 68 goals in 62 games even after early retirement at age of 29 shows his skills and grit more interestingly there wasn't anything left to be achieved as he has also won Ballon d'Or in 1974. Next in the list is liked by the newer generation, Miroslav Klose has scored the most number of goals (71) for Germany, though he has only one world cup in his kit his ability to kick the ball inside the 18-yard box and his incredible skills make him the best. Franz Beckenbauer is nicknamed as "the Emperor" because of his elegant style and leadership skills on the field; he was also a part of the 1974 world cup winning team; he is known to be invented the role of modern sweeper or libero.
He is definitely a legend as he is one of the three men who have won the world cup as a player and as a manager. A dynamic midfielder Lothar Matthaus has the record of highest appearances with 150 games in his name, with his astonishing goals in the finals of the 1990 world cup they shattered hopes of Argentina and their fans, his leadership skills are certainly to be admired. One of the most decorated football players in the world Bastian Schweinsteiger is definitely a must in this list, it was because of his heroics that saw Germany winning the title after 24 years, the special trait of his is being able to pick the killer pass and hit with ferociousness. There goes an endless list, if they are on the list then it is because of the exceptional works they have done for the nation.
Things don't always go your way in football, there are good and bad times but the least you remember bad and improvise them more rewards will be your way. To be able to become successful having the right set of goals and striving towards to achieve it by hook and crook is what required and in terms of success in any sport, not just football along with talent there is need of abundance efforts and teamwork to reach a certain level. Success is not what you can search in Google engine and answer it differs from person to person as based on their goals and actions.
Germany is said to be one of the most successful but even for them the journey is not completed, it goes on if at all they have to be considered as successful even in future they have to continue these kinds of performances and much better than the recent ones. Apart from Germany, Brazil is also considered as successful but you cannot compare each other as the path would have been different. Even for the conclusion, there is no end. It is only given based on some set of theories and understanding of previous things. Being in the limelight and becoming famous is everyone's dream but to dream is to different and to relive those dreams is different. While most of the time it's not winning rather it's the one's ability to handle the lows that make a rise in one's performance and growth.
Also Check:-
Please follow and like us: