Rafael Nadal Career Statistics & Fascinating Facts
There are two types of players in Tennis. One is Rafael Nadal. Two, rest of the others. Sometimes it is more than a skill and temperament to become the world beater. It is the sheer love, courage and sacrifice for the game. According to quantum physics, to manifest anything on this world, there must be a reason and "Rafa" has all the reasons in the world to make it big.
Sports run through his family lineage. His uncle Toni Nadal has a positive influence over Nadal calming his nerves during hay wired situations and reminding him of the glory days. Toni Ndal is his coach, mentor and a friend since Rafa was just 3.
The hard taskmaster realized Rafael Nadal potential at an early age and worked on his attitude, behavior towards the game and channelizing emotions. Skills supremacy had always the second priority, he knew Rafa is a prodigy, excellence and hard work lies in his DNA, but he needs to be backed by a self sustainable positive frame of mind.
His prophecy turned into reality, when the Spanish great proved its mettle in 2005 by winning French open in the first attempt.
The lanky double spin specialist is also called the "undisputed king of comebacks", rising from the ashes like a phoenix. He is prone to injuries and has to step back before the major events like Olympics 2012, Australian open in 2006 &2017, French open in 2003 & 2004, Wimbledon in 2004 & 2016 and US open in 2012 &2014. What makes Rafael Nadal the number 1 ranked player in the world. Find out.
With age on his side, the Spaniard can easily break the Roger Federer record of 20 grand slams. He is only 31, six years younger to Roger Federer.
Rafael Nadal Interesting Habits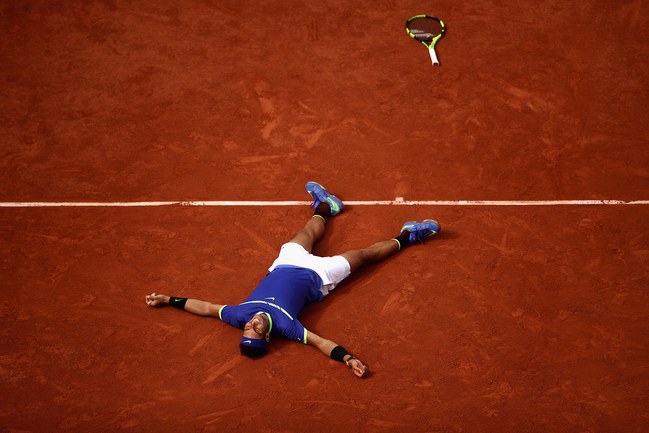 Nadal always takes a cold shower before the match.

Always walk on a court with a single racket.

Always crosses the line with the right foot.

Always faces the stand before the match.

Always hand over his drink to the ball boy.

Runs through the baseline for warm-ups.

Always seek for his family in the crowd before the match.

After every set he sips the energy drink and then sips the water. He has been following the same habit for years.

He likes to toss the ball just before the serve. He has got the official warning for this weird habit.

He has the habit of biting the trophies.

There is a Rafael Nadal tennis academy in Anantpur, Andhra Pradesh for poor children.
Rafael Nadal Fun Facts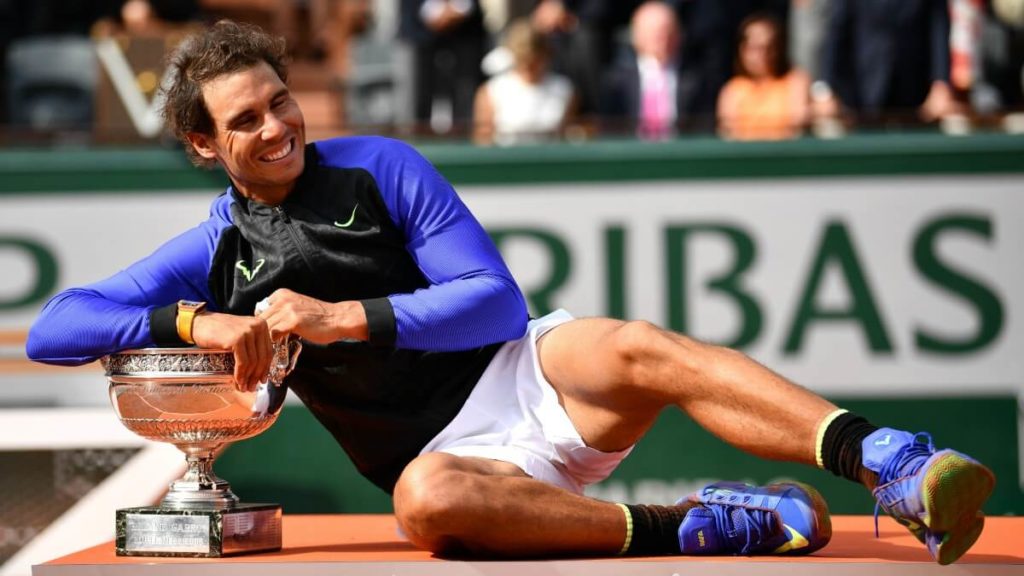 Rafael Nadal has featured in Shakira video.

He is a shrewd golfer and never compliments his opponents.

Rafael Nadal lies on the ground after winning every grand slam.

Rafael Nadal is afraid of dogs.

Rafael Nadal sleeps with the light on. He is afraid of darkness.

Nadal favorite football club is Real Madrid.

He has dated only one girl in his life. His girl friend's name is Xisca Parello.
Rafael Nadal Career Statistics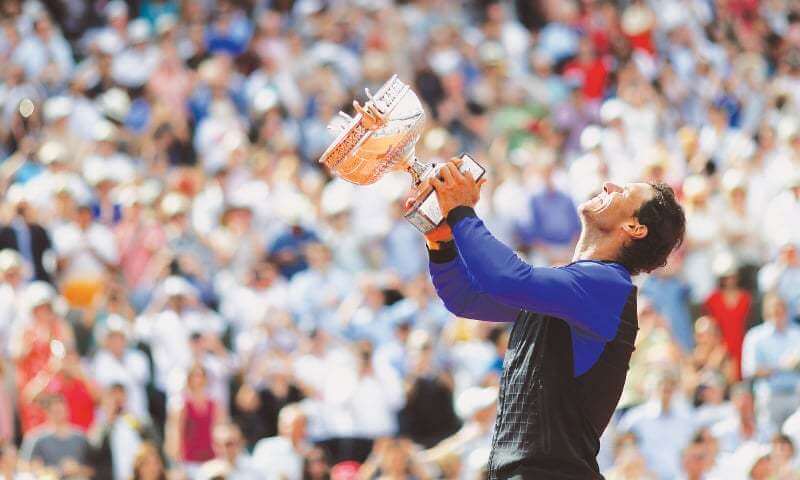 Rafael Nadal is the youngest player to win a career Grand slam a career Golden slam. He achieved the milestone after winning the US open in 2010. He became pro at the age of 15 in 2001.

Rafael Nadal is the only player along with Roger Federer to have won ATP finals in 19 different countries

He has won Olympic gold medals in both singles and doubles at two different Olympics (Beijing 2008 and Rio 2016).

He is the only player to have won 57 clay court titles, including Roland Garros 11 times, Monte Carlo 11 times and Barcelona 11 times.

He enjoys longest winning streak on clay courts (81 times).

Rafael Nadal is the second player to have won 17 grand slam titles (11 French open, 2 Wimbledon, 3 U.S. Open and 1 Australian open).

He has won the Davis Cup four times (2004, 2008, 2009, 2011).
Rafael Nadal is the only player to have won Monte-Carlo championship 8 times in a row from 2005-2012. The total tally goes to 11 titles.
Rafael Nadal has major winning percentage against all top opponents except Novak Djokovic . Rafael Nadal and Roger Federer have played 38 times with Nadal leading 23-15. Nadal and Djokovic have faced each other 52 times with Nadal trailing 25-27. Nadal and Andy Murray played as an opponent 24 times with Nadal leading 17-7. Rafael Nadal and Stanilas Wawrinka have played each other 19 times with Nadal clearly outclassing Wawrinka with 16-3 score.
He has the highest number of career finals against the same opponent (24 times against Novak Djokovic).

Those people, who call him Clay king. He has won 35+ matches on clay court and hard court respectively in a calendar year. Now that's some serious performance.

He is the only player to have won 19 matches against current number 1 players.

He, along with Bjorn Borg holds the record of winning maximum titles as a teenager (16) and the only player to have won 26 consecutive matches as a teenager.

Forget about Federer, he is the only player to have enjoyed longest winning streak at a single clay surface (81 times).

He has won calendar slam in 2010 winning all grand slams in a year.

He stopped Federer two times and Djokovic once to complete winning all 4 slams in a row.

He is the only player to win ATP masters for consecutive 10 years.